Hello there! Welcome back to another weekly WWW wednesdays meme 🙂
The WWW meme was formerly Hosted by Miz B at Should be Reading
Now It was revived at Taking on a World of Words
To play along, just answer the following three (3) questions…
• What are you currently reading?
• What did you recently finish reading?
• What do you think you'll read next?
---
I AM CURRENTLY READING:
GOOD GIRL BY LAUREN LAYNE
 BLURB: Jenny Dawson moved to Nashville to write music, not get famous. But when her latest record goes double platinum, Jenny's suddenly one of the town's biggest stars—and the center of a tabloid scandal connecting her with a pop star she's barely even met. With paparazzi tracking her every move, Jenny flees to a remote mansion in Louisiana to write her next album. The only hiccup is the unexpected presence of a brooding young caretaker named Noah, whose foul mouth and snap judgments lead to constant bickering—and serious heat.
Noah really should tell Jenny that he's Preston Noah Maxwell Walcott, the owner of the estate where the feisty country singer has made her spoiled self at home. But the charade gives Noah a much-needed break from his own troubles, and before long, their verbal sparring is indistinguishable from foreplay. But as sizzling nights give way to quiet pillow talk, Noah begins to realize that Jenny's almost as complicated as he is. To fit into each other's lives, they'll need the courage to face their problems together—before the outside world catches up to them.
---
I JUST RECENTLY FINISHED READING:
THE BIRD AND THE SWORD BY AMY HARMON
MY RATING: [4/5 STARS]
Review to come…

Swallow, Daughter, pull them in, those words that sit upon your lips. Lock them deep inside your soul, hide them 'til they've time to grow. Close your mouth upon the power, curse not, cure not, 'til the hour. You won't speak and you won't tell, you won't call on heav'n or hell. You will learn and you will thrive. Silence, Daughter. Stay alive.
The day my mother was killed, she told my father I wouldn't speak again, and she told him if I died, he would die too. Then she predicted the king would trade his soul and lose his son to the sky.
My father has a claim to the throne, and he is waiting in the shadows for all of my mother's words to come to pass. He wants desperately to be king, and I just want to be free.
But freedom will require escape, and I'm a prisoner of my mother's curse and my father's greed. I can't speak or make a sound, and I can't wield a sword or beguile a king. In a land purged of enchantment, love might be the only magic left, and who could ever love . . . a bird?
RECOIL(RECOIL TRILOGY#1) BY JOANNE MACGREGOR
MY RATING: [3/5 STARS]
Review to come…

 BLURB: When a skilled gamer gets recruited as a sniper in the war against a terrorist-produced pandemic, she discovers there's more than one enemy and more than one war. The Game is real.
Three years after a series of terrorist attacks flooded the US with a lethal plague, society has changed radically.
Sixteen year-old Jinxy James spends her days trapped at home – immersed in virtual reality, worrying about the plague and longing for freedom. Then she wins a war simulation game and is recruited into a top-secret organisation where talented teenagers are trained to become agents in the war on terror. Eager to escape her mother's over-protectiveness and to serve her country, Jinxy enlists and becomes an expert sniper of infected mutant rats.
She's immediately drawn to Quinn O'Riley, a charming and subversive intelligence analyst who knows more about the new order of government and society than he is telling. Then a shocking revelation forces Jinxy to make an impossible decision, and she risks losing everything.
THE CROWN'S GAME(THE CROWN'S GAME#1) BY EVELYN SKYE
MY RATING: [3.5/5 STARS]
Review to come…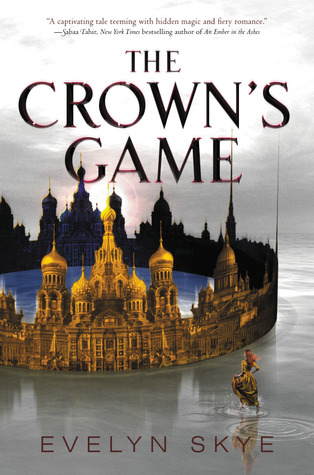 BLURB:  Vika Andreyev can summon the snow and turn ash into gold.
Nikolai Karimov can see through walls and conjure bridges out of thin air.
They are enchanters the only two in Russia and with the Ottoman Empire and the Kazakhs threatening, the tsar needs a powerful enchanter by his side.
And so he initiates the Crown s Game, a duel of magical skill. The victor becomes the Imperial Enchanter and the tsar s most respected adviser. The defeated is sentenced to death.
Raised on tiny Ovchinin Island her whole life, Vika is eager for the chance to show off her talent in the grand capital of Saint Petersburg. But can she kill another enchanter even when his magic calls to her like nothing else ever has?
For Nikolai, an orphan, the Crown s Game is the chance of a lifetime. But his deadly opponent is a force to be reckoned with beautiful, whip-smart, imaginative and he can t stop thinking about her.
And when Pasha, Nikolai s best friend and heir to the throne, also starts to fall for the mysterious enchantress, Nikolai must defeat the girl they both love . . . or be killed himself.
As long-buried secrets emerge, threatening the future of the empire, it becomes dangerously clear the Crown s Game is not one to lose."
---
NEXT I'M GOING TO READ THESE BOOKS:
THE HUNT BY MEGAN SHEPHERD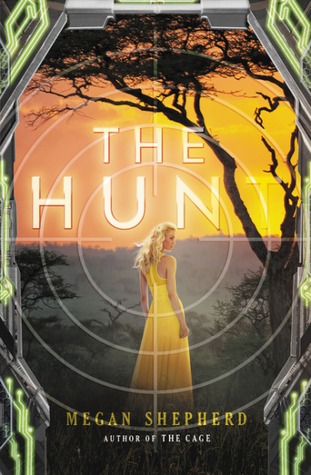 BLURB: They've left the cage—but they're not free yet.
After their failed escape attempt, Cora, Lucky, and Mali have been demoted to the lowest level of human captives and placed in a safari-themed environment called the Hunt, along with wild animals and other human outcasts. They must serve new Kindred masters—Cora as a lounge singer, Lucky as an animal wrangler, and Mali as a safari guide—and follow new rules or face dangerous consequences. Meanwhile, Nok and Rolf have been moved into an enormous dollhouse, observed around the clock by Kindred scientists interested in Nok's pregnancy. And Leon, the only one who successfully escaped, has teamed up with villainous Mosca black-market traders.
The former inhabitants of the Cage are threatened on all fronts—and maybe worst of all, one of the Hunt's Kindred safari guests begins to play a twisted game of cat and mouse with Cora. Separated and constantly under watch, she and the others must struggle to stay alive, never mind find a way back to each other. When Cassian secretly offers to train Cora to develop her psychic abilities—to prove the worthiness of humanity in a series of tests called the Gauntlet—she'll have to decide fast if she dares to trust the Kindred who betrayed her, or if she can forge her own way to freedom.
NIGHTSTRUCK BY JENNA BLACK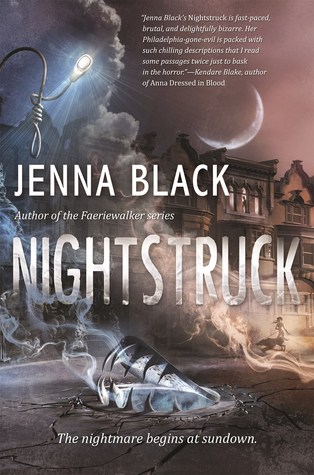 BLURB: It starts with a cry in the night.
Becket, walking her dog one winter evening, fears it's an abandoned baby left out in the cold. But it is something else—something evil—and it tricks Becket into opening a doorway to another realm, letting a darkness into our world, a corruption that begins transforming Philadelphia into a sinister and menacing version of itself…but only at night.
The changes are subtle at first, causing Becket to doubt her senses and her sanity. But soon the nightmarish truth is impossible to deny: By day, the city is just a city, but at night it literally comes alive with malevolent purpose. Brick and steel become bone, streetlights turn into gallows, and hungry alleys wait to snare mortal victims. Terrified citizens huddle indoors after dusk, as others succumb to the siren song of the night, letting their darker sides run wild.
Once, Becket's biggest problems were living up to her police commissioner father's high expectations and a secret crush on her best friend's boyfriend. Now she must find a way to survive and protect her loved ones…before the darkness takes her as well.
EVIL BY TIJAN
 BLURB: You know that group of people in school that everyone fears? Popular. Beautiful. The in-crowd?
That was my family. Kind of.
We were above that group. We held court over everyone else. We were the best looking. We were the mysterious and elusive ones. Most of the girls wanted to (and did) date the guys, but they didn't want to be one of us. They couldn't be. They were our prey.
We were the feared.
But like every family, nothing is as it seems. That was my truth.
Kellan was in his own league. He was our leader and he was the one no one messed with. No one dared. He was ruthless, powerful, and no one could match him…
Except for me.
I was about to find out just how different I was from my family.
---
These are my WWW for this week, so what are your  recent, current and next reads? Please Feel Free To Comment Below or Leave a link to your WWW post. ❤
See You In The Next Post and Have a Great Day! 🙂