Hello there! Welcome back to another weekly WWW wednesdays meme 🙂
The WWW meme was formerly Hosted by Miz B at Should be Reading
Now It was revived at Taking on a World of Words
To play along, just answer the following three (3) questions…
• What are you currently reading?
• What did you recently finish reading?
• What do you think you'll read next?
---
I AM CURRENTLY READING:
THE CROWN'S GAME(THE CROWN'S GAME#1) BY EVELYN SKYE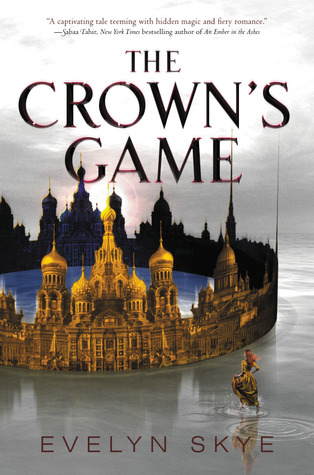 BLURB:  Vika Andreyev can summon the snow and turn ash into gold.
Nikolai Karimov can see through walls and conjure bridges out of thin air.
They are enchanters the only two in Russia and with the Ottoman Empire and the Kazakhs threatening, the tsar needs a powerful enchanter by his side.
And so he initiates the Crown s Game, a duel of magical skill. The victor becomes the Imperial Enchanter and the tsar s most respected adviser. The defeated is sentenced to death.
Raised on tiny Ovchinin Island her whole life, Vika is eager for the chance to show off her talent in the grand capital of Saint Petersburg. But can she kill another enchanter even when his magic calls to her like nothing else ever has?
For Nikolai, an orphan, the Crown s Game is the chance of a lifetime. But his deadly opponent is a force to be reckoned with beautiful, whip-smart, imaginative and he can t stop thinking about her.
And when Pasha, Nikolai s best friend and heir to the throne, also starts to fall for the mysterious enchantress, Nikolai must defeat the girl they both love . . . or be killed himself.
As long-buried secrets emerge, threatening the future of the empire, it becomes dangerously clear the Crown s Game is not one to lose."
---
I JUST RECENTLY FINISHED READING:
STORM BORN BY AMY BRAUN
MY RATING: [4/5 STARS]
" This book was thrilling and fully action packed. Although there isn't much romance in this, I loved the plot and the characters "
Review to come…

 BLURB: A single night can change your life… for the worst.
It's been a century since the last Centennial Storm, the calamitous phenomenon that covered the world in disasters– tornadoes, hurricanes, blizzards, tsunamis, and dust storms– caused not by nature, but by alien creatures from another realm. The Stormkind.
Ava Reid tries not to think about that night, when she was caught in a hurricane and brought face to face with one of the Stormkind, the man with a dagger, and the agony she felt when he stabbed her with a crystal blade. Yet as she and the rest of Florida's citizens begin to rebuild their lives, Ava can't help but notice strange things happening around her. Things she seems to be causing. The gusts of wind and sudden floods attract the attentions of a mysterious stranger who leaves her clues, and the deadlier men following her.
It isn't long before Ava is swept up into a wild conspiracy, led by a secret society that knows the truth about the Stormkind– and what their enemies have planned for the world she loves. If she wishes to protect her friends and her family, Ava must harness her strange new abilities and become part of the Stormkind society. Because if she loses control, there will be no force strong enough to stop her…
THE RULE BOOK BY JENNIFER BLACKWOOD
MY RATING: [4/5 STARS]
" This book was so much fun to read. It was perfect mix of humor and romance that I absolutely enjoyed"
Review to come…

 BLURB: Starr Media Second-Assistant Survival Guide
1. Don't call your hot boss the antichrist to his face.
2. Don't stare at hot boss's, um, package or his full sleeve of tattoos. (No. Really. Stop!)
3. Don't get on the malicious first assistant's bad side.
4. Don't forget to memorize the 300-page employee manual.
5. If you value your cashmere, steer clear of boss's dog.
6. Boss's dimples are lust-inducing. Do. Not. Give. In.
7. "The elevator ate your clothes" is not a valid excuse for showing up to important meetings half dressed.
8. Don't break seven of the rules within the first week of employment if you, ya know, are in dire need of money to support your sick mom.
9. Whatever you do, don't fall for the boss. See rule eight about sick mom.
10. Never forget the rules.
WRONG BY JANA ANSTON
MY RATING: [3/5 STARS]
" I really wanted to like this book but it didn't worked out for me. May be this book isn't for me. The characters felt so wrong and the plot seemed under developed"
Review to come…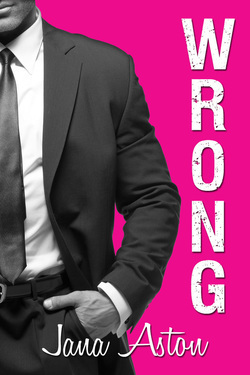 BLURB: I have a history of picking the wrong guy. Gay? Player? Momma's boy? Check, check and check.
Now I can't stop fantasizing about one of the customers at the coffee shop I work at between classes. It's just a harmless crush, right? It's not like I ever see this guy outside of the coffee shop. It's not like I'm going to see him while attempting to get birth control at the student clinic. While wearing a paper gown. While sitting on an exam table. Because he's the doctor. Shoot. Me.
But what if, for once, the man I've had the dirtiest, most scandalous fantasies about turned out to be everything but wrong?
TAXI BY CAMBRIA HEBERT
MY RATING: [3.5/5 STARS]
" This book is definitely a thrill ride but I think it could've been much better "
Review to come…

One night as Rose Crawford steps out of a bar, she gives no second thought to lifting her hand to signal for a cab. After all, it's the responsible thing to do.
A common occurrence.
Far safer than walking several blocks, alone, in the dark.
A familiar-looking yellow taxi with black, faux-leather seats, running meter on the dash, and a smiling driver pulls up to the curb.
Rose slides in. Gives the driver her address…
But she never reaches her destination.
Instead, she finds herself captive, at the will of a man who isn't a driver, but a bona fide psychopath.
Trapped in a taxi she can't escape, Rose begins to panic. As the miles between her and safety grow, hope dwindles. It isn't until someone else joins her in captivity that her spark of hope is rekindled.
Derek is strong, capable, and surely together they can fight their way to freedom.
Then Rose finds out exactly why she's been driven into hell. Derek may be an unwilling captive, but he isn't going to help her.
In fact, he's there to do the exact opposite.
THE STAR TOUCHED QUEEN BY ROSHANI CHOKSHI
MY RATING: [4/5 STARS]
" A captivating retelling of Hades and Persephone depicted in Indian Mythology. Everything about this book was beautiful and I had great time reading it."
Review to come…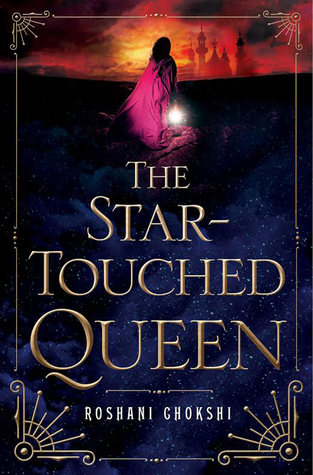 BLURB: Fate and fortune. Power and passion. What does it take to be the queen of a kingdom when you're only seventeen?
Maya is cursed. With a horoscope that promises a marriage of death and destruction, she has earned only the scorn and fear of her father's kingdom. Content to follow more scholarly pursuits, her whole world is torn apart when her father, the Raja, arranges a wedding of political convenience to quell outside rebellions. Soon Maya becomes the queen of Akaran and wife of Amar. Neither roles are what she expected: As Akaran's queen, she finds her voice and power. As Amar's wife, she finds something else entirely: Compassion. Protection. Desire…
But Akaran has its own secrets—thousands of locked doors, gardens of glass, and a tree that bears memories instead of fruit. Soon, Maya suspects her life is in danger. Yet who, besides her husband, can she trust? With the fate of the human and Otherworldly realms hanging in the balance, Maya must unravel an ancient mystery that spans reincarnated lives to save those she loves the most…including herself.
WARDEN(ELEMENTAL PALADINS#1) BY MONTANA ASH
MY RATING: [4/5 STARS]
" I simply loved this book because of it's sassy, hilarious and sarcastic female protagonist "
Review to come…

 BLURB: Ryker is a paladin. An ancient knight, born to protect those precious few who hold powers over the elements. He is bound by honour, courage and loyalty. But when tragedy strikes he forsakes everything he stands for, vowing never to serve again. He opens his home to other rejected and dishonoured knights … but never his heart. That is, until a sarcastic, sword-wielding, miniature Warden barges into his life, bringing chaos and mayhem to his carefully ordered world.
Will he forgive himself for past mistakes? Or will old wounds continue to scar his future?
Max is different. She has a strange affinity to nature and finds herself constantly causing disasters wherever she goes. What's more, strange creatures stalk her every step, their relentless pursuit driving her to the brink of exhaustion. Stumbling upon a gaggle of hot ancient knights seems too good to be true but she can't deny they have the answers she's looking for. Too bad their Captain is a growly, insensitive jerk who insults her every time he opens his gorgeous mouth.
Should she trust her instincts and allow herself to hope for the first time in her life? Or will her fierce independence cause her to lose the one thing she has always craved – a home?
NEXT I'M GOING TO READ THESE BOOKS:
RECOIL(RECOIL TRILOGY#1) BY JOANNE MACGREGOR
 BLURB: When a skilled gamer gets recruited as a sniper in the war against a terrorist-produced pandemic, she discovers there's more than one enemy and more than one war. The Game is real.
Three years after a series of terrorist attacks flooded the US with a lethal plague, society has changed radically.
Sixteen year-old Jinxy James spends her days trapped at home – immersed in virtual reality, worrying about the plague and longing for freedom. Then she wins a war simulation game and is recruited into a top-secret organisation where talented teenagers are trained to become agents in the war on terror. Eager to escape her mother's over-protectiveness and to serve her country, Jinxy enlists and becomes an expert sniper of infected mutant rats.
She's immediately drawn to Quinn O'Riley, a charming and subversive intelligence analyst who knows more about the new order of government and society than he is telling. Then a shocking revelation forces Jinxy to make an impossible decision, and she risks losing everything.
THE BIRD AND THE SWORD BY AMY HARMON
Swallow, Daughter, pull them in, those words that sit upon your lips. Lock them deep inside your soul, hide them 'til they've time to grow. Close your mouth upon the power, curse not, cure not, 'til the hour. You won't speak and you won't tell, you won't call on heav'n or hell. You will learn and you will thrive. Silence, Daughter. Stay alive.
The day my mother was killed, she told my father I wouldn't speak again, and she told him if I died, he would die too. Then she predicted the king would trade his soul and lose his son to the sky.
My father has a claim to the throne, and he is waiting in the shadows for all of my mother's words to come to pass. He wants desperately to be king, and I just want to be free.
But freedom will require escape, and I'm a prisoner of my mother's curse and my father's greed. I can't speak or make a sound, and I can't wield a sword or beguile a king. In a land purged of enchantment, love might be the only magic left, and who could ever love . . . a bird?
GOOD GIRL BY LAUREN LAYNE
 BLURB: Jenny Dawson moved to Nashville to write music, not get famous. But when her latest record goes double platinum, Jenny's suddenly one of the town's biggest stars—and the center of a tabloid scandal connecting her with a pop star she's barely even met. With paparazzi tracking her every move, Jenny flees to a remote mansion in Louisiana to write her next album. The only hiccup is the unexpected presence of a brooding young caretaker named Noah, whose foul mouth and snap judgments lead to constant bickering—and serious heat.
Noah really should tell Jenny that he's Preston Noah Maxwell Walcott, the owner of the estate where the feisty country singer has made her spoiled self at home. But the charade gives Noah a much-needed break from his own troubles, and before long, their verbal sparring is indistinguishable from foreplay. But as sizzling nights give way to quiet pillow talk, Noah begins to realize that Jenny's almost as complicated as he is. To fit into each other's lives, they'll need the courage to face their problems together—before the outside world catches up to them.
---
These are my WWW for this week, so what are your  recent, current and next reads? Please Feel Free To Comment Below or Leave a link to your WWW post. ❤
See You In The Next Post and Have a Great Day! 🙂