Hi there! I've been tagged by Amy @Book Enthrall to do the Harry Potter Tag which is originally created by Trang & Lashaan @Bookidote. Thank you so much Amy! And guys don't forget to give them a visit.
Important rule: You can't use any of the HP books in the answer.
---
A Book You Found The Theme Interesting But You'd Like To Rewrite It:
The Great Hunt By Wendy Higgins: This book really has a great concept but it's weak female protagonist and less action has made the story less intriguing. So, I'd definitely want to rewrite it.
---

The First Book In A Series That Got You Hooked
Shatter Me By Tahereh Mafi: Shatter Me is one of my favorite trilogies and I can still remember the first time I had picked it up. I was totally hooked after reading the first few chapters and right after I had finished the first book, I grabbed the second and just like that I binge read the whole trilogy at once.
---
A Book You Wish You Could Have Right Now
Well, I have so many books to name but these are my top five books that I wish I could have right now.
---
A Killer Book
The Final Empire By Brandon Sanderson And Six Of Crows By Leigh Bardugo: These two books are absolutely A Killer books with fantastic world building, brilliant plot and amazing characters. If you haven't read these two books then I highly recommend you to read them.
---

A Book You Found Really Confusing
The Lyre Thief By Jennifer Fallon: This book is actually a spin off series of Hythrun Chronicles:Demon Child which I haven't read and I really wanted to like this book because it was really an epic fantasy read but some of the characters and the plot are related to the Hythrun chronicles which made the whole story a bit confusing otherwise I would've loved it.
---

Your Spirit Book
For this I have two books to name: Vampire Academy By Richelle Mead and Throne Of Glass By Sarah J. Mass. 
---

A Dark And Twisted Book
Fearscape By Nenia Campbell: This book is a YA psycho thriller which is really dark and twisted in it's own way. It is both freaky and a complete mess but at the same time it was very intriguing that I really can't help liking it.
---

A Book That Surprised You In A Great Way. Reveals To Be More Than It Is.
The Start Of You And Me By Emery Lord: This book really surprised me in a great way. When I first read it's synopsis, I expected it to be a cute contemporary romance but when I finally got to read it, I can't say how much I loved it. The plot seemed so realistic and it perfectly portrayed the importance of friendship, family and romance.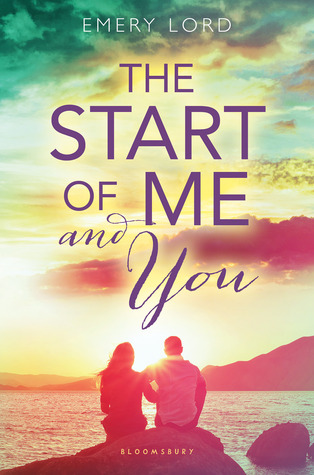 ---
Cristina @My Tiny Obsessions
Kirsty @Kirsty's Book Reviews
Sammy Talbot @Sammy Reads Books
Sushmita @Fervently Curious
Mariana @Book Is Glee
Marie @Drizzle And Hurricane Books
Meg @Magic Of Books
Miriam Michelle @The Reading Belle
Poulami @Daydreaming Books
Vivian @Vivi Heart Books
That's it! I hope you guys have fun doing this tag! There's no pressure to participate, Feel free to disregard it if you've already done this tag or not interested. ❤
So, Until Next Time And Have A Great Day! 😀