Hello there! Welcome back to another weekly WWW wednesdays meme 🙂
The WWW meme was formerly Hosted by Miz B at Should be Reading
Now It was revived at Taking on a World of Words
To play along, just answer the following three (3) questions…
• What are you currently reading?
• What did you recently finish reading?
• What do you think you'll read next?
---
I AM CURRENTLY READING: 
WARDEN(ELEMENTAL PALADINS#1) BY MONTANA ASH
 BLURB: Ryker is a paladin. An ancient knight, born to protect those precious few who hold powers over the elements. He is bound by honour, courage and loyalty. But when tragedy strikes he forsakes everything he stands for, vowing never to serve again. He opens his home to other rejected and dishonoured knights … but never his heart. That is, until a sarcastic, sword-wielding, miniature Warden barges into his life, bringing chaos and mayhem to his carefully ordered world.
Will he forgive himself for past mistakes? Or will old wounds continue to scar his future?
Max is different. She has a strange affinity to nature and finds herself constantly causing disasters wherever she goes. What's more, strange creatures stalk her every step, their relentless pursuit driving her to the brink of exhaustion. Stumbling upon a gaggle of hot ancient knights seems too good to be true but she can't deny they have the answers she's looking for. Too bad their Captain is a growly, insensitive jerk who insults her every time he opens his gorgeous mouth.
Should she trust her instincts and allow herself to hope for the first time in her life? Or will her fierce independence cause her to lose the one thing she has always craved – a home?
---
I JUST RECENTLY FINISHED READING:
LOVE, LIES AND SPIES BY CINDY ANSTEY
MY RATING: [3.5/5 STARS]
" A pretty nice historical read that gives Jane Austen vibe"
Review to come…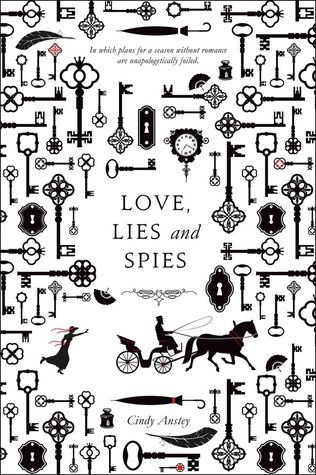 BLURB: Juliana Telford is not your average nineteenth-century young lady. She's much more interested in researching ladybugs than marriage, fashionable dresses, or dances. So when her father sends her to London for a season, she's determined not to form any attachments. Instead, she plans to secretly publish their research.
Spencer Northam is not the average young gentleman of leisure he appears. He is actually a spy for the War Office, and is more focused on acing his first mission than meeting eligible ladies. Fortunately, Juliana feels the same, and they agree to pretend to fall for each other. Spencer can finally focus, until he is tasked with observing Juliana's traveling companions . . . and Juliana herself.
THE PLAYER AND THE PIXIE BY L.H. COSWAY & PENNY REID
MY RATING: [4/5 STARS]
" A totally hilarious and sexy read that I immensely enjoyed"
Review to come…

 BLURB: THE PIXIE
Lucy Fitzpatrick doesn't like rugby.
As the little sister of Ireland's most infamous rugby player, Lucy can't seem to escape the championship-sized shadow cast by her big brother, or her mother's frequent attempts to micromanage her future. Her rainbow hair is as free-spirited as her quest for inner peace, yet overbearing expectations keep bringing her down. And when she's down, her compulsive little problem lands her in seriously big trouble.
THE PLAYER
Sean Cassidy is a cold-hearted brute… or so he's been told. Frequently. By everyone.
His blonde locks, baby blues, and rock hard bod make ladies the world over drool with desire. As the rugby world's second most infamous player, he should be basking in his success. But Sean has never been content settling for second place, and his frequent confrontations with Lucy's big brother leave him cold. And when he's cold, his compulsive little problem lands him in the lap of Lucy Fitzpatrick.
THE PLAN
Sean has a problem only Lucy can solve. Lucy has a problem only Sean can fix. The solution seems obvious: you scratch my back, and I'll bail you out of jail. But when their business arrangement unexpectedly leaves Sean scorching hot and Lucy on the precipice of inner peace, can they convince the world—and Lucy's big brother in particular—that this is the real deal?
Either way, both the Player and the Pixie are about to teach each other some pretty monumental lessons about family, life, but most importantly, love.
RUINDED(RUINED#1) BY AMY TINTERA
MY RATING: [4/5 STARS]
" Despite all the mixed reviews, I'm glad I gave it a try. It was a wonderful book! I really enjoyed the story and the characters."
Review to come…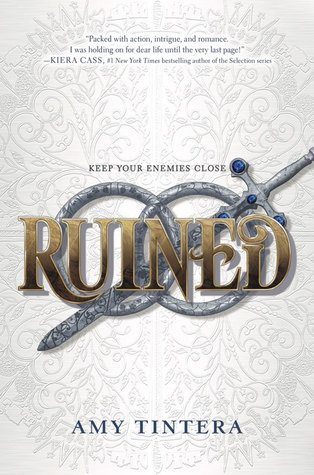 BLURB: Emelina Flores has nothing. Her home in Ruina has been ravaged by war. She lacks the powers of her fellow Ruined. Worst of all, she witnessed her parents' brutal murders and watched helplessly as her sister, Olivia, was kidnapped.
But because Em has nothing, she has nothing to lose. Driven by a blind desire for revenge, Em sets off on a dangerous journey to the enemy kingdom of Lera. Somewhere within Lera's borders, Em hopes to find Olivia. But in order to find her, Em must infiltrate the royal family.
In a brilliant, elaborate plan of deception and murder, Em marries Prince Casimir, next in line to take Lera's throne. If anyone in Lera discovers Em is not Casimir's true betrothed, Em will be executed on the spot. But it's the only way to salvage Em's kingdom and what is left of her family.
Em is determined to succeed, but the closer she gets to the prince, the more she questions her mission. Em's rage-filled heart begins to soften. But with her life—and her family—on the line, love could be Em's deadliest mistake.
SAVEN: DENIAL (SAVEN#2.5) BY SIOBHAN DAVIS [ARC]
MY RATING: [4/5 STARS]
" This book was emotional rollercoaster ride"
Review to come…

My mother was right to fear me.
I'm an abomination.
And the world should be very afraid.
Sadie has been kidnapped by the Tor, the vindictive alien race who destroyed Thalassic City. As her past, present, and future collides, her worst nightmare looks set to become her shocking new reality.
A deliberate pawn in leader Griselda's vengeful game, Sadie is horrified to learn the truth about her heritage and the destiny that's already been mapped out for her. Refusing to cooperate, she risks paying the ultimate price for her defiance.
Love for Logan is her only motivation to stay alive. Saving him is the only thing that matters—the fate of the world depends upon it. While he may never forgive her, she's determined to protect him. Until her dying breath.
Note from the author: This continues the story from where it left off in Saven Disclosure. This is not an optional novella but an essential read if you don't want to miss out on important plot developments.
---
NEXT I'M GOING TO READ THESE BOOKS:
THE STAR TOUCHED QUEEN BY ROSHANI CHOKSHI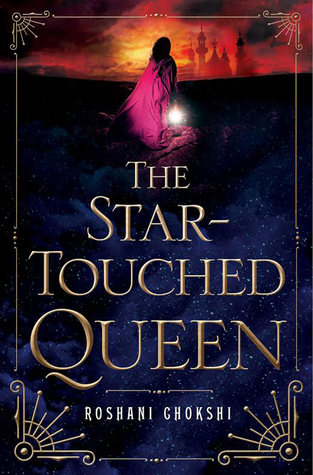 BLURB: Fate and fortune. Power and passion. What does it take to be the queen of a kingdom when you're only seventeen?
Maya is cursed. With a horoscope that promises a marriage of death and destruction, she has earned only the scorn and fear of her father's kingdom. Content to follow more scholarly pursuits, her whole world is torn apart when her father, the Raja, arranges a wedding of political convenience to quell outside rebellions. Soon Maya becomes the queen of Akaran and wife of Amar. Neither roles are what she expected: As Akaran's queen, she finds her voice and power. As Amar's wife, she finds something else entirely: Compassion. Protection. Desire…
But Akaran has its own secrets—thousands of locked doors, gardens of glass, and a tree that bears memories instead of fruit. Soon, Maya suspects her life is in danger. Yet who, besides her husband, can she trust? With the fate of the human and Otherworldly realms hanging in the balance, Maya must unravel an ancient mystery that spans reincarnated lives to save those she loves the most…including herself.
THE RULE BOOK BY JENNIFER BLACKWOOD
 BLURB: Starr Media Second-Assistant Survival Guide
1. Don't call your hot boss the antichrist to his face.
2. Don't stare at hot boss's, um, package or his full sleeve of tattoos. (No. Really. Stop!)
3. Don't get on the malicious first assistant's bad side.
4. Don't forget to memorize the 300-page employee manual.
5. If you value your cashmere, steer clear of boss's dog.
6. Boss's dimples are lust-inducing. Do. Not. Give. In.
7. "The elevator ate your clothes" is not a valid excuse for showing up to important meetings half dressed.
8. Don't break seven of the rules within the first week of employment if you, ya know, are in dire need of money to support your sick mom.
9. Whatever you do, don't fall for the boss. See rule eight about sick mom.
10. Never forget the rules.
TAXI BY CAMBRIA HEBERT
One night as Rose Crawford steps out of a bar, she gives no second thought to lifting her hand to signal for a cab. After all, it's the responsible thing to do.
A common occurrence.
Far safer than walking several blocks, alone, in the dark.
A familiar-looking yellow taxi with black, faux-leather seats, running meter on the dash, and a smiling driver pulls up to the curb.
Rose slides in. Gives the driver her address…
But she never reaches her destination.
Instead, she finds herself captive, at the will of a man who isn't a driver, but a bona fide psychopath.
Trapped in a taxi she can't escape, Rose begins to panic. As the miles between her and safety grow, hope dwindles. It isn't until someone else joins her in captivity that her spark of hope is rekindled.
Derek is strong, capable, and surely together they can fight their way to freedom.
Then Rose finds out exactly why she's been driven into hell. Derek may be an unwilling captive, but he isn't going to help her.
In fact, he's there to do the exact opposite.
---
These are my WWW for this week, so what are your  recent, current and next reads? Please Feel Free To Comment Below or Leave a link to your WWW post. ❤
See You In The Next Post and Have a Great Day! 🙂