Hi there! Welcome back to another round of Sunday Book Recommendations.
Sunday Book Recommendations is the  weekly meme hosted by me. I created this meme so I could recommend you guys some interesting books which I think are worth reading. This meme includes recommending a book from three different genres. If you want to do this meme have fun with it, but don't forget to link back to the host. 🙂
Note: You can change the genres every week.
---
YA CONTEMPORARY
HOOKED BY LIZ FICHERA
Recommended for the readers who love hate to love romance trope and slow burn romance. 
 BLRUB: When Native American Fredricka 'Fred' Oday is invited to become the only girl on the school's golf team, she can't say no. This is an opportunity to shine, win a scholarship and go to university, something no one in her family has done.
But Fred's presence on the team isn't exactly welcome — especially not to rich golden boy Ryan Berenger, whose best friend was kicked off the team to make a spot for Fred.
But there's no denying that things are happening between the girl with the killer swing and the boy with the killer smile…
GET HOOKED ON A GIRL NAMED FRED.
---
YA PARANORMAL
TASTE BY KATE EVANGELISTA
[STAND-ALONE]
Highly recommended for the fans of Vampire Knight
 BLURB: At Barinkoff Academy, there's only one rule: no students on campus after curfew. Phoenix McKay soon finds out why when she is left behind at sunset. A group calling themselves night students threaten to taste her flesh until she is saved by a mysterious, alluring boy. With his pale skin, dark eyes, and mesmerizing voice, Demitri is both irresistible and impenetrable. He warns her to stay away from his dangerous world of flesh eaters. Unfortunately, the gorgeous and playful Luka has other plans.
When Phoenix is caught between her physical and her emotional attraction, she becomes the keeper of a deadly secret that will rock the foundations of an ancient civilization living beneath Barinkoff Academy. Phoenix doesn't realize until it is too late that the closer she gets to both Demitri and Luka the more she is plunging them all into a centuries old feud.
---
YA SCI-FI 
UNRAVELING BY ELIZABETH NORRIS
(UNRAVELING DUOLOGY)
An intriguing YA Sci-fi novel with gripping plot and great characters.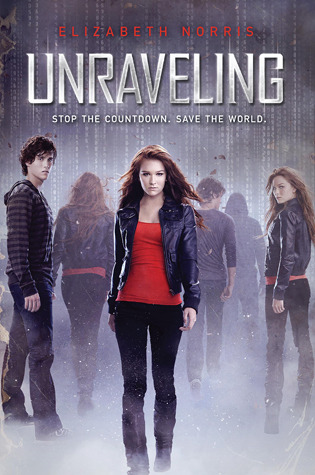 BLURB: Sixteen-year-old Janelle Tenner is used to having a lot of responsibility. She balances working as a lifeguard in San Diego with an intense academic schedule. Janelle's mother is bipolar, and her dad is a workaholic FBI agent, which means Janelle also has to look out for her younger brother, Jared.
And that was before she died… and is brought back to life by Ben Michaels, a mysterious, alluring loner from her high school. When she discovers a strange clock that seems to be counting down to the earth's destruction, Janelle learns she has twenty-four days to figure out how to stop the clock and save the planet.
---
Well, that's it for this week. 😀
Feel free to comment below and if you want me to recommend books from any particular genre let me know. ❤
See you next week with new recommendations!  🙂
Have a Great Day!