Hello there! Welcome back to another weekly WWW wednesdays meme 🙂
The WWW meme was formerly Hosted by Miz B at Should be Reading
Now It was revived at Taking on a World of Words
To play along, just answer the following three (3) questions…
• What are you currently reading?
• What did you recently finish reading?
• What do you think you'll read next?
---
I AM CURRENTLY READING: 
SAVEN: DENIAL (SAVEN#2.5) BY SIOBHAN DAVIS [ARC]
My mother was right to fear me.
I'm an abomination.
And the world should be very afraid.
Sadie has been kidnapped by the Tor, the vindictive alien race who destroyed Thalassic City. As her past, present, and future collides, her worst nightmare looks set to become her shocking new reality.
A deliberate pawn in leader Griselda's vengeful game, Sadie is horrified to learn the truth about her heritage and the destiny that's already been mapped out for her. Refusing to cooperate, she risks paying the ultimate price for her defiance.
Love for Logan is her only motivation to stay alive. Saving him is the only thing that matters—the fate of the world depends upon it. While he may never forgive her, she's determined to protect him. Until her dying breath.
Note from the author: This continues the story from where it left off in Saven Disclosure. This is not an optional novella but an essential read if you don't want to miss out on important plot developments.
---
I JUST RECENTLY FINISHED READING:
SOLDIER (TALON #3) BY JULIE KAGAWA
MY RATING: [4/5 STARS]
" This is becoming more interesting as the series progresses and the ending nearly killed me. I'm so desperate for the next book Legion, 2017 is so far and I'm dying to know what's gonna happen next. "
Review Coming Soon…

 BLURB: When forced to choose between safety with the dragon organization Talon and being hunted forever as an outcast, Ember Hill chose to stand with Riley and his band of rogue dragons rather than become an assassin for Talon. She's lost any contact with her twin brother, Dante, a Talon devotee, as well as Garret, the former-enemy soldier who challenged her beliefs about her human side. As Ember and Riley hide and regroup to fight another day, Garret journeys alone to the United Kingdom, birthplace of the ancient and secret Order of St. George, to spy on his former brothers and uncover deadly and shocking secrets that will shake the foundations of dragons and dragon-slayers alike and place them all in imminent danger as Talon's new order rises.
THE WATER'S WRATH(AIR AWAKEN'S#4) BY ELISE KOVA
MY RATING: [4/5 STARS]
"  This book is definitely a emotional roller coaster and there are some heart wrenching scenes in it that nearly teared me up. I can't wait to read the epic finale of this series. "
Review Coming Soon…


 BLURB: Librarian turned sorcerer. Sorcerer turned hero. Hero turned puppet.
The Solaris Empire found victory in the North and, at the cost of her heart and her innocence, Vhalla Yarl has earned her freedom. But the true fight is only beginning as the secret forces that have been lurking in the shadows, tugging at the strings of Vhalla's fate, finally come to light. Nowhere is safe, and Vhalla must tread carefully or else she'll fall into the waiting arms of her greatest foe. Or former lover.
THE ROSE AND THE DAGGER(THE WRATH AND THE DAWN#2) BY RENEE AHDIEH
MY RATING: [4/5 STARS]
" A perfect finale to the epic love story. The book is full of twists and turns that held my attention through out and I loved it."
Review Coming Soon…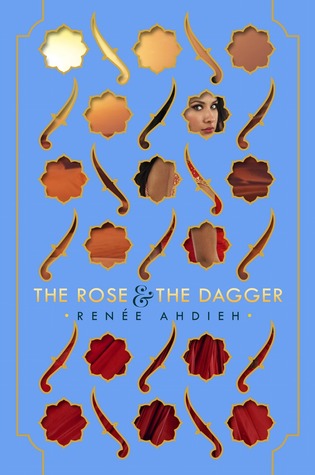 BLURB: I am surrounded on all sides by a desert. A guest, in a prison of sand and sun. My family is here. And I do not know whom I can trust.
In a land on the brink of war, Shahrzad has been torn from the love of her husband Khalid, the Caliph of Khorasan. She once believed him a monster, but his secrets revealed a man tormented by guilt and a powerful curse—one that might keep them apart forever. Reunited with her family, who have taken refuge with enemies of Khalid, and Tariq, her childhood sweetheart, she should be happy. But Tariq now commands forces set on destroying Khalid's empire. Shahrzad is almost a prisoner caught between loyalties to people she loves. But she refuses to be a pawn and devises a plan.
While her father, Jahandar, continues to play with magical forces he doesn't yet understand, Shahrzad tries to uncover powers that may lie dormant within her. With the help of a tattered old carpet and a tempestuous but sage young man, Shahrzad will attempt to break the curse and reunite with her one true love.
The Mirror & the Maze (The Wrath and the Dawn 1.5)
by Renee Ahdieh
MY RATING: [3/5 STARS]
LIked it but it was too short!
BLURB: The city of Rey is burning. With smoke billowing, fires blazing and his people fleeing, Khalid races back to defend his city, and protect his queen. But Khalid is too late to do either. He and his men arrive to find the city in ruins, nothing but a maze of destruction, and Shahrzad is gone. But who could have wrought such devastation? Khalid fears he may already know the answer, the price of choosing love over the people of Rey all too evident.
 The Crown & the Arrow (The Wrath and the Dawn 0.5)
by Renee Ahdieh
MY RATING: [3/5 STARS]
Liked it but it was too short!
BLURB: Seventy-one days and seventy-one nights had come and gone since Khalid began killing his brides. This dawn, Khalid would mark the loss of the seventy-second girl, Shahrzad al-Khayzuran. Khalid didn't know how many more of these dawns he could take. And there was something about this latest girl that piqued his interest. Not only had she volunteered to marry him, but at their wedding ceremony, she had seemed not the least bit afraid. In fact, what he had seen in her eyes was nothing short of pure hatred. She was about to lose her life. Why wasn't she afraid? Why did she hate him so? He had never before gone to his wife's chambers before her death at dawn. Tonight would be different.
 The Moth & the Flame (The Wrath and the Dawn 0.25)
by Renee Ahdieh
MY RATING: [4/5 STARS]
I loved it! Despina and Jalal are my favorite characters besides Khalid and Shazi. I really enjoyed the story of how they first met and fell in love. 
BLURB: It started as playful, if barbed, banter before rising to a fateful wager with a most notorious rake—the Captain of the Guard, Jalal al-Khoury—who may have finally met his match in a lovely, if haughty, handmaiden, Despina. But she, too, seems to have met her match in the handsome Jalal. What begins as a tempestuous battle of will and wit in short order becomes a passionate affair spurred on by tragedy of the worst kind.
---
NEXT I'M GOING TO READ THESE BOOKS:
RUINDED(RUINED#1) BY AMY TINTERA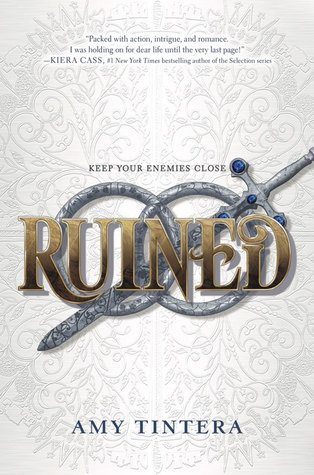 BLURB: Emelina Flores has nothing. Her home in Ruina has been ravaged by war. She lacks the powers of her fellow Ruined. Worst of all, she witnessed her parents' brutal murders and watched helplessly as her sister, Olivia, was kidnapped.
But because Em has nothing, she has nothing to lose. Driven by a blind desire for revenge, Em sets off on a dangerous journey to the enemy kingdom of Lera. Somewhere within Lera's borders, Em hopes to find Olivia. But in order to find her, Em must infiltrate the royal family.
In a brilliant, elaborate plan of deception and murder, Em marries Prince Casimir, next in line to take Lera's throne. If anyone in Lera discovers Em is not Casimir's true betrothed, Em will be executed on the spot. But it's the only way to salvage Em's kingdom and what is left of her family.
Em is determined to succeed, but the closer she gets to the prince, the more she questions her mission. Em's rage-filled heart begins to soften. But with her life—and her family—on the line, love could be Em's deadliest mistake.
THE PLAYER AND THE PIXIE BY L.H. COSWAY & PENNY REID 
 BLURB: THE PIXIE
Lucy Fitzpatrick doesn't like rugby.
As the little sister of Ireland's most infamous rugby player, Lucy can't seem to escape the championship-sized shadow cast by her big brother, or her mother's frequent attempts to micromanage her future. Her rainbow hair is as free-spirited as her quest for inner peace, yet overbearing expectations keep bringing her down. And when she's down, her compulsive little problem lands her in seriously big trouble.
THE PLAYER
Sean Cassidy is a cold-hearted brute… or so he's been told. Frequently. By everyone.
His blonde locks, baby blues, and rock hard bod make ladies the world over drool with desire. As the rugby world's second most infamous player, he should be basking in his success. But Sean has never been content settling for second place, and his frequent confrontations with Lucy's big brother leave him cold. And when he's cold, his compulsive little problem lands him in the lap of Lucy Fitzpatrick.
THE PLAN
Sean has a problem only Lucy can solve. Lucy has a problem only Sean can fix. The solution seems obvious: you scratch my back, and I'll bail you out of jail. But when their business arrangement unexpectedly leaves Sean scorching hot and Lucy on the precipice of inner peace, can they convince the world—and Lucy's big brother in particular—that this is the real deal?
Either way, both the Player and the Pixie are about to teach each other some pretty monumental lessons about family, life, but most importantly, love.
LOVE, LIES AND SPIES BY CINDY ANSTEY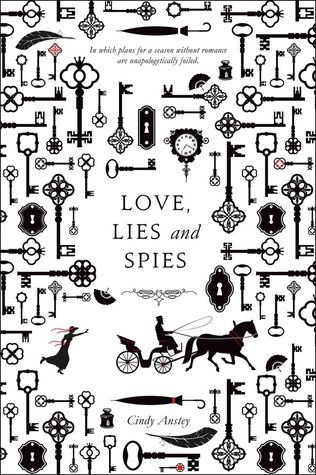 BLURB: Juliana Telford is not your average nineteenth-century young lady. She's much more interested in researching ladybugs than marriage, fashionable dresses, or dances. So when her father sends her to London for a season, she's determined not to form any attachments. Instead, she plans to secretly publish their research.
Spencer Northam is not the average young gentleman of leisure he appears. He is actually a spy for the War Office, and is more focused on acing his first mission than meeting eligible ladies. Fortunately, Juliana feels the same, and they agree to pretend to fall for each other. Spencer can finally focus, until he is tasked with observing Juliana's traveling companions . . . and Juliana herself.
---
These are my WWW for this week, so what are your  recent, current and next reads? Please Feel Free To Comment Below or Leave a link to your WWW post. ❤
See You In The Next Post and Have a Great Day! 🙂