Hello there! Welcome back to another weekly WWW wednesdays meme 🙂
The WWW meme was formerly Hosted by Miz B at Should be Reading
Now It was revived at Taking on a World of Words
To play along, just answer the following three (3) questions…
• What are you currently reading?
• What did you recently finish reading?
• What do you think you'll read next?
---
I AM CURRENTLY READING: 
THE MOTH AND THE FLAME(THE WRATH AND THE DAWN#0.25) BY RENEE AHDIEH

BLURB: It started as playful, if barbed, banter before rising to a fateful wager with a most notorious rake—the Captain of the Guard, Jalal al-Khoury—who may have finally met his match in a lovely, if haughty, handmaiden, Despina. But she, too, seems to have met her match in the handsome Jalal. What begins as a tempestuous battle of will and wit in short order becomes a passionate affair spurred on by tragedy of the worst kind.
---
I JUST RECENTLY FINISHED READING:
NO LOVE ALLOWED BY KATE EVANGELISTA
MY RATING: [4/5 STARS]
" I absolutely enjoyed this book! It was totally adorable, cute, sweet and entertaining. "
Review Coming Soon…

 BLURB: It's all fun and parties until someone falls in love in this modern fairy tale from author Kate Evangelista.
Caleb desperately needs a fake girlfriend. Either he attends a series of parties for his father's law firm with a pretty girl on his arm, or he gets shipped off to Yale to start a future he's not ready for and isn't sure he wants. And sadly, the last unattached girl in his social circle has just made the grievous mistake of falling in love with him. Fortunately, Didi, recently fired waitress and aspiring painter, is open to new experiences. As the summer ticks by in a whirl of lavish parties, there's only one rule: They must not fall in love!
MY PERFECT MISTAKE(OVER THE TOP#1) BY KELLY SISKIND
MY RATING: [3.5/5 STARS]
" It wasn't exciting as I expected but it was good enough to read "
Review Coming Soon…

 BLURB: What happens in Aspen
is definitely not staying in Aspen. . .
A girls' trip to Aspen was exactly what Shay needed to forget about her toxic ex-boyfriend. She's got her girls, pristine slopes for skiing, and hot guys everywhere. Of course, her epic self-rediscovery goes completely to hell when a wild (and deliciously hot) skier knocks Shay on her ass . . . and war is declared.
Kolton doesn't know what it is about Shay that makes him lose it. Not just his cool—although she does have an unholy gift for that—but his restraint. When anger gives way to explosive chemistry, they're both shaken with the intensity of it. But somewhere between lust and hate, Kolton and Shay realize they could have something real . . . if they don't kill each other first.
THE LYRE THIEF(HYTHRUN CHRONICLES: WAR OF THE GODS#1) BY JENNIFER FALLON
MY RATING: [3/5 STARS]
" I really want to like this book cause it was really good but too many multiple pov isn't really my thing and this being a spin off series has left me confused in so many parts. Overall, it didn't worked out for me but it was really a great fantasy read."
Review Coming Soon…

 BLURB: Her Serene Highness, Rakaia, Princess of Fardohnya, is off to Hythria, where her eldest sister is now the High Princess, to find herself a husband, and escape the inevitable bloodbath in the harem when her brother takes the throne.
Rakaia is not interested in marrying anyone, least of all some brute of a Hythrun Warlord she's never met, but she has a plan to save herself from that, too. If she can just convince her baseborn sister, Charisee, to play along, she might actually get away with it.
But there is trouble brewing across the continent. High Prince of Hythria, Damin Wolfblade, must head north to save the peace negotiated a decade ago between the Harshini, Hythria, Fardohnya, Medalon and Karien. He must leave behind an even more dangerous conflict brewing between his wife and his powerful mother, Princess Marla.
…And in far off Medalon, someone has stolen the music.
Their quest for the tiny stolen lyre containing the essence of the God of Music will eventually touch all their lives, threaten everything they hold dear and prove to be far more personal than any of them can imagine.
---
NEXT I'M GOING TO READ THESE BOOKS:
THE MIRROR AND THE MAZE(THE WRATH AND THE DAWN#1.5) BY RENEE AHDIEH

 BLURB: The city of Rey is burning. With smoke billowing, fires blazing and his people fleeing, Khalid races back to defend his city, and protect his queen. But Khalid is too late to do either. He and his men arrive to find the city in ruins, nothing but a maze of destruction, and Shahrzad is gone. But who could have wrought such devastation? Khalid fears he may already know the answer, the price of choosing love over the people of Rey all too evident.
THE ROSE AND THE DAGGER(THE WRATH AND THE DAWN#2) BY RENEE AHDIEH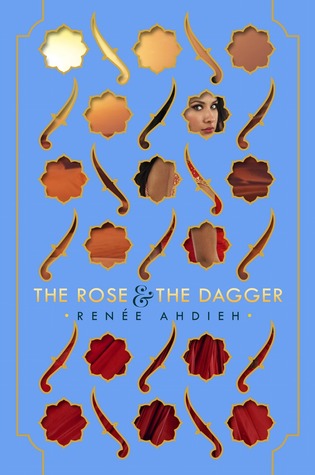 BLURB: I am surrounded on all sides by a desert. A guest, in a prison of sand and sun. My family is here. And I do not know whom I can trust.
In a land on the brink of war, Shahrzad has been torn from the love of her husband Khalid, the Caliph of Khorasan. She once believed him a monster, but his secrets revealed a man tormented by guilt and a powerful curse—one that might keep them apart forever. Reunited with her family, who have taken refuge with enemies of Khalid, and Tariq, her childhood sweetheart, she should be happy. But Tariq now commands forces set on destroying Khalid's empire. Shahrzad is almost a prisoner caught between loyalties to people she loves. But she refuses to be a pawn and devises a plan.
While her father, Jahandar, continues to play with magical forces he doesn't yet understand, Shahrzad tries to uncover powers that may lie dormant within her. With the help of a tattered old carpet and a tempestuous but sage young man, Shahrzad will attempt to break the curse and reunite with her one true love.
THE WATER'S WRATH(AIR AWAKEN'S#4) BY ELISE KOVA

 BLURB: Librarian turned sorcerer. Sorcerer turned hero. Hero turned puppet.
The Solaris Empire found victory in the North and, at the cost of her heart and her innocence, Vhalla Yarl has earned her freedom. But the true fight is only beginning as the secret forces that have been lurking in the shadows, tugging at the strings of Vhalla's fate, finally come to light. Nowhere is safe, and Vhalla must tread carefully or else she'll fall into the waiting arms of her greatest foe. Or former lover.
---
These are my WWW for this week, so what are your  recent, current and next reads? Please Feel Free To Comment Below or Leave a link to your WWW post. ❤
See You In The Next Post and Have a Great Day! 🙂