Hello there! Welcome back to another weekly WWW wednesdays meme 🙂
The WWW meme was formerly Hosted by Miz B at Should be Reading
Now It was revived at Taking on a World of Words
To play along, just answer the following three (3) questions…
• What are you currently reading?
• What did you recently finish reading?
• What do you think you'll read next?
---
I AM CURRENTLY READING:
THE LYRE THIEF(HYTHRUN CHRONICLES: WAR OF THE GODS#1) BY JENNIFER FALLON
 BLURB: Her Serene Highness, Rakaia, Princess of Fardohnya, is off to Hythria, where her eldest sister is now the High Princess, to find herself a husband, and escape the inevitable bloodbath in the harem when her brother takes the throne.
Rakaia is not interested in marrying anyone, least of all some brute of a Hythrun Warlord she's never met, but she has a plan to save herself from that, too. If she can just convince her baseborn sister, Charisee, to play along, she might actually get away with it.
But there is trouble brewing across the continent. High Prince of Hythria, Damin Wolfblade, must head north to save the peace negotiated a decade ago between the Harshini, Hythria, Fardohnya, Medalon and Karien. He must leave behind an even more dangerous conflict brewing between his wife and his powerful mother, Princess Marla.
…And in far off Medalon, someone has stolen the music.
Their quest for the tiny stolen lyre containing the essence of the God of Music will eventually touch all their lives, threaten everything they hold dear and prove to be far more personal than any of them can imagine.
---
I JUST RECENTLY FINISHED READING:
UNDECIDED BY JULIANNA KEYES
MY RATING: [3.5/5 STARS]
"  I  enjoyed it but not as much as I expected. The story was definitely interesting but I felt something missing. Nonetheless it was fun to read and I loved the relationship between crosbie, Nora and Kellan."
Review Coming Soon…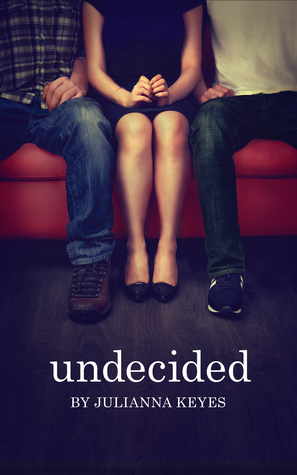 BLURB: Nora Kincaid has one goal for her second year of college: be invisible. Last year's all-party-no-study strategy resulted in three failed classes and two criminal charges, and if she messes up again she'll lose her scholarship. But there's one problem with her plan for invisibility, and his name is Crosbie Lucas: infamous party king, general hellraiser…and her new roommate's best friend.
Crosbie's reckless reputation and well-known sexcapades aren't part of Nora's studious new strategy, but as she's quickly learning, her new plan is also really boring. When Crosbie's unexpected gestures of friendship pull her head out of her books long enough to see past his cocky veneer, she's surprised to find a flawed and funny guy beneath it all. The muscles don't hurt, either.
But as Nora starts to fall for Crosbie, the weight of one of last year's bad decisions grows even heavier. Because three failing grades and two misdemeanors are nothing compared to the one big secret she's hiding…
THREE WISHES(RIVER OF TIMES: CALIFORNIA#1) BY LISA T. BERGREN
MY RATING: [3.5/5 STARS]
" I loved the characters and the storyline but it wasn't as amazing as the River of time series which is another Time-Travelling series by Lisa T. Bergren. Despite that, it was intriguing enough to continue the series."
Review Coming Soon…

 BLURB: E CAREFUL WHAT YOU WISH FOR. BECAUSE YOU JUST MIGHT GET IT.
Zara Ruiz is a normal California girl on the verge of graduating high school and thinking about her dawning future. But when dusk brings a shattering loss—and she discovers a priceless object in the shallows of a tide pool—she is thrust a hundred-and-eighty years into the past. There she meets handsome ranchero Javier de la Ventura—who has big dreams and bigger secrets—along with his enchanting family, in a land that is at once familiar, and yet utterly foreign.
Between cattle rustlers, pirates and a growing call for statehood, it is not a peaceful time to be a Mexican settler in young Alta California. But it is in that time and place that Zara must decide if she can find what she longs for most in the past, or if her heart's THREE WISHES can only be resolved in the present.
---
NEXT I'M GOING TO READ THESE BOOKS:
MY PERFECT MISTAKE(OVER THE TOP#1) BY KELLY SISKIND
 BLURB: What happens in Aspen
is definitely not staying in Aspen. . .
A girls' trip to Aspen was exactly what Shay needed to forget about her toxic ex-boyfriend. She's got her girls, pristine slopes for skiing, and hot guys everywhere. Of course, her epic self-rediscovery goes completely to hell when a wild (and deliciously hot) skier knocks Shay on her ass . . . and war is declared.
Kolton doesn't know what it is about Shay that makes him lose it. Not just his cool—although she does have an unholy gift for that—but his restraint. When anger gives way to explosive chemistry, they're both shaken with the intensity of it. But somewhere between lust and hate, Kolton and Shay realize they could have something real . . . if they don't kill each other first.
NO LOVE ALLOWED BY KATE EVANGELISTA
 BLURB: It's all fun and parties until someone falls in love in this modern fairy tale from author Kate Evangelista.
Caleb desperately needs a fake girlfriend. Either he attends a series of parties for his father's law firm with a pretty girl on his arm, or he gets shipped off to Yale to start a future he's not ready for and isn't sure he wants. And sadly, the last unattached girl in his social circle has just made the grievous mistake of falling in love with him. Fortunately, Didi, recently fired waitress and aspiring painter, is open to new experiences. As the summer ticks by in a whirl of lavish parties, there's only one rule: They must not fall in love!
---
These are my WWW for this week, so what are your  recent, current and next reads? Please Feel Free To Comment Below or Leave a link to your WWW post. ❤
See You In The Next Post and Have a Great Day! 🙂