Hi there! Welcome back to another round of Sunday Book Recommendations.
Sunday Book Recommendations is the  weekly meme hosted by me. I created this meme so I could recommend you guys some interesting books which I think are worth reading. This meme includes recommending a book from three different genres. If you want to do this meme have fun with it, but don't forget to link back to the host. 🙂
Note: You can change the genres every week.
---
YA PARANORMAL
VELVET BY TEMPLE WEST
[VELVET TRILOGY]
A perfect treat for the twilight fans and also to all the YA vampire fiction lovers

BLURB: After losing both her parents before age 17, aspiring designer Caitlin Holte feels like her whole world has been turned upside down, and that was before the terrifying encounter with a supernatural force. Then, she learns that her hot bad-boy neighbor, Adrian–who might have just saved her life–is actually a half-demon vampire. Suddenly Caitlin is stuck with a vampire bodyguard who feels that the best way to protect her is to become her pretend boyfriend. Trouble is, Caitlin is starting to fall in love for real, while Adrian can never love a human. Caitlin trusts Adrian to keep her safe from his demon father, but will he be able to protect her heart?
---
YA FANTASY
CROWN OF CRIMSON BY ROSE REID
[THE AFTERLIGHT CHRONICLES SERIES]
Great fantasy book with a fiesty female assassin and a wonderful plot. I highly recommend it to the TOG fans.

 BLURB: First Rule of the Cannon: Trust no one.
Aerietta Elony is destined for evil.
Born into a royal family, it was quickly discovered that she bore the Jezdah mark — an intricate tattoo meant to identify the Children of the Elements. To make sure his people never knew about the danger that hid in their midst, the king had his daughter sent to the leader of the Cannon, his order of assassins, where she would learn to become one of them.
No one was ever supposed to know what Aerietta was, where she came from, or what she was destined to become. She's never worried what would happen if someone discovered her secrets. But when a neighboring kingdom attacks, and Aerietta is betrayed and captured, keeping her secret will mean the difference between life and death.
When the king of the neighboring land enlists her services to track down one of her traitor companions, she has no choice but to accept. But in order to find her former friend and make it back to the king with her head still attached to her shoulders, she'll have to keep the enigmatic, inhuman Swordmaster in the dark, which proves to be more difficult than she could ever imagine.
Deception abounds, danger is just as prevalent, but even in this world of demons and magic, the only thing Aerietta fears is herself.
The Queen of Crimson accepts.
---
NA CONTEMPORARY
PAPER PRINCESS BY ERIN WATT
[THE ROYALS TRILOGY]
This book was totally addictive! I loved the plot and the characters. It was so hot, sexy and hilarious that you can't help loving it. 😀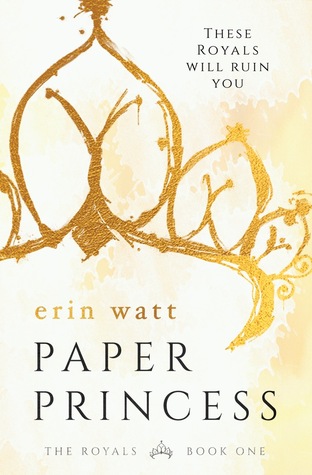 BLURB: From strip clubs and truck stops to southern coast mansions and prep schools, one girl tries to stay true to herself.
These Royals will ruin you…
Ella Harper is a survivor—a pragmatic optimist. She's spent her whole life moving from town to town with her flighty mother, struggling to make ends meet and believing that someday she'll climb out of the gutter. After her mother's death, Ella is truly alone.
Until Callum Royal appears, plucking Ella out of poverty and tossing her into his posh mansion among his five sons who all hate her. Each Royal boy is more magnetic than the last, but none as captivating as Reed Royal, the boy who is determined to send her back to the slums she came from.
Reed doesn't want her. He says she doesn't belong with the Royals.
He might be right.
Wealth. Excess. Deception. It's like nothing Ella has ever experienced, and if she's going to survive her time in the Royal palace, she'll need to learn to issue her own Royal decrees.
---
Well, that's it for this week. 😀
Feel free to comment below and if you want me to recommend books from any particular genre let me know. ❤
See you next week with new recommendations!  🙂
Have a Great Day!