Hello there! Welcome back to another weekly WWW wednesdays meme 🙂
The WWW meme was formerly Hosted by Miz B at Should be Reading
Now It was revived at Taking on a World of Words
To play along, just answer the following three (3) questions…
• What are you currently reading?
• What did you recently finish reading?
• What do you think you'll read next?
---
I AM CURRENTLY READING:
THREE WISHES(RIVER OF TIMES: CALIFORNIA#1) BY LISA T. BERGREN
 BLURB: E CAREFUL WHAT YOU WISH FOR. BECAUSE YOU JUST MIGHT GET IT.
Zara Ruiz is a normal California girl on the verge of graduating high school and thinking about her dawning future. But when dusk brings a shattering loss—and she discovers a priceless object in the shallows of a tide pool—she is thrust a hundred-and-eighty years into the past. There she meets handsome ranchero Javier de la Ventura—who has big dreams and bigger secrets—along with his enchanting family, in a land that is at once familiar, and yet utterly foreign.
Between cattle rustlers, pirates and a growing call for statehood, it is not a peaceful time to be a Mexican settler in young Alta California. But it is in that time and place that Zara must decide if she can find what she longs for most in the past, or if her heart's THREE WISHES can only be resolved in the present.
---
I JUST RECENTLY FINISHED READING:
THE GLITTERING COURT(THE GLITTERING COURT#1) BY RICHELLE MEAD
MY RATING: [3/5 STARS]
" It's pretty sad that it turned out to be a disappointment cause I expected it to be thrilling read but the plot seemed so boring for me to enjoy it.   "
Review Coming Soon…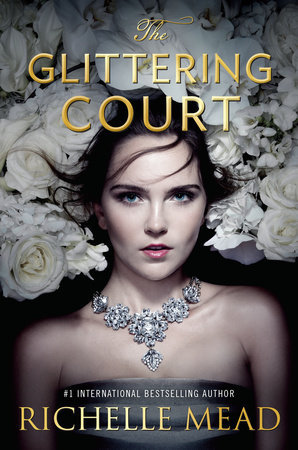 BLURB: Big and sweeping, spanning from the refined palaces of Osfrid to the gold dust and untamed forests of Adoria, The Glittering Court tells the story of Adelaide, an Osfridian countess who poses as her servant to escape an arranged marriage and start a new life in Adoria, the New World. But to do that, she must join the Glittering Court.
Both a school and a business venture, the Glittering Court is designed to transform impoverished girls into upper-class ladies who appear destined for powerful and wealthy marriages in the New World. Adelaide naturally excels in her training, and even makes a few friends: the fiery former laundress Tamsin and the beautiful Sirminican refugee Mira. She manages to keep her true identity hidden from all but one: the intriguing Cedric Thorn, son of the wealthy proprietor of the Glittering Court.
When Adelaide discovers that Cedric is hiding a dangerous secret of his own, together they hatch a scheme to make the best of Adelaide's deception. Complications soon arise—first as they cross the treacherous seas from Osfrid to Adoria, and then when Adelaide catches the attention of a powerful governor.
But no complication will prove quite as daunting as the potent attraction simmering between Adelaide and Cedric. An attraction that, if acted on, would scandalize the Glittering Court and make them both outcasts in wild, vastly uncharted lands…
SAVEN:DISCLOSURE(SAVEN#2) BY SIOBHAN DAVIS [ARC]
MY RATING: [4/5 STARS]
"  A perfect sequel to the Saven: Deception "
Review Coming Soon…

 BLURB: THE TRUTH WON'T HIDE FOREVER
To protect Logan, I have no choice but to deceive him.
But I'm not the only one hiding the truth.
Will our love survive all the secrets and lies?
Enemy alien ships crowd the skies over Earth while the world waits with bated breath. The Saven have been exposed, and where once they were abhorred, they are now championed as our greatest ally and our only possible savior.
Logan and Sadie have been separated, and the longer he is gone, the more their love is tested by duty, doubts, and deception.
Sadie and Jarod have infiltrated the highest levels of government, but they are playing a dangerous game. Surrounded by people with conflicting agendas—hell-bent on using her for their own aim—Sadie is confused when the lines between good and evil are blurred. It's impossible to tell friend from foe, and no one can be trusted.
When the full extent of the experiments taking place in Sector Twenty is disclosed, Sadie can no longer sit back and watch as the lower classes face a horrific fate. Racing to save her loved ones and mankind, she risks her own safety and the love she's waited a lifetime for to do the right thing.
But no one thought to save her from herself.
PAPER PRINCESS(THE ROYALS #1) BY ERIN WATT
MY RATING: [5/5 STARS]
" This book was sexy, hot and hilarious!  It does have it's flaws but the story was so addictive that I can't stop turning the pages. I highly recommend it to the NA contemporary lovers.  "
Review Coming Soon…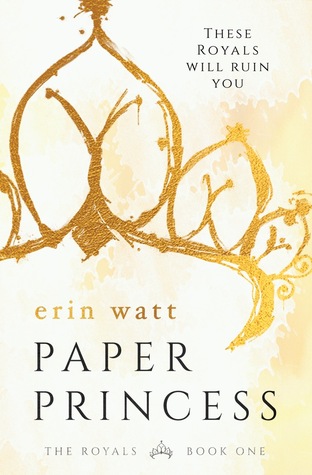 BLURB: From strip clubs and truck stops to southern coast mansions and prep schools, one girl tries to stay true to herself.
These Royals will ruin you…
Ella Harper is a survivor—a pragmatic optimist. She's spent her whole life moving from town to town with her flighty mother, struggling to make ends meet and believing that someday she'll climb out of the gutter. After her mother's death, Ella is truly alone.
Until Callum Royal appears, plucking Ella out of poverty and tossing her into his posh mansion among his five sons who all hate her. Each Royal boy is more magnetic than the last, but none as captivating as Reed Royal, the boy who is determined to send her back to the slums she came from.
Reed doesn't want her. He says she doesn't belong with the Royals.
He might be right.
Wealth. Excess. Deception. It's like nothing Ella has ever experienced, and if she's going to survive her time in the Royal palace, she'll need to learn to issue her own Royal decrees.
BEYOND THE RED BY AVA JAE
MY RATING: [4/5 STARS]
" I had great time reading this book, it was simply great with amazing world building and characters.   "
Review Coming Soon…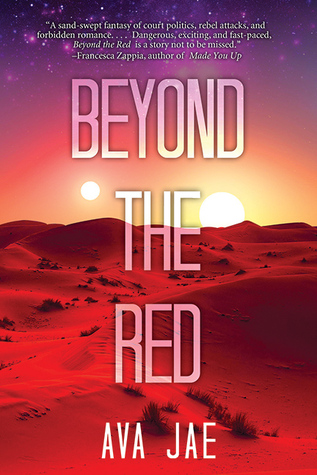 BLURB: A story of betrayal, love, and loss—all on a technologically advanced alien planet where monarchy reigns, but lies rule.
Alien queen Kora has a problem as vast as the endless crimson deserts. She's the first female ruler of her territory in generations, but her people are rioting and call for her violent younger twin brother to take the throne. Despite assassination attempts, a mounting uprising of nomadic human rebels, and pressure to find a mate to help her rule, she's determined to protect her people from her brother's would-be tyrannical rule.
Eros is a rebel soldier hated by aliens and human alike for being a half-blood. But that doesn't stop him from defending his people—at least until Kora's soldiers raze his camp and take him captive. He is given an ultimatum: be an enslaved bodyguard to Kora, or be executed for his true identity—a secret kept even from him.
When Kora and Eros are framed for the attempted assassination of her betrothed, they flee. Their only chance of survival is to turn themselves in to the high court, where revealing Eros's secret could mean a swift public execution. But when they uncover a violent plot to end the human insurgency, they must find a way to work together to prevent genocide.
---
NEXT I'M GOING TO READ THESE BOOKS:
UNDECIDED BY JULIANNA KEYES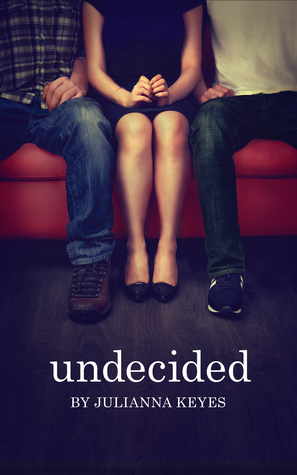 BLURB: Nora Kincaid has one goal for her second year of college: be invisible. Last year's all-party-no-study strategy resulted in three failed classes and two criminal charges, and if she messes up again she'll lose her scholarship. But there's one problem with her plan for invisibility, and his name is Crosbie Lucas: infamous party king, general hellraiser…and her new roommate's best friend.
Crosbie's reckless reputation and well-known sexcapades aren't part of Nora's studious new strategy, but as she's quickly learning, her new plan is also really boring. When Crosbie's unexpected gestures of friendship pull her head out of her books long enough to see past his cocky veneer, she's surprised to find a flawed and funny guy beneath it all. The muscles don't hurt, either.
But as Nora starts to fall for Crosbie, the weight of one of last year's bad decisions grows even heavier. Because three failing grades and two misdemeanors are nothing compared to the one big secret she's hiding…
THE LYRE THIEF(HYTHRUN CHRONICLES: WAR OF THE GODS#1) BY JENNIFER FALLON
 BLURB: Her Serene Highness, Rakaia, Princess of Fardohnya, is off to Hythria, where her eldest sister is now the High Princess, to find herself a husband, and escape the inevitable bloodbath in the harem when her brother takes the throne.
Rakaia is not interested in marrying anyone, least of all some brute of a Hythrun Warlord she's never met, but she has a plan to save herself from that, too. If she can just convince her baseborn sister, Charisee, to play along, she might actually get away with it.
But there is trouble brewing across the continent. High Prince of Hythria, Damin Wolfblade, must head north to save the peace negotiated a decade ago between the Harshini, Hythria, Fardohnya, Medalon and Karien. He must leave behind an even more dangerous conflict brewing between his wife and his powerful mother, Princess Marla.
…And in far off Medalon, someone has stolen the music.
Their quest for the tiny stolen lyre containing the essence of the God of Music will eventually touch all their lives, threaten everything they hold dear and prove to be far more personal than any of them can imagine.
MY PERFECT MISTAKE(OVER THE TOP#1) BY KELLY SISKIND
 BLURB: What happens in Aspen
is definitely not staying in Aspen. . .
A girls' trip to Aspen was exactly what Shay needed to forget about her toxic ex-boyfriend. She's got her girls, pristine slopes for skiing, and hot guys everywhere. Of course, her epic self-rediscovery goes completely to hell when a wild (and deliciously hot) skier knocks Shay on her ass . . . and war is declared.
Kolton doesn't know what it is about Shay that makes him lose it. Not just his cool—although she does have an unholy gift for that—but his restraint. When anger gives way to explosive chemistry, they're both shaken with the intensity of it. But somewhere between lust and hate, Kolton and Shay realize they could have something real . . . if they don't kill each other first.
---
These are my WWW for this week, so what are your  recent, current and next reads? Please Feel Free To Comment Below or Leave a link to your WWW post. ❤
See You In The Next Post and Have a Great Day! 🙂