Hi there! Welcome back to another round of Sunday Book Recommendations.
Sunday Book Recommendations is the  weekly meme hosted by me. I created this meme so I could recommend you guys some interesting books which I think are worth reading. This meme includes recommending a book from three different genres. If you want to do this meme have fun with it, but don't forget to link back to the host. 🙂
Note: You can change the genres every week.
YA CONTEMPORARY
THE AVERY SHAW EXPERIMENT BY KELLY ORAM
This book was so adorable, cute and hilarious. If you are into cute YA contemporary romances then you must read this book.
 BLURB: When Avery Shaw's heart is shattered by her life-long best friend, she chooses to deal with it the only way she knows how—scientifically.
The state science fair is coming up and Avery decides to use her broken heart as the topic of her experiment. She's going to find the cure. By forcing herself to experience the seven stages of grief through a series of social tests, she believes she will be able to get over Aiden Kennedy and make herself ready to love again. But she can't do this experiment alone, and her partner (ex partner!) is the one who broke her heart.
Avery finds the solution to her troubles in the form of Aiden's older brother Grayson. The gorgeous womanizer is about to be kicked off the school basketball team for failing physics. He's in need of a good tutor and some serious extra credit. But when Avery recruits the lovable Grayson to be her "objective outside observer," she gets a whole lot more than she bargained for, because Grayson has a theory of his own: Avery doesn't need to grieve. She needs to live. And if there's one thing Grayson Kennedy is good at, it's living life to the fullest.
---
BEYOND THE RED BY AVA JAE
An entertaining dystopian romance with an amazing world building and I highly recommend it.
 BLURB: Alien queen Kora has a problem as vast as the endless crimson deserts. She's the first female ruler of her territory in generations, but her people are rioting and call for her violent younger twin brother to take the throne. Despite assassination attempts, a mounting uprising of nomadic human rebels, and pressure to find a mate to help her rule, she's determined to protect her people from her brother's would-be tyrannical rule.
Eros is a rebel soldier hated by aliens and human alike for being a half-blood. Yet that doesn't stop him from defending his people, at least until Kora's soldiers raze his camp and take him captive. He's given an ultimatum: be an enslaved bodyguard to Kora, or be executed for his true identity-a secret kept even from him.
When Kora and Eros are framed for the attempted assassination of her betrothed, they flee. Their only chance of survival is to turn themselves in to the high court, where revealing Eros's secret could mean a swift public execution. But when they uncover a violent plot to end the human insurgency, they must find a way to work together to prevent genocide.
---
YA HISTORICAL
A GRAVE MERCY BY ROBIN LAFEVERS
HIS FAIR ASSASSIN TRILOGY
This book was so much exciting, intriguing and thrilling with it's gripping plot.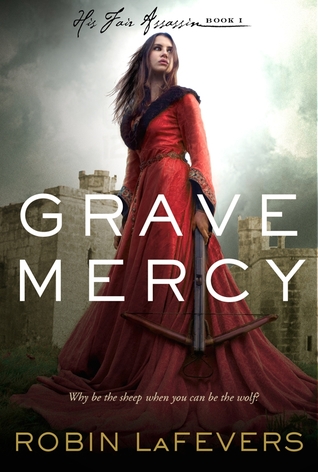 BLURB: Why be the sheep, when you can be the wolf?
Seventeen-year-old Ismae escapes from the brutality of an arranged marriage into the sanctuary of the convent of St. Mortain, where the sisters still serve the gods of old. Here she learns that the god of Death Himself has blessed her with dangerous gifts—and a violent destiny. If she chooses to stay at the convent, she will be trained as an assassin and serve as a handmaiden to Death. To claim her new life, she must destroy the lives of others.
Ismae's most important assignment takes her straight into the high court of Brittany—where she finds herself woefully under prepared—not only for the deadly games of intrigue and treason, but for the impossible choices she must make. For how can she deliver Death's vengeance upon a target who, against her will, has stolen her heart?
---
Well, that's it for this week. 😀
Feel free to comment below and if you want me to recommend books from any particular genre let me know. ❤
See you next week with new recommendations!  🙂
Have a Great Day!