Hello there! Welcome back to another weekly WWW wednesdays meme 🙂
The WWW meme was formerly Hosted by Miz B at Should be Reading
Now It was revived at Taking on a World of Words
To play along, just answer the following three (3) questions…
• What are you currently reading?
• What did you recently finish reading?
• What do you think you'll read next?
---
I AM CURRENTLY READING:
BEYOND THE RED BY AVA JAE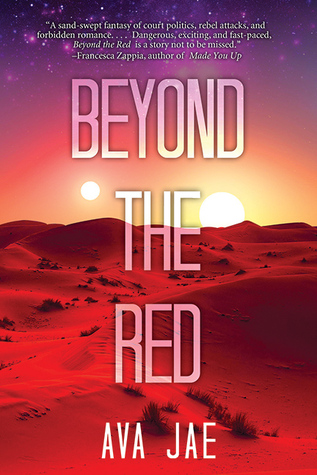 BLURB: A story of betrayal, love, and loss—all on a technologically advanced alien planet where monarchy reigns, but lies rule.
Alien queen Kora has a problem as vast as the endless crimson deserts. She's the first female ruler of her territory in generations, but her people are rioting and call for her violent younger twin brother to take the throne. Despite assassination attempts, a mounting uprising of nomadic human rebels, and pressure to find a mate to help her rule, she's determined to protect her people from her brother's would-be tyrannical rule.
Eros is a rebel soldier hated by aliens and human alike for being a half-blood. But that doesn't stop him from defending his people—at least until Kora's soldiers raze his camp and take him captive. He is given an ultimatum: be an enslaved bodyguard to Kora, or be executed for his true identity—a secret kept even from him.
When Kora and Eros are framed for the attempted assassination of her betrothed, they flee. Their only chance of survival is to turn themselves in to the high court, where revealing Eros's secret could mean a swift public execution. But when they uncover a violent plot to end the human insurgency, they must find a way to work together to prevent genocide.
---
I JUST RECENTLY FINISHED READING:

THE CAPTIVE PRINCE TRILOGY BY C.S. PACAT
MY RATING: [4/5 STARS]
"  This book definitely lived up to all the hype! I was a bit hesitant to pick this up because I really don't read much glbt genre but the blurb sounded really intriguing and I couldn't help myself. The characters, the setting, the plot are totally a perfection and I had great time binge reading this trilogy.   "
Review Coming Soon…
BLURB: Damen is a warrior hero to his people, and the truthful heir to the throne of Akielos, but when his half brother seizes power, Damen is captured, stripped of his identity and sent to serve the prince of an enemy nation as a pleasure slave.
Beautiful, manipulative and deadly, his new master Prince Laurent epitomizes the worst of the court at Vere. But in the lethal political web of the Veretian court, nothing is as it seems, and when Damen finds himself caught up in a play for the throne, he must work together with Laurent to survive and save his country.
For Damen, there is just one rule: never, ever reveal his true identity. Because the one man Damen needs is the one man who has more reason to hate him than anyone else..
THE OTHER SIDE OF GRAVITY(OXYGEN#1) BY SHELLY CRANE [ARC]
MY RATING: [3.5/5 STARS]
"  This book was a great start for a new YA sci-fi romance series. I loved the world building! It was simply fantastic and brilliant.  Although the second half of the plot was a bit slow, I enjoyed reading it and I'll definitely look forward to the sequel "
Review Coming Soon…
 BLURB: My name is Maxton and I'm a trader.
I live on a soulless planet where gravity, oxygen, and everything else are sold to the highest bidder on the black market. People are sold on the black market, too. You have to work really hard not to become one of those people. Pay your taxes, keep your friends and family close, and more than anything else—don't get caught by the Militia. But all the rules changed for me the day I found her.
My name is Sophelia and I'm a stowaway.
I've been a slave for almost as long as I can remember. Waiting for the one day, one second, for my proprietor to turn his head so I could run and never look back. Now I'm on the run. And on a planet where no one is on your side and people would turn you in for a good meal or a piece of a silver, being on the run on Landu is the last place you want to be. Until he found me.
---
NEXT I'M GOING TO READ THESE BOOKS:
PAPER PRINCESS(THE ROYALS #1) BY ERIN WATT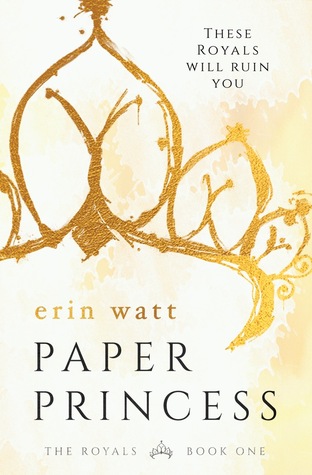 BLURB: From strip clubs and truck stops to southern coast mansions and prep schools, one girl tries to stay true to herself.
These Royals will ruin you…
Ella Harper is a survivor—a pragmatic optimist. She's spent her whole life moving from town to town with her flighty mother, struggling to make ends meet and believing that someday she'll climb out of the gutter. After her mother's death, Ella is truly alone.
Until Callum Royal appears, plucking Ella out of poverty and tossing her into his posh mansion among his five sons who all hate her. Each Royal boy is more magnetic than the last, but none as captivating as Reed Royal, the boy who is determined to send her back to the slums she came from.
Reed doesn't want her. He says she doesn't belong with the Royals.
He might be right.
Wealth. Excess. Deception. It's like nothing Ella has ever experienced, and if she's going to survive her time in the Royal palace, she'll need to learn to issue her own Royal decrees.
SAVEN:DISCLOSURE(SAVEN#2) BY SIOBHAN DAVIS [ARC]
 BLURB: THE TRUTH WON'T HIDE FOREVER
To protect Logan, I have no choice but to deceive him.
But I'm not the only one hiding the truth.
Will our love survive all the secrets and lies?
Enemy alien ships crowd the skies over Earth while the world waits with bated breath. The Saven have been exposed, and where once they were abhorred, they are now championed as our greatest ally and our only possible savior.
Logan and Sadie have been separated, and the longer he is gone, the more their love is tested by duty, doubts, and deception.
Sadie and Jarod have infiltrated the highest levels of government, but they are playing a dangerous game. Surrounded by people with conflicting agendas—hell-bent on using her for their own aim—Sadie is confused when the lines between good and evil are blurred. It's impossible to tell friend from foe, and no one can be trusted.
When the full extent of the experiments taking place in Sector Twenty is disclosed, Sadie can no longer sit back and watch as the lower classes face a horrific fate. Racing to save her loved ones and mankind, she risks her own safety and the love she's waited a lifetime for to do the right thing.
But no one thought to save her from herself.
THE GLITTERING COURT(THE GLITTERING COURT#1) BY RICHELLE MEAD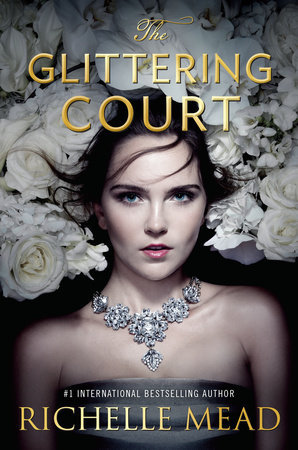 BLURB: Big and sweeping, spanning from the refined palaces of Osfrid to the gold dust and untamed forests of Adoria, The Glittering Court tells the story of Adelaide, an Osfridian countess who poses as her servant to escape an arranged marriage and start a new life in Adoria, the New World. But to do that, she must join the Glittering Court.
Both a school and a business venture, the Glittering Court is designed to transform impoverished girls into upper-class ladies who appear destined for powerful and wealthy marriages in the New World. Adelaide naturally excels in her training, and even makes a few friends: the fiery former laundress Tamsin and the beautiful Sirminican refugee Mira. She manages to keep her true identity hidden from all but one: the intriguing Cedric Thorn, son of the wealthy proprietor of the Glittering Court.
When Adelaide discovers that Cedric is hiding a dangerous secret of his own, together they hatch a scheme to make the best of Adelaide's deception. Complications soon arise—first as they cross the treacherous seas from Osfrid to Adoria, and then when Adelaide catches the attention of a powerful governor.
But no complication will prove quite as daunting as the potent attraction simmering between Adelaide and Cedric. An attraction that, if acted on, would scandalize the Glittering Court and make them both outcasts in wild, vastly uncharted lands…
---
These are my WWW for this week, so what are your  recent, current and next reads? Please Feel Free To Comment Below or Leave a link to your WWW post. ❤
See You In The Next Post and Have a Great Day! 🙂