Hello there! Welcome back to another weekly WWW wednesdays meme 🙂
The WWW meme was formerly Hosted by Miz B at Should be Reading
Now It was revived at Taking on a World of Words
To play along, just answer the following three (3) questions…
• What are you currently reading?
• What did you recently finish reading?
• What do you think you'll read next?
---
I AM CURRENTLY READING:
THE OTHER SIDE OF GRAVITY(OXYGEN#1) BY SHELLY CRANE [ARC]
"  I'm half way through the book and so far it was good  "
 BLURB: My name is Maxton and I'm a trader.
I live on a soulless planet where gravity, oxygen, and everything else are sold to the highest bidder on the black market. People are sold on the black market, too. You have to work really hard not to become one of those people. Pay your taxes, keep your friends and family close, and more than anything else—don't get caught by the Militia. But all the rules changed for me the day I found her.
My name is Sophelia and I'm a stowaway.
I've been a slave for almost as long as I can remember. Waiting for the one day, one second, for my proprietor to turn his head so I could run and never look back. Now I'm on the run. And on a planet where no one is on your side and people would turn you in for a good meal or a piece of a silver, being on the run on Landu is the last place you want to be. Until he found me.
I won't survive without him.
I can't breathe without her.
---
I JUST RECENTLY FINISHED READING: 
HOW TO LOSE A BACHELOR BY ANNA BANKS
MY RATING: [3.5/5 STARS]
"  A fun and romantic entertainer with a happy ending. Though the story was somewhat predictable, cliched and unoriginal, I enjoyed reading it. "
Review Coming Soon…

 BLURB: Revenge was never this much fun…
When Rochelle Ransom auditioned for the dating show Luring Love, she had big plans for winning the prize money to help her favorite charity-and if she won the hot bachelor's heart, even better. But at the last minute she finds out the hot bachelor is her ex-boyfriend, Grant Drake. Desperate to keep her distance from him, she'll do anything-and everything-to get voted off.
Years ago, Rochelle broke Grant's heart, and he's out for revenge. There's no way he'll vote her off.
After all, vengeance is a dish best served red-hot…and on live television.
When her hilarious antics to get kicked off the show escalate, Grant's reminded why he fell in love with her the first time. Now he isn't sure which might be more fun… Seeing how far Rochelle is willing to go to get away or how far he will to keep her forever.
THESE VICIOUS MASKS(THESE VICIOUS MASKS#1) BY TARUN SHANKER & KELLY ZEKAS
MY RATING: [3.5/5 STARS]
" I loved the concept of this book. The plot was quite mysterious but I felt something missing and also a bit disappointed with it lacking in romance . Overall, it was refreshing and entertaining.  "
Review Coming Soon…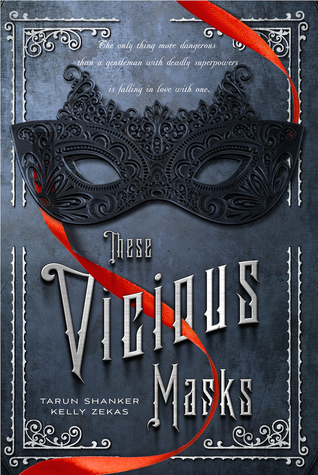 BLURB: Jane Austen meets X-­Men in this gripping and adventure-­filled paranormal romance set in Victorian London.
England, 1882. Evelyn is bored with society and its expectations. So when her beloved sister, Rose, mysteriously vanishes, she ignores her parents and travels to London to find her, accompanied by the dashing Mr. Kent. But they're not the only ones looking for Rose. The reclusive, young gentleman Sebastian Braddock is also searching for her, claiming that both sisters have special healing powers. Evelyn is convinced that Sebastian must be mad, until she discovers that his strange tales of extraordinary people are true—and that her sister is in graver danger than she feared.
BURNING GLASS(BURNING GLASS#1) BY KATHRYN PURDIE
MY RATING: [3.5/5 STARS]
"  This book was dark and emotional. I think readers will either love this book or hate it because of the triangle in the plot which was totally confusing and a bit annoying.   "
Review Coming Soon…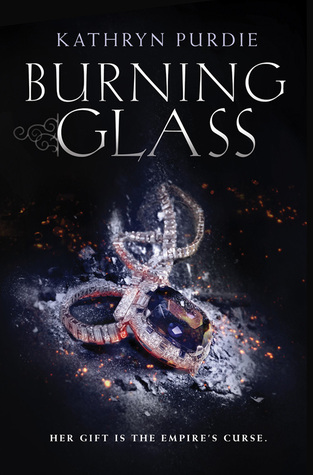 BLURB: Sonya was born with the rare gift to feel what those around her feel—both physically and emotionally—a gift she's kept hidden from the empire for seventeen long years. After a reckless mistake wipes out all the other girls with similar abilities, Sonya is hauled off to the palace and forced to serve the emperor as his sovereign Auraseer.
Tasked with sensing the intentions of would-be assassins, Sonya is under constant pressure to protect the emperor. But Sonya's power is untamed and reckless, and she can't always decipher when other people's impulses end and her own begin. In a palace full of warring emotions and looming darkness, Sonya fears that the biggest danger to the empire may be herself.
As she struggles to wrangle her abilities, Sonya seeks refuge in her tenuous alliances with the charming-yet-volatile Emperor Valko and his idealistic younger brother, Anton, the crown prince. But when threats of revolution pit the two brothers against each other, Sonya must choose which brother to trust—and which to betray.
---
NEXT I'M GOING TO READ THESE BOOKS:
There's so much hype over Captive Prince by C.S. Pacat and I'm so excited that I'm finally going to binge read this trilogy.
CAPTIVE PRINCE TRILOGY BY C.S. PACAT
BLURB: Damen is a warrior hero to his people, and the truthful heir to the throne of Akielos, but when his half brother seizes power, Damen is captured, stripped of his identity and sent to serve the prince of an enemy nation as a pleasure slave.
Beautiful, manipulative and deadly, his new master Prince Laurent epitomizes the worst of the court at Vere. But in the lethal political web of the Veretian court, nothing is as it seems, and when Damen finds himself caught up in a play for the throne, he must work together with Laurent to survive and save his country.
For Damen, there is just one rule: never, ever reveal his true identity. Because the one man Damen needs is the one man who has more reason to hate him than anyone else…
---
These are my WWW for this week, so what are your  recent, current and next reads? Please Feel Free To Comment Below or Leave a link to your WWW post. ❤
See You In The Next Post and Have a Great Day! 🙂