RELEASE DATE:  March 08, 2016
AUTHOR: Alwyn Hamilton
GENRE:Young-Adult, Fantasy,  Romance.
PUBLISHER: Viking Books for Young Readers
SUMMARY: Mortals rule the desert nation of Miraji, but mythical beasts still roam the wild and remote areas, and rumor has it that somewhere, djinn still perform their magic.  For humans, it's an unforgiving place, especially if you're poor, orphaned, or female.
Amani Al'Hiza is all three.  She's a gifted gunslinger with perfect aim, but she can't shoot her way out of Dustwalk, the back-country town where she's destined to wind up wed or dead.
Then she meets Jin, a rakish foreigner, in a shooting contest, and sees him as the perfect escape route. But though she's spent years dreaming of leaving Dustwalk, she never imagined she'd gallop away on mythical horse—or that it would take a foreign fugitive to show her the heart of the desert she thought she knew.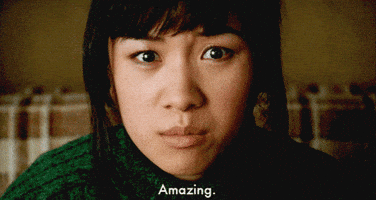 Wow, this book was gripping from the start! Western meets middle east fantasy in this thrilling adventure from debut  author Alwyn Hamilton  and I absolutely loved it. I was highly anticipating for this book and I knew this one worth all the wait because it actually really turned out better than expected. This book worth's every penny cause it was pretty good in everything. It has exciting plot, great characters, nice setting and also addictive writing. What I really liked the most in the book was the middle eastern desert setting and also Amani, a skilled female gunslinger as a main character. It was totally a refreshing read and I haven't read anything with this unique fusion before. I hope this one makes a hit series and I would definitely keep my eye on this author's future works.
Mortals rule the desert nation of Miraji, but mythical beasts still roam the wild. Amani Al Hiza is an orphan who lives with her uncle and aunt along with her cousins at a town called dust walk where magic is forbidden. She has come to an age to wed and it seems her uncle has already set his eyes on her. To escape from the life in dustwalk and also from her obnoxious uncle who plans to marry her, Amani disguises herself as a boy and enters into a shooting contest hoping to win the prize money so that she could escape to Izman, a city where there'll be no rules and she can live freely. At the contest, she meets a mysterious foreigner named Jin who intrigues her and she believes he is the perfect escape route for her but she never imagined that she'll become a part of an uprising against sultan.
I liked all the characters in the plot. Amani is a great character. She is sassy, fun, rebellious, witty, feisty and very good with guns. Though she has strong personality, she also has vulnerable side to her. She is very determined person who never gives up and will bend any rules just to get what she wants. Jin is definitely a swoon worthy character. His alluring and mysterious personality has made me fall in love with him. Amani and Jin are perfect match for each other and I always enjoyed their witty banters. It wasn't a insta-love, their love slowly bloomed with each time they get to know about each other and the chemistry between them is totally sizzling. Although the romance was good, it wasn't a total perfection and I would love to see how their relationship further develops in the sequel. The supporting characters at the second half are quite interesting who made the story more entertaining.
The plot was simply brilliant and action packed. The story moved in a fast pace filled with kickass action, magic, mythical sand horses, train heist and rescue missions.  There are also some twist and turns in the plot that'll definitely surprise the readers. I loved the world building. It wasn't complex or vast but it was truly amazing. The author perfectly fused the western style with the middle east fantasy and set it on a desert land that'll give the whole story a vibe of both worlds which I find it quite fascinating. The writing was totally compelling and pretty good for a debut author. Though it lacked in description of some parts, I did enjoyed it.
Overall, it was fantastic and thrilling! It was a great start for a new fantasy series and I can't wait to see what's the next book has in store for us.
Rebel of the sands is a fast paced thrilling YA fantasy debut from Alwyn Hamilton and I highly recommend everyone to read this book. If this book is already in your tbr list, then I suggest you to read it ASAP.
Please Feel Free To Comment Below. ❤
See You In The Next Post and Have a Great Day! 🙂