Hello there! Welcome back to another weekly WWW wednesdays meme 🙂
The WWW meme was formerly Hosted by Miz B at Should be Reading
Now It was revived at Taking on a World of Words
To play along, just answer the following three (3) questions…
• What are you currently reading?
• What did you recently finish reading?
• What do you think you'll read next?
---
I AM CURRENTLY READING:
TALES FROM THE FRONT(AIR AWAKENS #2.5) BY ELISE KOVA
12 stories told from different perspectives that have to be read between book 2, Fire Falling, and book 3, Earth's End.
The order of point of views are:
* Fritz
* Aldrik
* Elecia
* Aldrik
* Fritz
* Reale
* Emperor Solaris
* Jax
* Daniel
* Baldair
* Tim
* Erion
---
I JUST RECENTLY FINISHED READING: 
MUCH ADO ABOUT SOMETHING BY MICHELLE RAY
MY RATING: [4/5 STARS]
" This book totally surprised me in a good way. It was fun, romantic, emotional and tragic. It's been a long time since I've read a high school romance and I had a great time reading it.    "
Review Coming Soon…..
BLURB: Beatriz and Ben don't see eye to eye on much, but they do agree on one thing: they can't stand each other. No way are they going to date again. Ever. But when Beatriz's cousin Hope starts at Messina Prep everything changes. Not only does she want to fix Beatriz's love life, but she also attracts the attention of Ben's best friend Clay…and the two cruelest guys at school.
Told from alternating points of view, Much Ado About Something lets Beatriz and Ben tell their sides of the story as they try to navigate love, sex, rumors, family and tragedy. Not necessarily in that order.
WINTERWOOD(ROWANKIND#1) BY JACEY BEDFORD
MY RATING: [3/5 STARS]
"  This book was entertaining to read especially with a cross dressing female pirate as a mc. Though it was interesting read, I had some issues with the main character. Overall, it was ok but I don't think I'll be continuing with this series."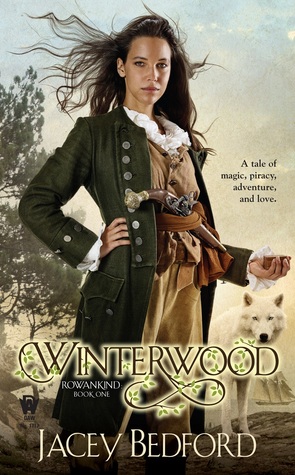 BLURB: Set in 1800 in Britain, Mad King George is on the throne with Napoleon Bonaparte knocking on the door. Unregistered magic users are pursued to the death, while in every genteel home resides uncomplaining rowankind bondservants who have become so commonplace that no one can recall where they came from.
Meanwhile, Rossalinde Tremayne is satisfied with her life as a cross-dressing privateer captain on the high seas. But a bitter deathbed visit to her estranged mother changes her life completely when she inherits a magical winterwood box. Now, not only is she confronted with a newly-discovered brother, and an annoyingly handsome wolf shapeshifter, Rossalinde has to decide whether or not to open the box to free rowankind and right an ancient wrong—even if it brings the downfall of Britain.
GAMBIT(THE PRODIGY CHRONICLES#1) BY C.L. DENAULT [ARC]
MY RATING: [3.5/5 STARS]
" I don't know what to say about this book. The book started great and I pretty much enjoyed it but the story went downhill at the middle where it got slow and nothing seems to be happening until the end where it finally picked up the pace. Despite all of that, I like it and I'll definitely look forward to the sequel.  "
Review Coming Soon…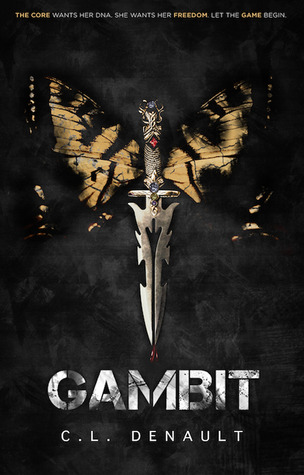 BLURB: In Earth's battle-ridden future, humans have evolved. Those with extraordinary skills rise to power and fame. Those without live in poverty.
Sixteen-year-old Willow Kent believed she was normal. But when a genetically-advanced military officer shows up in her village and questions her identity, long-buried secrets begin to emerge. With remarkable skills and a shocking genetic code the Core and its enemies will do anything to obtain, Willow suddenly finds the freedom she craves slipping through her fingers. Greed, corruption, and genetic tampering threaten every aspect of her existence as she's thrust, unwilling, into the sophisticated culture of the elite Core city. To ensure peace, she must leave the past behind, marry a man she's never met, and submit to the authority of a relentless officer with a hidden agenda of his own.
Her life has become a dangerous game. How much will she sacrifice in order to win?
---
NEXT I'M GOING TO READ THESE BOOKS:

Earth's End, Rebel Of the Sands and The Great Hunt are my highly anticipating books so I'm pretty much excited that I'm finally going to read these books. 
EARTH'S END(AIR AWAKENS #3) BY ELISE KOVA

 BLURB: A woman awoken in air, a soldier forged by fire, a weapon risen from blood.
Vhalla Yarl has made it to the warfront in the North. Forged by blood and fire, she has steeled her heart for the final battle of the Solaris Empire's conquest. The choices before Vhalla are no longer servitude or freedom, they are servitude or death. The stakes have never been higher as the Emperor maintains his iron grip on her fate, holding everything Vhalla still has left to lose in the balance.
REBEL OF THE SANDS(REBEL OF THE SANDS#1) BY ALWYN HAMILTION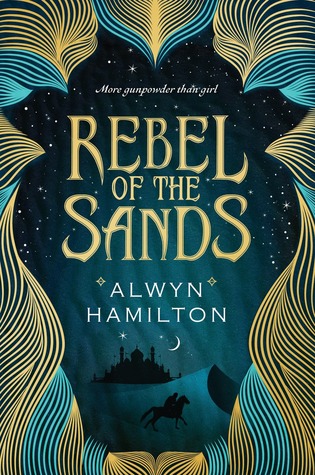 BLURB: She's more gunpowder than girl—and the fate of the desert lies in her hands.
Mortals rule the desert nation of Miraji, but mystical beasts still roam the wild and barren wastes, and rumor has it that somewhere, djinni still practice their magic. But there's nothing mystical or magical about Dustwalk, the dead-end town that Amani can't wait to escape from.
Destined to wind up "wed or dead," Amani's counting on her sharpshooting skills to get her out of Dustwalk. When she meets Jin, a mysterious and devastatingly handsome foreigner, in a shooting contest, she figures he's the perfect escape route. But in all her years spent dreaming of leaving home, she never imagined she'd gallop away on a mythical horse, fleeing the murderous Sultan's army, with a fugitive who's wanted for treason. And she'd never have predicted she'd fall in love with him…or that he'd help her unlock the powerful truth of who she really is.
THE GREAT HUNT(EURONA DUOLOGY#2) BY WENDY HIGGINS
 BLURB: Kill the beast. Win the girl.
A strange beast stirs fear in the kingdom of Lochlanach, terrorizing towns with its brutality and hunger. In an act of desperation, a proclamation is sent to all of Eurona—kill the creature and win the ultimate prize: the daughter of King Lochson's hand in marriage.
Princess Aerity understands her duty to the kingdom though it pains her to imagine marrying a stranger. It would be foolish to set her sights on any particular man in the great hunt, but when a brooding local hunter, Paxton Seabolt, catches her attention, there's no denying the unspoken lure between them…or his mysterious resentment.
Paxton is not keen on marriage. Nor does he care much for spoiled royals and their arcane laws. He's determined to keep his focus on the task at hand—ridding the kingdom of the beast and protecting his family—yet Princess Aerity continues to challenge his notions with her unpredictability and charm. But as past secrets collide with present desires, dire choices threaten everything Paxton holds dear.
---
These are my WWW for this week, so what are your  recent, current and next reads? Please Feel Free To Comment Below or Leave a link to your WWW post. ❤
See You In The Next Post and Have a Great Day! 🙂