Hi everyone! Welcome back to another Sunday Book Recommendations which is the  weekly meme hosted by me. I created this meme so I could recommend you guys some interesting books which I think are worth reading. This meme includes recommending a book from three different genres. If you want to do this meme have fun with it, but don't forget to link back to the host. 🙂
Note: You can change the genres every week.
---
YA PARANORMAL
SET IN STONE BY ANNA CRUISE
[STAND-ALONE]
" This book was a total surprise! I didn't expected to enjoy it as much as I did. I really liked the characters and also the mythological twist in it. Overall, it was both magical and romantic."

 BLURB: Fifteen year-old Valerie is used to losing things–she lost her dad to his job ages ago and her best friend moved with no warning…and hasn't been heard from since. During a weekend camping trip with her emotionally distant parents, she stumbles upon a hidden, mysterious stone and she finds herself desperate to keep it, to possess it. Two strange and beautiful boys have other plans, however. They follow her home–Leo, warm and seductive, who covets the stone and will stop at nothing to get it; and Noel, dark-haired and wise, who pledges to protect her and keep her safe.
As she delves deeper into the magic of the stone and the Celtic lore that surrounds it, Valerie realizes that she's losing. Again. But this loss might involve more than a magical stone – this time, she just might lose her heart.
---

NA PARANORMAL/FANTASY
QUEEN OF BLOOD BY JILL MYLES
[STAND-ALONE]
"It's a beautiful romantic vampire love story that will definitely captivate the readers and I highly recommend it. "

 BLURB: For one hundred years, Seri's people have lived under the thumb of the Blood, the cruel and mysterious rulers of Athon. Seri wants nothing more than to put food on the table and marry the hotheaded but handsome Rilen come spring. But when a noblewoman asks Seri to be her handmaiden, Rilen insists she move to the enemy's castle . . . and spy on the newly arrived prince.
Prince Graeme has grown weary of his family's curse. The Blood are powerful and immortal, but doomed to live in the shadows, flitting from lover to lover, always in search of the mythic Eterna—the one woman who will sate their hunger. Now his father has sent him to the outskirts of the empire to stamp out a rebellious Vidari faction. But when a wild and alluring Vidari girl shows up at court, he finds himself torn between following his father's orders and following his heart . . .
A war is brewing between Athonite and Vidari, between Blood and man. As uprisings sweep through the land, Seri and Graeme find themselves at the center of a storm with only one choice: betray each other, or betray their people.
---
YA HISTORICAL
MAID OF SECRETS BY JENNIFER McGOWAN
[MAIDS OF HONOR TRILOGY]
Can be read as standalone
" Maid Of Secrets is a fast paced read which is both exciting and thrilling. It was better than expected and I immensely enjoyed it. If you are into historical books with female spies and light romance then I highly recommend this book. "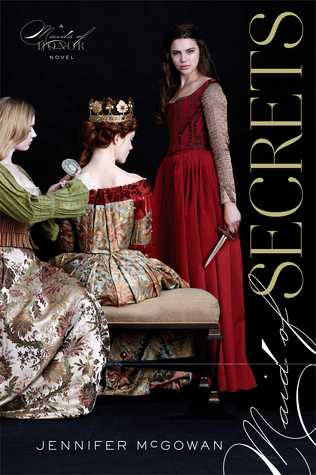 BLURB: Orphan Meg Fellowes makes her living picking pockets—until she steals from the wrong nobleman. Instead of rotting in prison like she expected, she's whisked away to the court of Queen Elizabeth and pressed into royal service, where she joins four other remarkable girls in the Maids of Honor, the Queen's secret society of protectors.
Meg's natural abilities as a spy prove useful in this time of unrest. The Spanish Court is visiting, and with them come devious plots and hidden political motives. As threats to the kingdom begin to mount, Meg can't deny her growing attraction to one of the dashing Spanish courtiers. But it's hard to trust her heart in a place where royal formalities and masked balls hide the truth: Not everyone is who they appear to be. With danger lurking around every corner, can she stay alive—and protect the crown?
---
Well, that's it for this week. 😀
Feel free to comment below and if you want me to recommend books from any particular genre let me know. ❤
See you next week with new recommendations!  🙂
Have a Great Day!