Hello there! Welcome back to another weekly WWW wednesdays meme 🙂
The WWW meme was formerly Hosted by Miz B at Should be Reading
Now It was revived at Taking on a World of Words
To play along, just answer the following three (3) questions…
• What are you currently reading?
• What did you recently finish reading?
• What do you think you'll read next?
---
I AM CURRENTLY READING:
GAMBIT(THE PRODIGY CHRONICLES#1) BY C.L. DENAULT [ARC]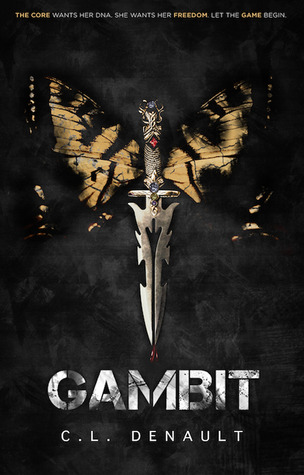 BLURB: In Earth's battle-ridden future, humans have evolved. Those with extraordinary skills rise to power and fame. Those without live in poverty.
Sixteen-year-old Willow Kent believed she was normal. But when a genetically-advanced military officer shows up in her village and questions her identity, long-buried secrets begin to emerge. With remarkable skills and a shocking genetic code the Core and its enemies will do anything to obtain, Willow suddenly finds the freedom she craves slipping through her fingers. Greed, corruption, and genetic tampering threaten every aspect of her existence as she's thrust, unwilling, into the sophisticated culture of the elite Core city. To ensure peace, she must leave the past behind, marry a man she's never met, and submit to the authority of a relentless officer with a hidden agenda of his own.
Her life has become a dangerous game. How much will she sacrifice in order to win?
---
I JUST RECENTLY FINISHED READING: 
TELL THE WIND AND FIRE BY SARAH REES BRENNAN [ARC]
MY RATING: [3.5/5 STARS]
" This book was beautiful, sad and heartbreaking. I really liked it but I can't say that I enjoyed it as much as I expected. This book was hard to get into and some aspects of it really confused me but you can pretty easily guess the overall gist of the story. "
Review Coming Soon…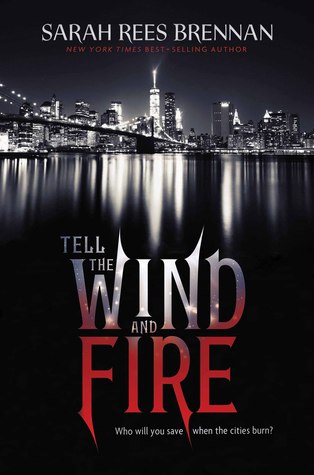 BLURB: In a city divided between opulent luxury in the Light and fierce privations in the Dark, a determined young woman survives by guarding her secrets.
Lucie Manette was born in the Dark half of the city, but careful manipulations won her a home in the Light, celebrity status, and a rich, loving boyfriend. Now she just wants to keep her head down, but her boyfriend has a dark secret of his own—one involving an apparent stranger who is destitute and despised. Lucie alone knows the young men's deadly connection, and even as the knowledge leads her to make a grave mistake, she can trust no one with the truth.
Blood and secrets alike spill out when revolution erupts. With both halves of the city burning, and mercy nowhere to be found, can Lucie save either boy—or herself?
THE DISTANCE BETWEEN US BY KASIE WEST
MY RATING: [3.5/5 STARS]
"  This book was so cute and fluffy. It was fun to read and I really liked Caymen's sarcastic nature. Despite how much cliched the story may sound, I pretty much enjoyed it. "
Review Coming Soon…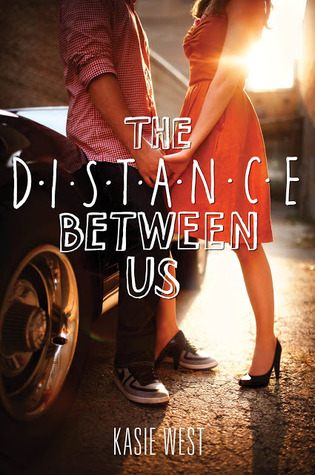 BLURB: Seventeen-year-old Caymen Meyers studies the rich like her own personal science experiment, and after years of observation she's pretty sure they're only good for one thing—spending money on useless stuff, like the porcelain dolls in her mother's shop.
So when Xander Spence walks into the store to pick up a doll for his grandmother, it only takes one glance for Caymen to figure out he's oozing rich. Despite his charming ways and that he's one of the first people who actually gets her, she's smart enough to know his interest won't last. Because if there's one thing she's learned from her mother's warnings, it's that the rich have a short attention span. But Xander keeps coming around, despite her best efforts to scare him off. And much to her dismay, she's beginning to enjoy his company.
She knows her mom can't find out—she wouldn't approve. She'd much rather Caymen hang out with the local rocker who hasn't been raised by money. But just when Xander's attention and loyalty are about to convince Caymen that being rich isn't a character flaw, she finds out that money is a much bigger part of their relationship than she'd ever realized. And that Xander's not the only one she should've been worried about.
ASH(HIVE TRILOGY#1) BY JAYMIN EVE & LEIA STONE
MY RATING: [3 /5 STARS]
"  It was an OK read for a vampire novel. I really liked the concept of the book but the main character kinda ruined it. Charlie wasn't entirely bad but sometimes she acted like a silly whiny teenager with a crush that always made me cringe. "
Review Coming Soon…
*Increased stamina
*Lack of appetite
*Anger outbursts
*Insatiable thirst
*Beauty & Strength
*Male
Call the hotline if these symptoms come on suddenly!
Turns out Charlie Bennet was all of those things except the last. Don't let the name fool you, Charlie was all woman and she wanted nothing to do with the ash … until the day she found out she was one.
It all started when infected bats bit a small group of humans and created what are now called vampires. Then, the male vampires knocked up some female humans and the result was a gorgeous race of all male ash. Superhuman freaks that had looks to kill.
Charlie is the first female ash, aka unicorn of the Hive – the gated compound in Portland that the humans have designated to isolate vampires and ash from society.
Problem? The Hive is full and only a select few will be allowed to live there. To live at all, really. If Charlie wants to earn the right to become a citizen of the Hive, she will have to survive the culling – a series of fights to the death. And guess what? Just because she's a girl doesn't mean she'll get special treatment.
Good thing there's Ryder, the mysterious lead ash enforcer, who seems to always have her back. But when secrets bubble to the surface, it will take more than one guy to save her.
ROOMHATE BY PENELOPE WARD
MY RATING: [3/5 STARS]
" I thought I would enjoy reading it but I was mostly annoyed and frustrated by the characters who couldn't make up their minds. Overall, it was good read but I neither love it nor hate it. "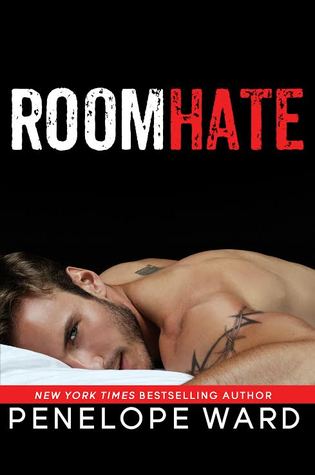 BLURB: Sharing a summer house with a hot-as-hell roommate should be a dream come true, right?
Not when it's Justin…the only person I'd ever loved…who now hates me.
When my grandmother died and left me half of the house on Aquidneck Island, there was a catch: the other half would go to the boy she helped raise.
The same boy who turned into the teenager whose heart I broke years ago.
The same teenager who's now a man with a hard body and a hardass personality to match.
I hadn't seen him in years, and now we're living together because neither one of us is willing to give up the house.
The worst part? He didn't come alone.
I'd soon realize there's a thin line between love and hate. I could see through that smug smile. Beneath it all…the boy is still there. So is our connection.
The problem is…now that I can't have Justin, I've never wanted him more.
---
NEXT I'M GOING TO READ THESE BOOKS:
WINTERWOOD(ROWANKIND#1) BY JACEY BEDFORD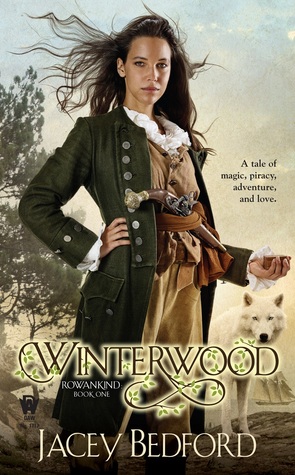 BLURB: Set in 1800 in Britain, Mad King George is on the throne with Napoleon Bonaparte knocking on the door. Unregistered magic users are pursued to the death, while in every genteel home resides uncomplaining rowankind bondservants who have become so commonplace that no one can recall where they came from.
Meanwhile, Rossalinde Tremayne is satisfied with her life as a cross-dressing privateer captain on the high seas. But a bitter deathbed visit to her estranged mother changes her life completely when she inherits a magical winterwood box. Now, not only is she confronted with a newly-discovered brother, and an annoyingly handsome wolf shapeshifter, Rossalinde has to decide whether or not to open the box to free rowankind and right an ancient wrong—even if it brings the downfall of Britain.
MUCH ADO ABOUT SOMETHING BY MICHELLE RAY
BLURB: Beatriz and Ben don't see eye to eye on much, but they do agree on one thing: they can't stand each other. No way are they going to date again. Ever. But when Beatriz's cousin Hope starts at Messina Prep everything changes. Not only does she want to fix Beatriz's love life, but she also attracts the attention of Ben's best friend Clay…and the two cruelest guys at school.
Told from alternating points of view, Much Ado About Something lets Beatriz and Ben tell their sides of the story as they try to navigate love, sex, rumors, family and tragedy. Not necessarily in that order.
TALES FROM THE FRONT(AIR AWAKENS #2.5) BY ELISE KOVA
12 stories told from different perspectives that have to be read between book 2, Fire Falling, and book 3, Earth's End.
The order of point of views are:
* Fritz
* Aldrik
* Elecia
* Aldrik
* Fritz
* Reale
* Emperor Solaris
* Jax
* Daniel
* Baldair
* Tim
* Erion
EARTH'S END(AIR AWAKENS #3) BY ELISE KOVA
 BLURB: A woman awoken in air, a soldier forged by fire, a weapon risen from blood.
Vhalla Yarl has made it to the warfront in the North. Forged by blood and fire, she has steeled her heart for the final battle of the Solaris Empire's conquest. The choices before Vhalla are no longer servitude or freedom, they are servitude or death. The stakes have never been higher as the Emperor maintains his iron grip on her fate, holding everything Vhalla still has left to lose in the balance.
---
These are my WWW for this week, so what are your  recent, current and next reads? Please Feel Free To Comment Below or Leave a link to your WWW post. ❤
See You In The Next Post and Have a Great Day! 🙂