Hi everyone! Welcome back to another Sunday Book Recommendations which is the new weekly meme hosted by me. I created this meme so I could recommend you guys some interesting books which I think are worth reading. This meme includes recommending a book from three different genres. If you want to do this meme have fun with it, but don't forget to link back to the host. 🙂
Note: You can change the genres every week.
---
YA PARANORMAL ROMANCE
DARKNESS BEFORE DAWN BY J.A. LONDON
[DARKNESS BEFORE DAWN TRILOGY]
" If you love reading YA vampire romance novels then this book is just for you.   " 
 BLURB: Only sunlight can save us.
We built the wall to keep them out, to keep us safe. But it also makes us prisoners, trapped in what's left of our ravaged city, fearing nightfall.
After the death of my parents, it's up to me—as the newest delegate for humanity—to bargain with our vampire overlord. I thought I was ready. I thought I knew everything there was to know about the monsters. Then again, nothing could have prepared me for Lord Valentine . . . or his son. Maybe not all vampires are killers. Maybe it's safe to let one in.
Only one thing is certain: Even the wall is not enough. A war is coming and we cannot hide forever.
---

YA FANTASY
THE WRATH AND THE DAWN RENEE AHDIEH
THE WRATH AND THE DAWN SERIES
" The Wrath and The Dawn is really a captivating story which is quite mysterious and romantic in it's own way.  It is inspired by the A Thousand and One Nights and it was totally an enchanting read. I highly recommend this book to every one "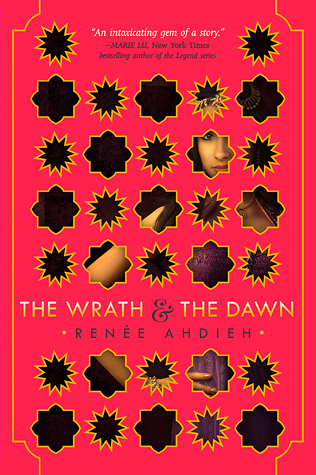 BLURB: Every dawn brings horror to a different family in a land ruled by a killer. Khalid, the eighteen-year-old Caliph of Khorasan, takes a new bride each night only to have her executed at sunrise. So it is a suspicious surprise when sixteen-year-old Shahrzad volunteers to marry Khalid. But she does so with a clever plan to stay alive and exact revenge on the Caliph for the murder of her best friend and countless other girls. Shazi's wit and will, indeed, get her through to the dawn that no others have seen, but with a catch . . . she's falling in love with the very boy who killed her dearest friend.
She discovers that the murderous boy-king is not all that he seems and neither are the deaths of so many girls. Shazi is determined to uncover the reason for the murders and to break the cycle once and for all.

---
YA FANTASY
FIRST YEAR BY RACHEL E. CARTER
[THE BLACK MAGE SERIES]
"  I loved this book! It is perfect package of entertainment filled with action, adventure and romance. This book has great MC's and an engaging plot. It was really a great debut from the author Rachel E. Carter and  highly recommended to all the fantasy lovers" 

 BLURB: Before the age of seventeen the young men and women of Jerar are given a choice — follow tradition, or pursue a trial year in one of the realm's three war schools to study as a soldier, knight or mage…
For 15-year-old Ryiah the choice has always been easy. Become a warrior and leave the boring confines of her lowborn life behind. Set to enroll in the School of Knighthood on the eve of her next birthday, plans suddenly shift when her twin brother discovers powers. Hoping that hers will soon follow, she enrolls with Alex at the Academy instead — the realm's most notorious war school for those with magic.
Yet when she arrives Ry finds herself competing against friend and foe for one of the exalted apprenticeships. Every "first-year" is given a trial year to prove their worth — and no amount of hard work and drive will guarantee them a spot. It seems like everyone is rooting for her to fail — and first and foremost among them Prince Darren, the school prodigy who has done nothing but make life miserable since she arrived.
When an accidental encounter leads Ryiah and Darren to an unlikely friendship she is convinced nothing good will come of it. But the lines become blurred when she begins to improve — and soon she is a key competitor for the faction of Combat… Still, nothing is ever as it seems — and when the world comes crashing down around her, Ry is forced to place faith in the one thing she can believe in — herself. Will it be enough?
---
Well, that's it for this week. 😀
Feel free to comment below and if you want me to recommend books from any particular genre let me know. ❤
See you next week with new recommendations!  🙂
Have a Great Day!