Hello there! Welcome back to another weekly WWW wednesdays meme 🙂
The WWW meme was formerly Hosted by Miz B at Should be Reading
Now It was revived at Taking on a World of Words
To play along, just answer the following three (3) questions…
• What are you currently reading?
• What did you recently finish reading?
• What do you think you'll read next?
---
I AM CURRENTLY READING:
UNHOOKED BY LISA MAXWELL
 BLURB: or as long as she can remember, Gwendolyn Allister has never had a place to call home—all because her mother believes that monsters are hunting them. Now these delusions have brought them to London, far from the life Gwen had finally started to build for herself. The only saving grace is her best friend, Olivia, who's coming with them for the summer.
But when Gwen and Olivia are kidnapped by shadowy creatures and taken to a world of flesh-eating sea hags and dangerous Fey, Gwen realizes her mom might have been sane all along.
The world Gwen finds herself in is called Neverland, yet it's nothing like the stories. Here, good and evil lose their meaning and memories slip like water through her fingers. As Gwen struggles to remember where she came from and find a way home, she must choose between trusting the charming fairy-tale hero who says all the right things and the roguish young pirate who promises to keep her safe.
With time running out and her enemies closing in, Gwen is forced to face the truths she's been hiding from all along. But will she be able to save Neverland without losing herself?
---
I JUST RECENTLY FINISHED READING: 
ASSASSIN'S HEART(ASSASSIN'S HEART#1) BY SARAH AHIERS
MY RATING: [4/5 Stars]
"It was quite a refreshing and unique fantasy read. I liked the plot, the characters and the world the author has created. It wasn't mind blowing as I expected but I really enjoyed it. "
Review Coming Soon…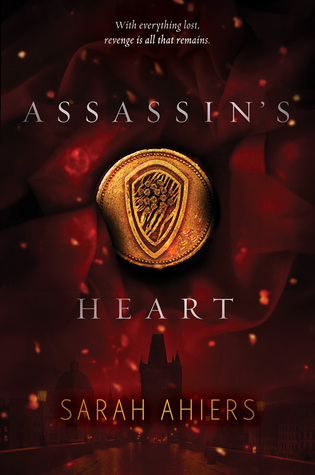 BLURB: In the kingdom of Lovero, nine rival Families of assassins lawfully kill people for a price. As a highly skilled member of one of these powerful clans, seventeen-year-old Lea Saldana has always trusted in the strength of her Family. Until she awakens to find them murdered and her home in flames. The Da Vias, the Saldanas' biggest enemy, must be responsible—and Lea should have seen it coming. But her secret relationship with the Da Vias' son, Val, has clouded her otherwise killer instinct—and given the Da Vias more reason than ever to take her Family down.
Racked with guilt and shattered over Val's probable betrayal, Lea sets out to even the score, with her heart set on retaliation and only one thought clear in her mind: make the Da Vias pay.
THE DARK DAYS CLUB(LADY HELEN#1) BY ALISON GOODMAN
MY RATING: [3/5 Stars]
"   The Dark Days Club is really a wonderful read but sadly it didn't worked out for me. The concept was intriguing and I can see the author has put  so much effort in writing this book. The pacing is my biggest concern with this book because it was slow enough to put you to sleep and it was nearly 500 pages long.  If you hate slow paced plots then I must advise you to stay away from this book."
Review Coming Soon…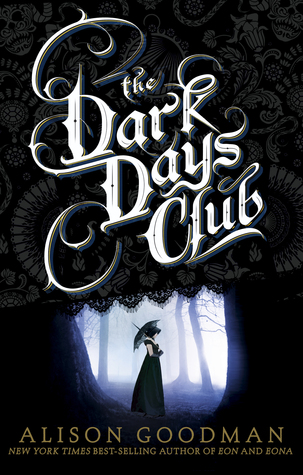 BLURB: London, April 1812. On the eve of eighteen-year-old Lady Helen Wrexhall's presentation to the queen, one of her family's housemaids disappears-and Helen is drawn into the shadows of Regency London. There, she meets Lord Carlston, one of the few who can stop the perpetrators: a cabal of demons infiltrating every level of society. Dare she ask for his help, when his reputation is almost as black as his lingering eyes? And will her intelligence and headstrong curiosity wind up leading them into a death trap?
---
NEXT I'M GOING TO READ THESE BOOKS: 
CINDER & ELLA BY KELLY ORAM
 BLURB: It's been almost a year since eighteen-year-old Ella Rodriguez was in a car accident that left her crippled, scarred, and without a mother. After a very difficult recovery, she's been uprooted across the country and forced into the custody of a father that abandoned her when she was a young child. If Ella wants to escape her father's home and her awful new stepfamily, she must convince her doctors that she's capable, both physically and emotionally, of living on her own. The problem is, she's not ready yet. The only way she can think of to start healing is by reconnecting with the one person left in the world who's ever meant anything to her—her anonymous Internet best friend, Cinder.
…
Hollywood sensation Brian Oliver has a reputation for being trouble. There's major buzz around his performance in his upcoming film The Druid Prince, but his management team says he won't make the transition from teen heartthrob to serious A-list actor unless he can prove he's left his wild days behind and become a mature adult. In order to douse the flames on Brian's bad-boy reputation, his management stages a fake engagement for him to his co-star Kaylee. Brian isn't thrilled with the arrangement—or his fake fiancée—but decides he'll suffer through it if it means he'll get an Oscar nomination. Then a surprise email from an old Internet friend changes everything.
STARFLIGHT(STARFLIGHT#1) BY MELISSA LANDERS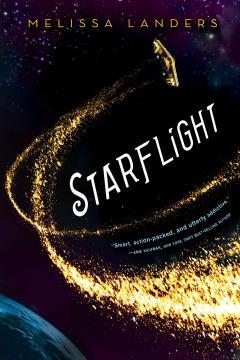 BLURB: Life in the outer realm is a lawless, dirty, hard existence, and Solara Brooks is hungry for it. Just out of the orphanage, she needs a fresh start in a place where nobody cares about the engine grease beneath her fingernails or the felony tattoos across her knuckles. She's so desperate to reach the realm that she's willing to indenture herself to Doran Spaulding, the rich and popular quarterback who made her life miserable all through high school, in exchange for passage aboard the spaceliner Zenith.
When a twist of fate lands them instead on the Banshee, a vessel of dubious repute, Doran learns he's been framed on Earth for conspiracy. As he pursues a set of mysterious coordinates rumored to hold the key to clearing his name, he and Solara must get past their enmity to work together and evade those out for their arrest. Life on the Banshee may be tumultuous, but as Solara and Doran are forced to question everything they once believed about their world—and each other—the ship becomes home, and the eccentric crew family. But what Solara and Doran discover on the mysterious Planet X has the power to not only alter their lives, but the existence of everyone in the universe…
CROWN OF CRIMSON(THE AFTERLIGHT CHRONICLES#1) BY ROSE REID
 BLURB: First Rule of the Cannon: Trust no one.
Aerietta Elony is destined for evil.
Born into a royal family, it was quickly discovered that she bore the Jezdah mark — an intricate tattoo meant to identify the Children of the Elements. To make sure his people never knew about the danger that hid in their midst, the king had his daughter sent to the leader of the Cannon, his order of assassins, where she would learn to become one of them.
No one was ever supposed to know what Aerietta was, where she came from, or what she was destined to become. She's never worried what would happen if someone discovered her secrets. But when a neighboring kingdom attacks, and Aerietta is betrayed and captured, keeping her secret will mean the difference between life and death.
When the king of the neighboring land enlists her services to track down one of her traitor companions, she has no choice but to accept. But in order to find her former friend and make it back to the king with her head still attached to her shoulders, she'll have to keep the enigmatic, inhuman Swordmaster in the dark, which proves to be more difficult than she could ever imagine.
Deception abounds, danger is just as prevalent, but even in this world of demons and magic, the only thing Aerietta fears is herself.
The Queen of Crimson accepts.
---
These are my WWW for this week, so what are your  recent, current and next reads? Please Feel Free To Comment Below or Leave a link to your WWW post. ❤
See You In The Next Post and Have a Great Day! 🙂