Hi there! It's already the end of the month so it's time for another wrap up post. January has been been a great month for me and I've managed to read a total of 12 books and reviewed 10 books. So, without further ado, here's the recap of the posts I've published this month.
---
BOOKS I'VE READ THIS MONTH: 
Click on the Images to go to its Goodreads page. 🙂
---
BOOKS I'VE REVIEWED THIS MONTH: 
---
MEMES: 
WWW MEME
WWW Wednesdays #30 (Jan 06) [2016]
WWW Wednesdays #31 (Jan 13) [2016]
WWW Wednesdays #32 (Jan 20) [2016]
WWW Wednesdays #33 (Jan 27) [2016]

SUNDAY RECOMMENDATIONS
Sunday Book Recommendations #23[10 Jan 2016]
Sunday Book Recommendations #24[17 Jan 2016]
Sunday Book Recommendations #25[23 Jan 2016]
Sunday Book Recommendations #26[31 Jan 2016]

---
TAGS
Ringing In The New Year Book Tag!
The Desert Island Book Tag!
---
AWARDS
The Versatile Blogger Award!
---
MISCELLANEOUS
2015 End Of Year Survey
---
This month I have two books to highlight and I highly recommend them to everyone.
INFERNO(BLOOD FOR BLOOD#2) BY CATHERINE DOYLE
" It is a thrilling YA contemporary novel which is a perfect mix of Godfather and Romeo & Juliet. This book is a perfect package of entertainment with non-stop action and romance that' will leave you wanting for more.  "

BLURB:
Romeo and Juliet meets The Godfather in the second installment of Catherine Doyle's Blood for Blood series.
Sophie's life has been turned upside-down, and she's determined to set things right. But Nic, the Falcone brother who represents everything she's trying to forget, won't give up on their love – and it's Luca's knife she clutches for comfort. Soon another mafia clan spoils the fragile peace – and with her heart drawn in one direction and her blood in another, Sophie's in deeper than ever.
TRUTHWITCH(THE WITCHLANDS#1) BY SUSAN DENNARD
" Truthwitch is a fast paced fantasy read with thrilling plot and fantastic characters. I loved reading it and highly recommend it to everyone."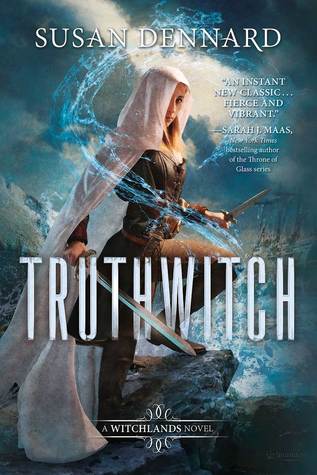 BLURB: On a continent ruled by three empires, some are born with a "witchery", a magical skill that sets them apart from others.
In the Witchlands, there are almost as many types of magic as there are ways to get in trouble—as two desperate young women know all too well.
Safiya is a Truthwitch, able to discern truth from lie. It's a powerful magic that many would kill to have on their side, especially amongst the nobility to which Safi was born. So Safi must keep her gift hidden, lest she be used as a pawn in the struggle between empires.
Iseult, a Threadwitch, can see the invisible ties that bind and entangle the lives around her—but she cannot see the bonds that touch her own heart. Her unlikely friendship with Safi has taken her from life as an outcast into one of reckless adventure, where she is a cool, wary balance to Safi's hotheaded impulsiveness.
Safi and Iseult just want to be free to live their own lives, but war is coming to the Witchlands. With the help of the cunning Prince Merik (a Windwitch and ship's captain) and the hindrance of a Bloodwitch bent on revenge, the friends must fight emperors, princes, and mercenaries alike, who will stop at nothing to get their hands on a Truthwitch.
---
Well, That's it for this month! I hope you guys had a great month too. 😀
Please feel free to comment below or leave a link to your wrap up post. ❤
Until next time and Have a nice day! 😀