Hello there! Welcome back to another Sunday Book Recommendations which is the new weekly meme hosted by me. I created this meme so I could recommend you guys some interesting books which I think are worth reading. This meme includes recommending a book from three different genres. If you want to do this meme have fun with it, but don't forget to link back to the host. 🙂
Note: You can change the genres every week.
---
YA CONTEMPORARY
GOING TOO FAR BY JENNIFER ECHOLS
[STAND-ALONE]
" Going Too far is one of my favorite books by Jennifer Echols. It was emotionally intense read and I loved the Main characters in the plot. It's a unique love story between a rebellious girl and a strict young cop. I immensely enjoyed reading it and highly recommend it."

All Meg has ever wanted is to get away. Away from high school. Away from her backwater town. Away from her parents who seem determined to keep her imprisoned in their dead-end lives. But one crazy evening involving a dare and forbidden railroad tracks, she goes way too far…and almost doesn't make it back.
John made a choice to stay. To enforce the rules. To serve and protect. He has nothing but contempt for what he sees as childish rebellion, and he wants to teach Meg a lesson she won't soon forget. But Meg pushes him to the limit by questioning everything he learned at the police academy. And when he pushes back, demanding to know why she won't be tied down, they will drive each other to the edge — and over….
---
YA FANTASY
EXQUISITE CAPTIVE BY HEATHER DEMETRIOS
[DARK CARAVAN CYCLE TRILOGY]
" This book is both magical and addictive read. Basically, I like to read books with Djinns and Exquisite Captive is a captivating tale of a female Jinn and I quite enjoyed it. It is really a great YA paranormal romance which is both seductive and thrilling.  "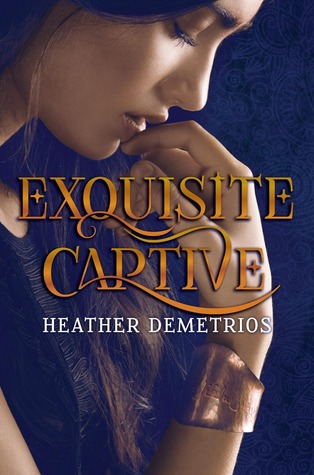 BLURB: Forced to obey her master.
Compelled to help her enemy.
Determined to free herself.
Nalia is a jinni of tremendous ancient power, the only survivor of a coup that killed nearly everyone she loved. Stuffed into a bottle and sold by a slave trader, she's now in hiding on the dark caravan, the lucrative jinni slave trade between Arjinna and Earth, where jinn are forced to grant wishes and obey their human masters' every command. She'd give almost anything to be free of the golden shackles that bind her to Malek, her handsome, cruel master, and his lavish Hollywood lifestyle.
Enter Raif, the enigmatic leader of Arjinna's revolution and Nalia's sworn enemy. He promises to free Nalia from her master so that she can return to her ravaged homeland and free her imprisoned brother—all for an unbearably high price. Nalia's not sure she can trust him, but Raif's her only hope of escape. With her enemies on the hunt, Earth has become more perilous than ever for Nalia. There's just one catch: for Raif's unbinding magic to work, Nalia must gain possession of her bottle…and convince the dangerously persuasive Malek that she truly loves him. Battling a dark past and harboring a terrible secret, Nalia soon realizes her freedom may come at a price too terrible to pay: but how far is she willing to go for it?
---
NA PARANORMAL


FORGED IN FIRE BY JULIETTE CROSS


[THE VESSEL TRILOGY]

" This book was totally amazing! It is a perfect NA Paranormal romance with kickass heroine, Hot Hero and Evil Villain. If you like reading Paranormal romance then definitely give this a try. 
"
 BLURB: She never knew this demon world existed. Now she just wants to survive it.
Genevieve Drake never needed a man to come to her rescue. Not until the night of her twentieth birthday, when some dude nearly chokes her to death in an alley behind a New Orleans Goth club. And a hot stranger splits the guy in half, rips a monster from inside, and incinerates it into ash.
The hunky rescuer? Jude Delacroix—Dominus Daemonum, Master of Demons, now her guardian, whether she likes it or not. But she's seriously beginning to like it.
Her would-be murderer turns out to be only the first of many minions of the demon prince, Danté, who has all kinds of lascivious and sadistic plans. Which means when the formidably beautiful Jude offers his protection, Genevieve has no problem accepting it.
For Jude and his fellow demon hunters tell her she is a Vessel, one who is born to serve the Light, but can be corrupted into a weapon of darkness. And to survive, she must trust a man whose unearthly eyes promise heaven…but whose powers unleash hell.
---
Well, that's it for this week. 😀
Feel free to comment below and if you want me to recommend books from any particular genre let me know. ❤
See you next week with new recommendations!  🙂
Have a Great Day!