Hello there! Welcome back to another weekly WWW wednesdays meme 🙂
The WWW meme was formerly Hosted by Miz B at Should be Reading
Now It was revived at Taking on a World of Words
To play along, just answer the following three (3) questions…
• What are you currently reading?
• What did you recently finish reading?
• What do you think you'll read next?
---
I AM CURRENTLY READING:
PASSENGER(PASSENGER#1) BY ALEXANDRA BRACKEN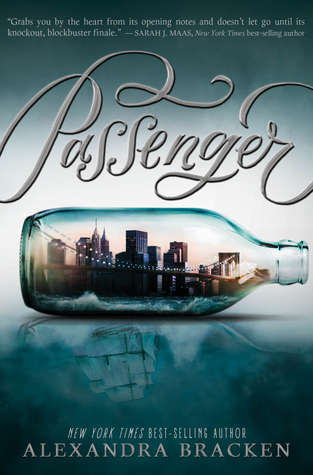 BLURB: passage, n.
i. A brief section of music composed of a series of notes and flourishes.
ii. A journey by water; a voyage.
iii. The transition from one place to another, across space and time.
In one devastating night, violin prodigy Etta Spencer loses everything she knows and loves. Thrust into an unfamiliar world by a stranger with a dangerous agenda, Etta is certain of only one thing: she has traveled not just miles but years from home. And she's inherited a legacy she knows nothing about from a family whose existence she's never heard of. Until now.
Nicholas Carter is content with his life at sea, free from the Ironwoods—a powerful family in the colonies—and the servitude he's known at their hands. But with the arrival of an unusual passenger on his ship comes the insistent pull of the past that he can't escape and the family that won't let him go so easily. Now the Ironwoods are searching for a stolen object of untold value, one they believe only Etta, Nicholas' passenger, can find. In order to protect her, he must ensure she brings it back to them— whether she wants to or not.
Together, Etta and Nicholas embark on a perilous journey across centuries and continents, piecing together clues left behind by the traveler who will do anything to keep the object out of the Ironwoods' grasp. But as they get closer to the truth of their search, and the deadly game the Ironwoods are play­ing, treacherous forces threaten to sep­arate Etta not only from Nicholas but from her path home . . . forever
---
I JUST RECENTLY FINISHED READING: 
F*CK LOVE BY TARRYN FISHER
MY RATING: [3.5 Stars]
" This is my first book from Tarry Fisher and I really liked it but not as much as others did. I absolutely loved the author's writing style which is totally captivating and addictive."
Review Coming Soon…
BLURB: Helena Conway has fallen in love.
Unwillingly. Unwittingly.
But not unprovoked.
Kit Isley is everything she's not—unstructured, untethered,
and not even a little bit careful.
It could all be so beautiful … if he wasn't dating her best friend.
Helena must defy her heart, do the right thing, and think of others.
Until she doesn't.
INFERNO BY CATHERINE DOYLE
MY RATING: [5/5 Stars]
" Inferno is an amazing sequel to Vendetta and I freaking loved it. It is an epic YA read filled with non-stop action, thriller and romance. "
Review Posted Here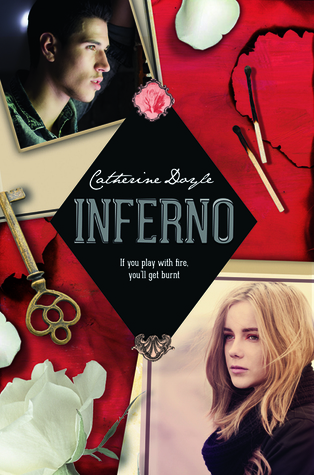 BLURB:
Sophie's life has been turned upside-down, and she's determined to set things right. But Nic, the Falcone brother who represents everything she's trying to forget, won't give up on their love – and it's Luca's knife she clutches for comfort. Soon another mafia clan spoils the fragile peace – and with her heart drawn in one direction and her blood in another, Sophie's in deeper than ever.
THE DAWN OF DAE(DAE PORTALS#1) BY TRILLIAN ANDERSON
MY RATING: [2/5 Stars]
" This book was weird and confusing as hell. "

 BLURB: The chance to attend college is just what Alexa Daegberht needs to break out the mold of her caste. If she can become a Bach, she can escape the poverty she's endured ever since her parents died when she was five. Only through education can she rise above her birth caste–and she knows it.
All of her plans fall to dust when she opens a portal within her refrigerator, turning her macaroni and cheese casserole into a sentient being. By dawn the next day, the mysterious dae have come to Earth to stay. Hundreds of thousands of people vanish into thin air, and as the days pass, the total of the missing number in the millions. Some say it's the rapture of the Christian faith.
Alexa knows better: their dae ate them, leaving behind nothing more than dust as evidence of their hunger.
As one of the unawakened, she doesn't have a dae, nor can she manifest any forms of magical powers. She's lacking the innate knowledge of what the dae are and what they mean for the world. Now more than ever, she is an outsider. Her survival hinges on her ability to adapt to a world she no longer understands.
Unfortunately, one of the dae has taken notice of her, and he'll stop at nothing to have her. Alexa's problems pile up as she's forced to pick her allegiances. Will she submit to the new ways of the world? Will she become some monster's pawn? Or, against all odds, can she forge her own path and prove normal humans can thrive among those gifted with powers once the domain of fantasies and nightmares?
---
NEXT I'M GOING TO READ THESE BOOKS:
THE QUEEN OF ALL THAT DIES(THE FALLEN WORLD#1) BY LAURA THALASSA
 BLURB: In the future, the world is at war.
For the last decade, King Lazuli of the Eastern Empire has systematically taken over the world. No one knows much about him other than a series of impossible facts: he cannot die, he has not aged since the conflict began, and he wants to rule the world.
All Serenity Freeman has known is bloodshed. War has taken away her mother, her home, her safety. As the future emissary of the Western United Nations, the last autonomous region of the globe, she is responsible for forging alliances where she can.
Surrender is on the horizon. The king can taste it; Serenity feels it deep within her bones. There is no other option. Now the two must come face to face. For Serenity, that means confronting the man who's taken everything from her. For the king, it means meeting the one woman he can't conquer. But when they meet, something happens. Cruelty finds redemption.
Only in war, everything comes with a price. Especially love.
WHAT YOU LEFT BEHIND BY JESSICA VERDI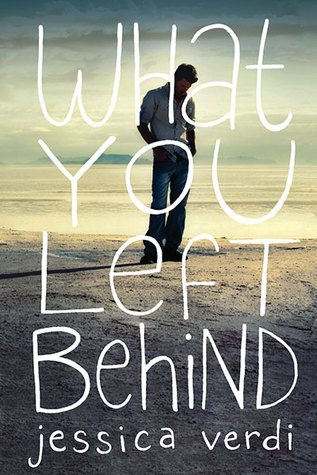 BLURB: It's all Ryden's fault. If he hadn't gotten Meg pregnant, she would have never stopped her chemo treatments and would still be alive. Instead, he's failing fatherhood one dirty diaper at a time. And it's not like he's had time to grieve while struggling to care for their infant daughter, start his senior year, and earn the soccer scholarship he needs to go to college.
The one person who makes Ryden feel like his old self is Joni. She's fun and energetic—and doesn't know he has a baby. But the more time they spend together, the harder it becomes to keep his two worlds separate. Finding one of Meg's journals only stirs up old emotions, and Ryden's convinced Meg left other notebooks for him to find, some message to help his new life make sense. But how is he going to have a future if he can't let go of the past?
THE DEMON INSIDE BY M.L. SPARROW
 BLURB: Darcy was a perfectly normal teenage girl, enjoying the summer after completing her A Levels with her boyfriend Alec. Until the night strange creatures begin falling from the sky, infecting people and transforming them into crazed, animalistic cannibals.
Having lost everything in one foul swoop – her parents, her home and all future plans – all Darcy can do is try to protect the people she does have left. Together, she and Alec, along with her younger sister, sarcastic best-friend, Alec's alcoholic father and the family dog, set off on a journey to find somewhere safe in a world where everything is different.
However, when they do finally discover a haven, a place to call home again, can they remain? And who will survive?
---
These are my WWW for this week, so what are your  recent, current and next reads? Please Feel Free To Comment Below or Leave a link to your WWW post. ❤
See You In The Next Post and Have a Great Day! 🙂