Hello there! Welcome back to another weekly WWW wednesdays meme 🙂
The WWW meme was formerly Hosted by Miz B at Should be Reading
Now It was revived at Taking on a World of Words
To play along, just answer the following three (3) questions…
• What are you currently reading?
• What did you recently finish reading?
• What do you think you'll read next?
---
I AM CURRENTLY READING:
THE DAWN OF DAE(DAE PORTALS#1) BY TRILLIAN ANDERSON
 BLURB: The chance to attend college is just what Alexa Daegberht needs to break out the mold of her caste. If she can become a Bach, she can escape the poverty she's endured ever since her parents died when she was five. Only through education can she rise above her birth caste–and she knows it.
All of her plans fall to dust when she opens a portal within her refrigerator, turning her macaroni and cheese casserole into a sentient being. By dawn the next day, the mysterious dae have come to Earth to stay. Hundreds of thousands of people vanish into thin air, and as the days pass, the total of the missing number in the millions. Some say it's the rapture of the Christian faith.
Alexa knows better: their dae ate them, leaving behind nothing more than dust as evidence of their hunger.
As one of the unawakened, she doesn't have a dae, nor can she manifest any forms of magical powers. She's lacking the innate knowledge of what the dae are and what they mean for the world. Now more than ever, she is an outsider. Her survival hinges on her ability to adapt to a world she no longer understands.
Unfortunately, one of the dae has taken notice of her, and he'll stop at nothing to have her. Alexa's problems pile up as she's forced to pick her allegiances. Will she submit to the new ways of the world? Will she become some monster's pawn? Or, against all odds, can she forge her own path and prove normal humans can thrive among those gifted with powers once the domain of fantasies and nightmares?
---
I JUST RECENTLY FINISHED READING: 
EERIE BY C.M. McCOY
MY RATING: [3/5 Stars]
" The plot was quite interesting but it was too slow for my taste. Overall, it was an ok read but I didn't enjoyed much."

 BLURB: Hailey's dreams have always been, well…vivid. As in monsters from her nightmares follow her into her waking life vivid.
When her big sister goes missing, eighteen-year-old Hailey finds the only thing keeping her safe from a murderous 3,000-year-old beast is an equally terrifying creature who has fallen "madly" in love with her. Competing to win her affection, the Dream Creature, Asher, lures her to the one place that offers safety—a ParaScience university in Alaska he calls home. There, she studies the science of the supernatural and must learn to live with a roommate from Hell, survive her ParaScience classes, and hope the only creature who can save her from an evil immortal doesn't decide to kill her himself.
TRUTHWITCH(THE WITCHLANDS#1) BY SUSAN DENNARD
MY RATING: [4/5 Stars]
" Truthwitch was freaking awesome book! It was totally an engaging read containing kickass action, adventure and romance."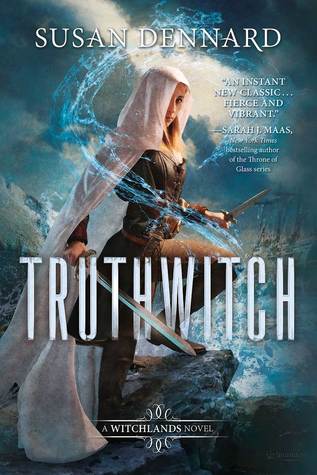 BLURB: On a continent ruled by three empires, some are born with a "witchery", a magical skill that sets them apart from others.
In the Witchlands, there are almost as many types of magic as there are ways to get in trouble—as two desperate young women know all too well.
Safiya is a Truthwitch, able to discern truth from lie. It's a powerful magic that many would kill to have on their side, especially amongst the nobility to which Safi was born. So Safi must keep her gift hidden, lest she be used as a pawn in the struggle between empires.
Iseult, a Threadwitch, can see the invisible ties that bind and entangle the lives around her—but she cannot see the bonds that touch her own heart. Her unlikely friendship with Safi has taken her from life as an outcast into one of reckless adventure, where she is a cool, wary balance to Safi's hotheaded impulsiveness.
Safi and Iseult just want to be free to live their own lives, but war is coming to the Witchlands. With the help of the cunning Prince Merik (a Windwitch and ship's captain) and the hindrance of a Bloodwitch bent on revenge, the friends must fight emperors, princes, and mercenaries alike, who will stop at nothing to get their hands on a Truthwitch.
 CRIMSON COVE BY EDEN BUTLER
MY RATING: [3/5 Stars]
" This book was so much confusing and hard to get into. I neither hate it  nor love it. Even though I didn't liked it, I think it's not that  bad and definitely worth a shot "

 BLURB: Ten years ago Janiver stole a kiss from the meanest boy in school.
He never forgot.
Senior year.
One minute before the tardy bell rang, Bane Illes would slip through the door.
He never smiled.
He never spoke.
Each day, that dark, dangerous boy gave Janiver Benoit a glance. And when she could not take another quiet stare, or the warmth that look sent over her skin, she took from Bane something he'd never give freely—one lingering, soul knocking kiss.
Ten years later, her family needs her, and Janiver will have to face the one person she promised herself she'd never see again.
The dangerous wizard that might make leaving Crimson Cove the last thing she wants to do.
---
NEXT I'M GOING TO READ THESE BOOKS:
INFERNO BY CATHERINE DOYLE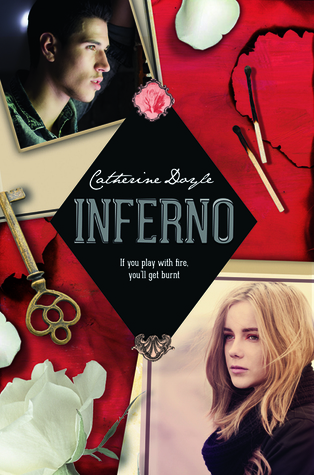 BLURB:
Sophie's life has been turned upside-down, and she's determined to set things right. But Nic, the Falcone brother who represents everything she's trying to forget, won't give up on their love – and it's Luca's knife she clutches for comfort. Soon another mafia clan spoils the fragile peace – and with her heart drawn in one direction and her blood in another, Sophie's in deeper than ever.
F*CK LOVE BY TARRYN FISHER
BLURB: Helena Conway has fallen in love.
Unwillingly. Unwittingly.
But not unprovoked.
Kit Isley is everything she's not—unstructured, untethered,
and not even a little bit careful.
It could all be so beautiful … if he wasn't dating her best friend.
Helena must defy her heart, do the right thing, and think of others.
Until she doesn't.
PASSENGER(PASSENGER#1) BY ALEXANDRA BRACKEN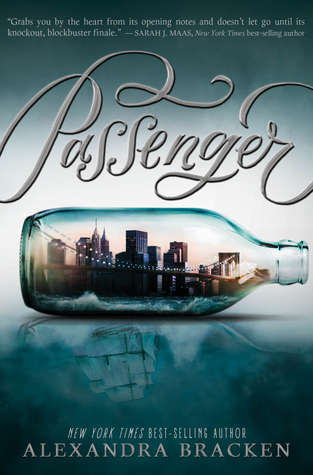 BLURB: passage, n.
i. A brief section of music composed of a series of notes and flourishes.
ii. A journey by water; a voyage.
iii. The transition from one place to another, across space and time.
In one devastating night, violin prodigy Etta Spencer loses everything she knows and loves. Thrust into an unfamiliar world by a stranger with a dangerous agenda, Etta is certain of only one thing: she has traveled not just miles but years from home. And she's inherited a legacy she knows nothing about from a family whose existence she's never heard of. Until now.
Nicholas Carter is content with his life at sea, free from the Ironwoods—a powerful family in the colonies—and the servitude he's known at their hands. But with the arrival of an unusual passenger on his ship comes the insistent pull of the past that he can't escape and the family that won't let him go so easily. Now the Ironwoods are searching for a stolen object of untold value, one they believe only Etta, Nicholas' passenger, can find. In order to protect her, he must ensure she brings it back to them— whether she wants to or not.
Together, Etta and Nicholas embark on a perilous journey across centuries and continents, piecing together clues left behind by the traveler who will do anything to keep the object out of the Ironwoods' grasp. But as they get closer to the truth of their search, and the deadly game the Ironwoods are play­ing, treacherous forces threaten to sep­arate Etta not only from Nicholas but from her path home . . . forever
---
These are my WWW for this week, so what are your  recent, current and next reads? Please Feel Free To Comment Below or Leave a link to your WWW post. ❤
See You In The Next Post and Have a Great Day! 🙂