Hello there! Welcome back to another Sunday Book Recommendations which is the new weekly meme hosted by me. I created this meme so I could recommend you guys some interesting books which I think are worth reading. This meme includes recommending a book from three different genres. If you want to do this meme have fun with it, but don't forget to link back to the host. 🙂
Note: You can change the genres every week.
---
YA FANTASY
UPROOTED BY NAOMI NOVIK
[STAND-ALONE]
" Uprooted is a fascinating tale with lots of magic, spells, potions, wood monsters, kickass action, violence etc., that would make readers spell bound to it till the end. If you like reading dark fairy tales then definitely give this a try. "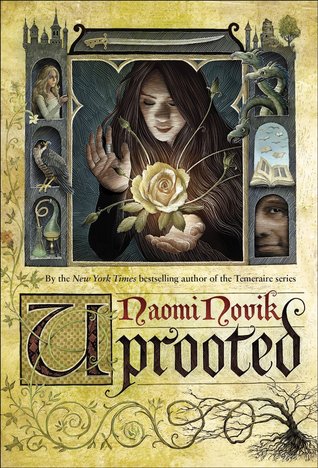 BLURB: "Our Dragon doesn't eat the girls he takes, no matter what stories they tell outside our valley. We hear them sometimes, from travelers passing through. They talk as though we were doing human sacrifice, and he were a real dragon. Of course that's not true: he may be a wizard and immortal, but he's still a man, and our fathers would band together and kill him if he wanted to eat one of us every ten years. He protects us against the Wood, and we're grateful, but not that grateful."
Agnieszka loves her valley home, her quiet village, the forests and the bright shining river. But the corrupted Wood stands on the border, full of malevolent power, and its shadow lies over her life.
Her people rely on the cold, driven wizard known only as the Dragon to keep its powers at bay. But he demands a terrible price for his help: one young woman handed over to serve him for ten years, a fate almost as terrible as falling to the Wood.
The next choosing is fast approaching, and Agnieszka is afraid. She knows—everyone knows—that the Dragon will take Kasia: beautiful, graceful, brave Kasia, all the things Agnieszka isn't, and her dearest friend in the world. And there is no way to save her.
But Agnieszka fears the wrong things. For when the Dragon comes, it is not Kasia he will choose.
---
YA CONTEMPORARY
THE HEARTBREAKERS BY ALI NOVAK
[THE HEARTBREAKERS CHRONICLES]
" This book was so much fun, sweet, romantic and not to forget hilarious. I immensely enjoyed reading it. I would recommend it to the readers who are looking for a fun and sweet contemporary romance.  "
 BLURB: 
"When I met Oliver Perry, I had no clue he was the lead singer for The Heartbreakers. And he had no idea that I was the only girl in the world who hated his music."
Stella will do anything for her sick sister, Cara—even stand in line for an autographed Heartbreakers CD…for four hours. She's totally winning best birthday gift this year. At least she met a cute boy with soft brown hair and gorgeous blue eyes while getting her caffeine fix. Too bad she'll never see him again.
Except, Stella's life has suddenly turned into a cheesy love song. Because Starbucks Boy is Oliver Perry – lead singer for the Heartbreakers. And even after she calls his music crap, Oliver still gives Stella his phone number. And whispers quotes from her favorite Disney movie in her ear. OMG, what is her life?
But how can Stella even think about being with Oliver — dating and laughing and pulling pranks with the band — when her sister could be dying of cancer?
Ali Novak wrote her debut novel My Life with the Walter Boyswhen she was just 15 years old, and has since penned her next book, The Heartbreakers. First a hit on the online community Wattpad, her second novel has over 38 million reads and is loved by readers around the world.
---
NA PARANORMAL
CITY IN EMBERS BY STACEY MARIE BROWN
[THE COLLECTORS SERIES]
" It was amazing book! It was full of action, romance, magic and intrigue. Zoey and Ryker are great characters and I loved the sizzling chemistry between them. "
 BLURB: Zoey Daniels has been tossed from foster home to foster home, where she grows up fast and tough. When she is placed in her "last-chance" home, she finds a reason to stay and turn her life around: her foster sister, Lexie, who is paralyzed and confined to a wheelchair. Zoey will do anything to keep her safe. After high school, Zoey is hired by a special government agency, the Department of Molecular Genetics (DMG), where she meets the other reason to remain: Daniel, her co-worker. The man she loves.
But there is something unique about Zoey. She can see fae. Because of this, the DMG hires her to work as a Collector: catching, researching, testing, and using the fae to save human lives. The work never registers on her sympathy radar. She was raised to think of fae as beasts that feed on humans and want to destroy them.
When devastation hits Seattle, Zoey's whole world is turned upside down. The electric storm connects her to a ruthless fae, a Wanderer named Ryker, whose dealings expose them to even more trouble and danger. They embark on a journey, running and hiding from both the government and fae, both of which threaten their lives and those they love.
---
Well, that's it for this week. 😀
Feel free to comment below and if you want me to recommend books from any particular genre let me know. ❤
See you next week with new recommendations!  🙂
Have a Great Day!