Hi there! I've been tagged by Rae @Bookmark Chronicles to do the Ringing in the New Year Book Tag. I know we've already entered into new year but still I think it's not too late to do this fun tag. Thank you so much Rae for tagging me and I hope you have a wonderful new year. 😀
Rules:
Link to the original post (Dreamy Addictions )
Answer the questions below
Tag 3-5 friends!
---
Questions:
Best book/series that you've read in 2015 
A Court Of Thorns And Roses By Sarah J. Mass. I just fell in love with this book and it's gorgeous cover. I'm huge fan of Sarah J. Mass besides throne of glass, ACOTAR is another masterpiece from her that I loved reading and I can't wait to read the sequel to it.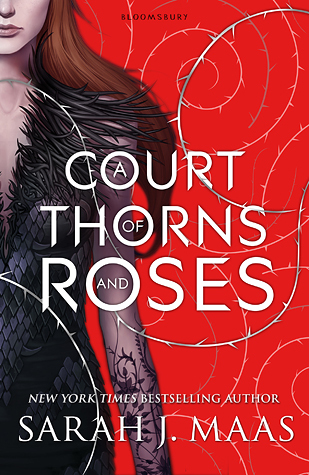 Authors that you've recently found and would like to read more of in the new year
I've found lots of new authors that I would like to read more of in the new year and these are the few authors that tops the list.
1.Sabaa Tahir
2.Renee Ahdieh
3.Brandon Sanderson
4. Kasie West
5.Nicola Yoon
Most anticipated book turned movie?
I've been highly anticipating for Allegiant by Veronica Roth and also Ugly love by Colleen Hoover for quite a while.
Name a character that you wouldn't mind sharing a kiss with at midnight (if there is one)
I would choose one of my top book boyfriend Daemon from the Lux Series. Sharing a hot kiss with him at midnight is definitely a dream come true.
What's on your TBR for 2016? (Top 5 will suffice if its an extremely long list!) 
I have huge list but here's the top 6 and most of them are sequels
A Court of Mist and Fury By Sarah J. Mass
Inferno By Catherine Doyle
A Torch Against The Night By Sabaa Tahir
The Rose And The Dagger By Renee Ahdieh
The Winner's Kiss By Marie Rutkoski
The Great Hunt By Wendy Higgins
How many books do you hope to read in 2016?
I hope to read more than 100 books this year and I've already participated in Goodreads 2016 Reading challenge with a goal set to read 125 books.
Will you participate in the Goodreads Reading Challenge (or any others)?
I love participating in Goodreads Reading Challenge or any other book challenges and I've been participating since 2012. As mentioned above I have already participated in this year's challenge.
Any New Year's Resolutions? (bookish and otherwise)
Umm… Read more books, make more friends, blog a lot. XD
---
The Nominees: 
Becca @Becca And Books
Claire @Coffeeholic Bookworm
Charley @Books And Bakes1
Deanna @A Novel Glimpse
Dee @The Bookish Khaleesi
Giselle @Hardwork Boulevard
Imogene @Amidst The Pages
Parneet @The Enchanted Book
Prima @Panda Hearts Books
The Orang-Utan Librarian
You! (If you want to do this tag)
Please disregard it if you've already done this tag before or not interested.
See You In The Next Post and Happy New Year! 🙂