Hello there! Welcome back to another weekly WWW wednesdays meme 🙂
The WWW meme was formerly Hosted by Miz B at Should be Reading
Now It was revived at Taking on a World of Words
To play along, just answer the following three (3) questions…
• What are you currently reading?
• What did you recently finish reading?
• What do you think you'll read next?
---
I AM CURRENTLY READING:
 CRIMSON COVE BY EDEN BUTLER
 BLURB: Ten years ago Janiver stole a kiss from the meanest boy in school.
He never forgot.
Senior year.
One minute before the tardy bell rang, Bane Illes would slip through the door.
He never smiled.
He never spoke.
Each day, that dark, dangerous boy gave Janiver Benoit a glance. And when she could not take another quiet stare, or the warmth that look sent over her skin, she took from Bane something he'd never give freely—one lingering, soul knocking kiss.
Ten years later, her family needs her, and Janiver will have to face the one person she promised herself she'd never see again.
The dangerous wizard that might make leaving Crimson Cove the last thing she wants to do.
---
I JUST RECENTLY FINISHED READING: 
NEVER FOREVER BY L.R. JOHNSON
MY RATING: [3.5/5 Stars]
" It's both tragic and emotional love story. I had some issues with this book but overall I liked it  "
Review Coming Soon…
 BLURB: Needing a fresh start, eighteen year old widow Breanna Hayes flees from America to England to fulfill her husband's last request and her dream of going to Cambridge University. There she meets Callum. He's arrogant, brash, affluent, rippling with charisma – and certain to run away when he learns about her tainted past. But as an unexpected bond is formed between them she discovers he has secrets of his own. She must overcome her stubbornness, fears, and open her heart again or risk losing a chance at love and the stable family she has always wanted.
"Stop," I interrupt, not wanting to hear a frivolous apology, "What I do is no longer your concern." A heavy sigh rolls off of me, "I come from trash. I have always known it, and now I know you believe it, too."
Turning my back on him I begin hastily walking away when suddenly I hear him softly utter my name. It rolls along the surface of the mist, slamming against my back, piercing into my core, revealing his internal pain. Ignoring his pleading call I continue to walk away from him, leaving all my hopes and dreams behind. My decision is made. I am leaving as soon as my classes are done.
SAVEN: DECEPTION(SAVEN #1) BY SIOBHAN DAVIS
MY RATING: [3.5/5 Stars]
" Saven was a great read but I found something lacking in the story, I just can't put my finger on it. However, it was entertaining and I enjoyed reading it. "
Review Coming Soon…
 BLURB: THE TRUTH DOESN'T ALWAYS SET YOU FREE
I've fallen hard for an alien, but he's harboring secrets.
Massive secrets that threaten the very essence of humanity.
How can I give him my heart when his race plans on taking my future?
Sadie Owens has been slowly dying inside. Bit by bit, piece by piece, day by day. Trapped in a life she hates, she relies on only one person—herself.
Despised by her family and betrayed by an unscrupulous government, Sadie dreams of a different life. When she is chosen to participate in the government's new social experiment, she is ecstatic at the prospect of spending six months in Thalassic City, the shiny new city under the sea.
Immediately drawn to Logan Chandler, Sadie is captivated by the beautiful boy with the ocean-blue eyes. Logan seems to embody everything that has been forbidden, but he isn't all he appears to be.
Confused over Logan's true intentions and concerned when best friend Jenna starts transforming in front of her eyes, Sadie partners with newcomer Jarod in a bid to uncover the government's real agenda. The truth is more shocking than anything she could ever have imagined.
When Sadie finally understands why the Saven walk among us, will it be too late to save her heart and the human race?
NIGHTBLADE BY RYAN KIRK
MY RATING: [4/5 Stars]
" I had great time reading this book and it almost felt like I was reading a Japanese manga. This book was written in multiple POV which I really enjoyed. It was refreshing read and definitely worth reading."
Review Coming Soon…
BLURB: Ryuu is a boy orphaned by violence at a young age. Found by a wandering warrior, he learns he may have more strength than he ever imagined possible.
A quiet child, Moriko is forced into a monastic system she despises. Torn from her family and the forest she grew up in, she must fight to learn the skills she'll need to survive her tutelage under the realm's most dangerous assassin.
Young, beautiful, and broke, Takako is sold to pay for her father's debts. Thrust into a world she doesn't understand and battles she didn't ask for, she must decide where her loyalties lie.
When their lives crash together in a Kingdom on the brink of war, the decisions they make will change both their lives and their Kingdom forever.
BEWITCHED BY DAISY PRESCOTT
MY RATING: [3/5 Stars]
" It's a short paranormal romance novella. I neither hate it nor like it but I had fun reading it. "
Review Coming Soon…
 BLURB: Madison Bradbury isn't interested in spells or magic, or anything hocus-pocus related despite descending from the original Salem witches. Her life as a Hawthorne College junior is boring. Perfectly so. That is until Andrew Wildes appears in her class–like a quiet, brooding hero straight from one of her favorite romances.
When a local witch convinces Madison to use a love spell on her crush, what happens next is more than magical.
A crush. A love spell. What could go wrong?
PARADISE ROAD(PARADISE #2) BY C.J. DUGGAN
MY RATING: [4/5 Stars]
" It's a sequel to the paradise city and I'm quite satisfied with how it's finally ended. This book was fun, romantic, sexy and I loved it.  "
Review Coming Soon…

 BLURB: The Road to Paradise is never easy
After a year on the coast, Lexie Atkinson can't settle back into country life. She's missing the glitzy, gritty nightlife of the big city and the group of misfit friends she'd loved to hate. She knows to move forward she has to go back – back to face the guy who stole her heart.
But when Lexie arrives in Paradise City to work out if her future includes bad-boy surfer, Luke Ballantine, he is nowhere to be found.
With no home, no money and no Luke, Lexie gets a job slinging drinks at the wild Wipe Out Bar. Soon her heartache is eased when broody bar owner, Dean Saville, starts taking an interest and stirs more than just her drinks. But nothing is ever as it seems in Paradise City and when Luke barrels back into town, Lexie has a choice to make. But who will end up with the broken heart: Luke, Dean … or Lexie?
---
NEXT I'M GOING TO READ THESE BOOKS:
TRUTHWITCH(THE WITCHLANDS#1) BY SUSAN DENNARD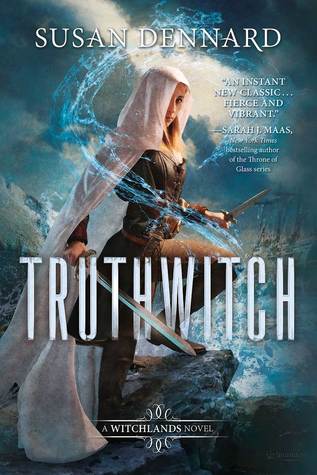 BLURB: On a continent ruled by three empires, some are born with a "witchery", a magical skill that sets them apart from others.
In the Witchlands, there are almost as many types of magic as there are ways to get in trouble—as two desperate young women know all too well.
Safiya is a Truthwitch, able to discern truth from lie. It's a powerful magic that many would kill to have on their side, especially amongst the nobility to which Safi was born. So Safi must keep her gift hidden, lest she be used as a pawn in the struggle between empires.
Iseult, a Threadwitch, can see the invisible ties that bind and entangle the lives around her—but she cannot see the bonds that touch her own heart. Her unlikely friendship with Safi has taken her from life as an outcast into one of reckless adventure, where she is a cool, wary balance to Safi's hotheaded impulsiveness.
Safi and Iseult just want to be free to live their own lives, but war is coming to the Witchlands. With the help of the cunning Prince Merik (a Windwitch and ship's captain) and the hindrance of a Bloodwitch bent on revenge, the friends must fight emperors, princes, and mercenaries alike, who will stop at nothing to get their hands on a Truthwitch.
EERIE BY C.M. McCOY
 BLURB: Hailey's dreams have always been, well…vivid. As in monsters from her nightmares follow her into her waking life vivid.
When her big sister goes missing, eighteen-year-old Hailey finds the only thing keeping her safe from a murderous 3,000-year-old beast is an equally terrifying creature who has fallen "madly" in love with her. Competing to win her affection, the Dream Creature, Asher, lures her to the one place that offers safety—a ParaScience university in Alaska he calls home. There, she studies the science of the supernatural and must learn to live with a roommate from Hell, survive her ParaScience classes, and hope the only creature who can save her from an evil immortal doesn't decide to kill her himself.
THE DAWN OF DAE(DAE PORTALS#1) BY TRILLIAN ANDERSON
 BLURB: The chance to attend college is just what Alexa Daegberht needs to break out the mold of her caste. If she can become a Bach, she can escape the poverty she's endured ever since her parents died when she was five. Only through education can she rise above her birth caste–and she knows it.
All of her plans fall to dust when she opens a portal within her refrigerator, turning her macaroni and cheese casserole into a sentient being. By dawn the next day, the mysterious dae have come to Earth to stay. Hundreds of thousands of people vanish into thin air, and as the days pass, the total of the missing number in the millions. Some say it's the rapture of the Christian faith.
Alexa knows better: their dae ate them, leaving behind nothing more than dust as evidence of their hunger.
As one of the unawakened, she doesn't have a dae, nor can she manifest any forms of magical powers. She's lacking the innate knowledge of what the dae are and what they mean for the world. Now more than ever, she is an outsider. Her survival hinges on her ability to adapt to a world she no longer understands.
Unfortunately, one of the dae has taken notice of her, and he'll stop at nothing to have her. Alexa's problems pile up as she's forced to pick her allegiances. Will she submit to the new ways of the world? Will she become some monster's pawn? Or, against all odds, can she forge her own path and prove normal humans can thrive among those gifted with powers once the domain of fantasies and nightmares?
---
These are my WWW for this week, so what are your  recent, current and next reads? Please Feel Free To Comment Below or Leave a link to your WWW post. ❤
See You In The Next Post and Have a Great Day! 🙂