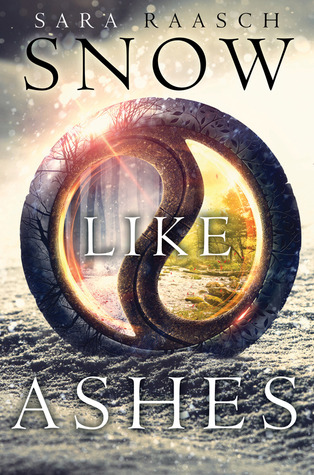 RELEASE DATE: October 14, 2014 
AUTHOR: Sara Raasch
GENRE: Young-Adult, Fantasy, Romance.
PUBLISHER: Balzer + Bray
SUMMARY: Sixteen years ago the Kingdom of Winter was conquered and its citizens enslaved, leaving them without magic or a monarch. The Winterians' only hope for freedom is the eight survivors who managed to escape, and who have been searching for the opportunity to steal back Winter's magic and rebuild their kingdom ever since.
Orphaned as an infant during Winter's defeat, Meira has lived her whole life as a refugee. Training to be a warrior—and desperately in love with her best friend, Winter's future king—she would do anything to help Winter rise to power again. So when scouts discover the location of half of the ancient locket that can restore their magic, Meira decides to go after it herself—only to find herself thrust into a world of evil magic and dangerous politics, and to realize that her destiny is not, never has been, her own.
MY REVIEW:
This book has been in my TBR list for a long time and due to the mixed reviews I didn't dared to pick it up but recently I've been seeing this book around the blogosphere for a while and reading all the positive reviews about it had made me curious enough to go for it and I'm glad that I did because I really enjoyed this book. I really liked the concept which is very unique and refreshing. But what was really great about this book were the characters and the world building which is the main highlight of this book.
Meira is a sixteen year old winterian refugee who is also one of the eight survivors who escaped the enslavement from the spring kingdom which is ruled by a ruthless king named Angra. She is rescued by Sir when she was a baby and since then she's trained to become a warrior along with the winter king Mather who is also her childhood best friend. She is deeply in love with Mather but she hides her feelings for him because she knows the relationship between them is never going to work out. When the winterian's learns that there's an ancient locket that can restore the power of winter, even after knowing the risks, she goes after it to retrieve it from the enemy's den so that she can prove herself worthy and also to help bring back their power so they could rebuild their kingdom. After their camp is ambushed by the enemy, they fled to another kingdom for shelter but evil finds them again and this time there's no escape.
Meira is very brave, loyal and strong female protagonist in the plot and I really liked her.  She is a great character and very realistic who isn't a total perfection and has weakness. Mather,  king of winter kingdom is another MC in the plot and also a love interest to Meira but he seemed quite ordinary and dull to me. Theron, the prince of cordell is another love interest and I totally love him. He has a regal and charming personality who doesn't hesitate to state what he wants and I'm definitely rooting for him. The chemistry between Meira and Theron is sparkling and I really liked their relationship. I both hated and liked the triangle in this plot because we can easily guess with whom she's finally going to end up with but still I hope she'll choose Theron.
It is a well-written plot with some twists but it was quite predictable after reading few chapters. Most of the storyline is slow paced with too much info dumping nonetheless, it was engaging read. It has a complex world building and I really liked how the world is split according to the seasons. It may be hard to get into first but you'll eventually understand it better by going further. It has good characterization and I pretty much liked all the characters especially Theron. The author has great writing style. It was well written and I flowed through it quite easily. The book was written in Meira and Mather's POV and I would've loved it more if there was Theron's POV too.    
Overall, I liked it! Despite some slight issues, it was perfect fantasy read and the book ended with no cliffhanger but their battle with evil hasn't ended yet. So, I'm definitely going to read the next book in the series. I highly recommended this book to every YA fantasy lovers but I must warn you the pacing of the book is quite slow but still very intriguing enough to read. 
Please Feel Free To Comment Below. ❤
See You In The Next Post and Have a Great Day! 🙂