Hello there! Welcome back to another weekly WWW wednesdays meme 🙂
The WWW meme was formerly Hosted by Miz B at Should be Reading
Now It was revived at Taking on a World of Words
To play along, just answer the following three (3) questions…
• What are you currently reading?
• What did you recently finish reading?
• What do you think you'll read next?
---
I AM CURRENTLY READING:
PARADISE ROAD(PARADISE #2) BY C.J. DUGGAN
 BLURB: The Road to Paradise is never easy
After a year on the coast, Lexie Atkinson can't settle back into country life. She's missing the glitzy, gritty nightlife of the big city and the group of misfit friends she'd loved to hate. She knows to move forward she has to go back – back to face the guy who stole her heart.
But when Lexie arrives in Paradise City to work out if her future includes bad-boy surfer, Luke Ballantine, he is nowhere to be found.
With no home, no money and no Luke, Lexie gets a job slinging drinks at the wild Wipe Out Bar. Soon her heartache is eased when broody bar owner, Dean Saville, starts taking an interest and stirs more than just her drinks. But nothing is ever as it seems in Paradise City and when Luke barrels back into town, Lexie has a choice to make. But who will end up with the broken heart: Luke, Dean … or Lexie?
---
I JUST RECENTLY FINISHED READING: 
NAMELESS BY JENNIFER JENKINS
MY RATING: [4/5 Stars]
" Just now, I've finished reading this book and I must say it was really great and I immensely enjoyed it. It is a stand-alone YA dystopian novel with well written plot and characters, and very refreshing to read."
Review Coming Soon…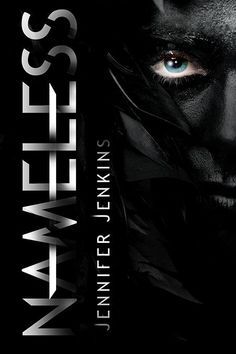 BLURB: Four clans have been at war for centuries: the Kodiak, the Raven, the Wolf and the Ram. Through brutal war tactics, the Ram have dominated the region, inflicting death and destruction on their neighbors.
Seventeen-year-old Zo is a Wolf and a Healer who volunteers to infiltrate the Ram as a spy on behalf of the allied clans. She offers herself as a Ram slave, joining the people who are called the "nameless." Hers is a suicide mission – Zo's despair after losing her parents in a Ram raid has left her seeking both revenge and an end to her own misery. But after her younger sister follows her into Rams Gate, Zo must find a way to survive her dangerous mission and keep her sister safe.
What she doesn't expect to find is the friendship of a young Ram whose life she saves, the confusing feelings she develops for a Ram soldier, and an underground nameless insurrection. Zo learns that revenge, loyalty and love are more complicated than she ever imagined in the first installment of this two-book series.
A SHADE OF DRAGON(A SHADE OF DRAGON#1) BY BELLA FORREST
MY RATING: [3/5 Stars]
" I've got mixed feelings for this book. The dialogues and the romance in it seemed a bit unrealistic and cheesy. All in all, I neither hate it nor like it but the story was quite interesting to read.  "
Review Coming Soon…

 BLURB: Nineteen year old Penelope "Nell" O'Hara is geared up for the worst Christmas of her life. The guy she's been dating just dumped her for her best friend, and all she has to look forward to over the break is a stay in Beggar's Hole–a tiny frozen town on the coast of Maine–with her retired father, his latest masseuse girlfriend and her brattish fourteen year old son.
But one night, after storming out of dinner to take a brooding walk among the rocks, a misstep on the ice causes Nell's Christmas to take rather a different turn… She would have died, were it not for a mysterious, heat-exuding hero arriving out of nowhere to scoop her up in his arms, and warm and dry her body.
Coming to, Nell finds herself staring up into a pair of deep gold eyes. Eyes belonging to a man who is quite unlike any she's seen before. His features are chiseled yet sensual, exotic but somber, like something beautiful and wild threatened by extinction. All of six and a half feet tall, and two hundred plus pounds of pure muscle, her savior introduces himself as Theon Aena. His mere touch sends heat surging through her body, reaching down into her fingers and toes, even fluttering from her hair follicles, and his proximity to her brings about strange shudders of pleasure.
ICE LIKE FIRE (SNOW LIKE ASHES#2) By SARA RAASCH
MY RATING: [3.5/5 Stars]
" Ice like Fire is quite slow and I didn't enjoyed it as much as it's prequel but It wasn't a total disappoint either.  "
Review Coming Soon…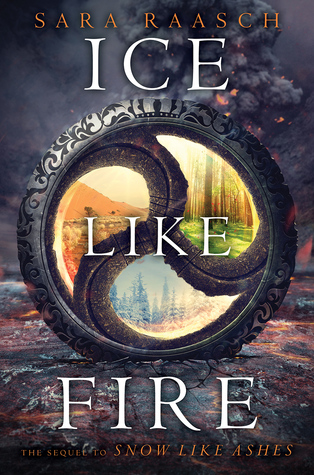 BLURB: It's been three months since the Winterians were freed and Spring's king, Angra, disappeared—thanks largely to the help of Cordell.
Meira just wants her people to be safe. When Cordellan debt forces the Winterians to dig their mines for payment, they unearth something powerful and possibly dangerous: Primoria's lost chasm of magic. Theron sees this find as an opportunity—with this much magic, the world can finally stand against threats like Angra. But Meira fears the danger the chasm poses—the last time the world had access to so much magic, it spawned the Decay. So when the king of Cordell orders the two on a mission across the kingdoms of Primoria to discover the chasm's secrets, Meira plans to use the trip to garner support to keep the chasm shut and Winter safe—even if it means clashing with Theron. But can she do so without endangering the people she loves?
Mather just wants to be free. The horrors inflicted on the Winterians hang fresh and raw in Januari—leaving Winter vulnerable to Cordell's growing oppression. When Meira leaves to search for allies, he decides to take Winter's security into his own hands. Can he rebuild his broken kingdom and protect them from new threats?
As the web of power and deception weaves tighter, Theron fights for magic, Mather fights for freedom—and Meira starts to wonder if she should be fighting not just for Winter, but for the world.
---
NEXT I'M GOING TO READ THESE BOOKS:

BEWITCHED BY DAISY PRESCOTT
 BLURB: Madison Bradbury isn't interested in spells or magic, or anything hocus-pocus related despite descending from the original Salem witches. Her life as a Hawthorne College junior is boring. Perfectly so. That is until Andrew Wildes appears in her class–like a quiet, brooding hero straight from one of her favorite romances.
When a local witch convinces Madison to use a love spell on her crush, what happens next is more than magical.
A crush. A love spell. What could go wrong?
NIGHTBLADE BY RYAN KIRK
BLURB: Ryuu is a boy orphaned by violence at a young age. Found by a wandering warrior, he learns he may have more strength than he ever imagined possible.
A quiet child, Moriko is forced into a monastic system she despises. Torn from her family and the forest she grew up in, she must fight to learn the skills she'll need to survive her tutelage under the realm's most dangerous assassin.
Young, beautiful, and broke, Takako is sold to pay for her father's debts. Thrust into a world she doesn't understand and battles she didn't ask for, she must decide where her loyalties lie.
When their lives crash together in a Kingdom on the brink of war, the decisions they make will change both their lives and their Kingdom forever.
If they can stay alive.
---
These are my WWW for this week, so what are your  recent, current and next reads? Please Feel Free To Comment Below or Leave a link to your WWW post. ❤
See You In The Next Post and Have a Great Day! 🙂