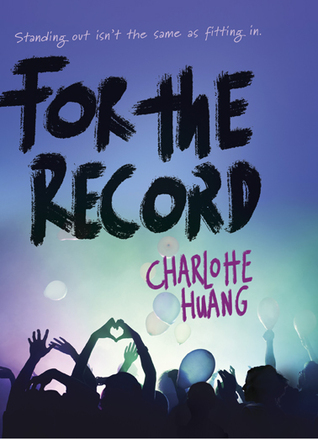 RELEASE DATE: November 10, 2015
AUTHOR: Charlotte Huang
GENRE: Young-Adult, Contemporary, Music, Fiction, Romance.
PUBLISHER: Delacorte Books for Young Readers
SUMMARY: Chelsea thought she knew what being a rock star was like… until she became one. After losing a TV talent show, she slid back into small-town anonymity. But one phone call changed everything
Now she's the lead singer of the band Melbourne, performing in sold-out clubs every night and living on a bus with three gorgeous and talented guys. The bummer is that the band barely tolerates her. And when teen heartthrob Lucas Rivers take an interest in her, Chelsea is suddenly famous, bringing Melbourne to the next level—not that they're happy about that. Her feelings for Beckett, Melbourne's bassist, are making life even more complicated.
Chelsea only has the summer tour to make the band—and their fans—love her. If she doesn't, she'll be back in Michigan for senior year, dying a slow death. The paparazzi, the haters, the grueling schedule… Chelsea believed she could handle it. But what if she can't?
MY REVIEW: 

For the record didn't turned out as I expected. I didn't enjoyed it much and seriously, I felt like I was reading a biography of some music artist in tour. I felt really bored while reading it but I don't want to DNF it either. Though it didn't worked out for me, I think it might work out for others. This book is all about music, fame  and the lifestyle of a band in tour.
After losing in a TV talent show, Chelsea thought she would return to her normal boring life by being a  high school girl in her small hometown but one phone call totally changes her life and now she is the new lead singer for the band Melbourne with three hot band mates who barely tolerates her. Now she needs to prove herself worthy if she wants to stick with the band otherwise she had go back to her hometown leading her normal boring life. She also has a crush on the band's bassist named Beckett who seems to already have a girlfriend and fraternizing between the crew is forbidden. Chelsea really wants to learn all the things about being a rockstar but everything starts to get complicated when famous teen actor Lucas Rivers shows interest in her which eventually makes the band get more attention but no one in the band quite likes it. Dating a famous celebrity is every girl's dream and she thought she could handle all the attention and paparazzi but she didn't realized that it would also make her distant from the band. 
All the characters in it felt flat to me and I couldn't able to connect with anyone at all. Chelsea is a likable character but she was quite reckless because she makes out with a famous actor she just met in a washroom while her band mates waiting for her on the stage. Her band mates Beckett, Pem and Malcolm seems to be interesting characters with unique personalities but most of the focus was given to Chelsea and I would love to know more about each of  them individually. The romance in the plot wasn't interesting and I didn't cared much about it either. Her friendship with her boy crazy best friend named Mandy seemed weird and unrealistic. Even though I didn't cared much about Chelsea, I was glad when she finally came to her senses.
The plot is dull and quite predictable with the given synopsis. Though I didn't enjoyed it much, I must agree that the author did great in perfectly portraying the lifestyle of a band in a tour and backstage because everything felt very realistic, and we also get to see the uglier side of fame. For a debut author, the writing style was quite good and easy to understand. The story moved in a slow pace which is the major thing that I didn't liked in this book. 
All in all, I felt this book was ok but I neither enjoyed it nor liked it. Honestly, I was going to give it a 2 star but for all the effort put by the author I added another star to it. I don't know If I would recommend it but it wasn't bad either and If you want to read it, just give it a shot maybe it'll be more to your liking. 
Please Feel Free To Comment Below. ❤
See You In The Next Post and Have a Great Day! 🙂