Hello there! Welcome back to another weekly WWW wednesdays meme 🙂
The WWW meme was formerly Hosted by Miz B at Should be Reading
Now It was revived at Taking on a World of Words
To play along, just answer the following three (3) questions…
• What are you currently reading?
• What did you recently finish reading?
• What do you think you'll read next?
---
---
I AM CURRENTLY READING:
HOTEL RUBY BY SUZANNE YOUNG
" I've finished half of the book and so far it was mysterious but nothing thrilling happens yet and I hope it wouldn't turn out to be a disappointing read "
 BLURB:
Stay Tonight. Stay Forever.
When Audrey Casella arrives for an unplanned stay at the grand Hotel Ruby, she's grateful for the detour. Just months after their mother's death, Audrey and her brother, Daniel, are on their way to live with their grandmother, dumped on the doorstep of a DNA-matched stranger because their father is drowning in his grief.
Audrey and her family only plan to stay the night, but life in the Ruby can be intoxicating, extending their stay as it provides endless distractions—including handsome guest Elias Lange, who sends Audrey's pulse racing. However, the hotel proves to be as strange as it is beautiful. Nightly fancy affairs in the ballroom are invitation only, and Audrey seems to be the one guest who doesn't have an invite. Instead, she joins the hotel staff on the rooftop, catching whispers about the hotel's dark past.
The more Audrey learns about the new people she's met, the more her curiosity grows. She's torn in different directions—the pull of her past with its overwhelming loss, the promise of a future that holds little joy, and an in-between life in a place that is so much more than it seems…
Welcome to the Ruby.
---
I JUST RECENTLY FINISHED READING:
ENCHANTED REVENGE BY THERESA M. JONES

" Enchanted Revenge wasn't amazing and provides nothing new but it was good enough to read with decent plot and amazing world building which is the best thing I liked in this book "
MY RATING: [3.5/5 Stars] 
Review Coming Soon…
 BLURB: When seventeen year old Lily finds her parents brutally murdered, leaving her broken and alone, she is determined to bring justice to the fairies responsible.
Her quest leads her to infiltrate The Empyrean, the land of the Fae where terrifying creatures lurk in every shadow. But with a political rebellion mounting, bloody battles and foreign enemies stand in her way. Alec, a mysterious fairy keeping his own secrets, gradually becomes her guide and dear friend in the unfamiliar world, and restores her faith in love.
Disturbing secrets about her parent's true identity are revealed, causing her to be more involved with the devastating fairy war than she can afford. Her vengeful mission becomes compromised and her growing romance with Alec wavers.
She must conquer her fear of the unknown, ignore her grief, and overcome her growing list of enemies if she is to succeed in avenging her parents' death. Or ever make it out alive.
ILLUMINAE BY AMIE KAUFMAN AND JAY KRISTOFF
" Illuminae is a refreshing sci-fi read written in a unique format with visually stunning designs of ships, reports, IM chats, interviews, emails etc. Though I did struggled with the format at the beginning but later I got used to it. The first part may seem boring to many people but the second part was full action packed and engaging. "
MY RATING: [4/5 Stars]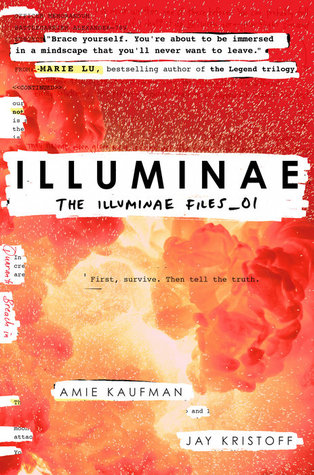 BLURB: This morning, Kady thought breaking up with Ezra was the hardest thing she'd have to do.
This afternoon, her planet was invaded.
The year is 2575, and two rival megacorporations are at war over a planet that's little more than an ice-covered speck at the edge of the universe. Too bad nobody thought to warn the people living on it. With enemy fire raining down on them, Kady and Ezra—who are barely even talking to each other—are forced to fight their way onto an evacuating fleet, with an enemy warship in hot pursuit.
But their problems are just getting started. A deadly plague has broken out and is mutating, with terrifying results; the fleet's AI, which should be protecting them, may actually be their enemy; and nobody in charge will say what's really going on. As Kady hacks into a tangled web of data to find the truth, it's clear only one person can help her bring it all to light: the ex-boyfriend she swore she'd never speak to again.
---
NEXT I'M GOING TO READ THESE BOOKS:
FOR THE RECORD BY CHARLOTTE HUANG
 BLURB:
If Almost Famous were a YA novel… a raw, honest debut celebrating music, friendship, romance, and life on the road.

Chelsea thought she knew what being a rock star was like… until she became one. After losing a TV talent show, she slid back into small-town anonymity. But one phone call changed everythingNow she's the lead singer of the band Melbourne, performing in sold-out clubs every night and living on a bus with three gorgeous and talented guys. The bummer is that the band barely tolerates her. And when teen heartthrob Lucas Rivers take an interest in her, Chelsea is suddenly famous, bringing Melbourne to the next level—not that they're happy about that. Her feelings for Beckett, Melbourne's bassist, are making life even more complicated.Chelsea only has the summer tour to make the band—and their fans—love her. If she doesn't, she'll be back in Michigan for senior year, dying a slow death. The paparazzi, the haters, the grueling schedule… Chelsea believed she could handle it. But what if she can't?
REAPING ANGELS BY LAURA THALASA
BLURB: There are few things superhero Angel wants in life. World peace. Unlimited chocolate banana milkshakes. Spandex outfits with pockets. What she doesn't want is the attention of the Executioner, a supervillain who kills with his touch. 
But the moment she survives a caress—and a kiss—at the mercy of his lethal skin, Angel realizes her problems just got a whole lot bigger. Because the only thing worse than a supervillain who wants to kill you is one who wants to keep you.
FIRE FALLING(AIR AWAKENS#2) BY ELISE KOVA
BLURB: Soldier… Sorcerer… Savior… Who is Vhalla Yarl?
Vhalla Yarl marches to war as property of the Solaris Empire. The Emperor counts on her to bring victory, the Senate counts on her death, and the only thing Vhalla can count on is the fight of her life. As she grapples with the ghosts of her past, new challenges in the present threaten to shatter the remnants of her fragile sanity. Will she maintain her humanity? Or will she truly become the Empire's monster?