Hello there! Welcome back to another weekly WWW wednesdays meme 🙂
The WWW meme was formerly Hosted by Miz B at Should be Reading
Now It was revived at Taking on a World of Words
To play along, just answer the following three (3) questions…
• What are you currently reading?
• What did you recently finish reading?
• What do you think you'll read next?
---
I AM CURRENTLY READING:
THE REVOLUTION OF IVY(THE BOOK OF IVY#2) BY AMY ENGEL
" The Revolution Of Ivy is one of my highly anticipated sequels and I can't believe that it's finally in my hands. I haven't started yet, but I'm so excited to read it. I hope it's going to be an epic ending "
Ivy Westfall is beyond the fence and she is alone. Abandoned by her family and separated from Bishop Lattimer, Ivy must find a way to survive on her own in a land filled with countless dangers, both human and natural. She has traded a more civilized type of cruelty–forced marriages and murder plots–for the bare-knuckled brutality required to survive outside Westfall's borders.
But there is hope beyond the fence, as well. And when Bishop reappears in Ivy's life, she must decide if returning to Westfall to take a final stand for what she believes is right is worth losing everything she's fought for.
---
I JUST RECENTLY FINISHED READING:
DISTRACTION(WESTBROOK#1) BY LAURA CLARK
" I was nearly going to DNF this book due to the annoying protoganist who loves two guys but can't able to make up her mind. However, there is so much drama and romance in it that kept me entertained and made me read it through the end. "
MY RATING: [3.5/5 Stars]
Review Coming Soon…
 BLURB: Seventeen-near-old, Laila Patterson, would never describe her heart as fickle. She understands the difference between reality and fantasy, which is why Sam Woodson is not realistic boyfriend material. After all, he is in college, and college boys simply do not date high school girls. Plus, he is Laila's older brother's best friend. According to the unspoken bro-code, messing around with your friend's little sister is pretty high on the list of forbidden taboos.
What happens when Laila discovers that her secret crush on Sam isn't quite so one-sided? What if the only way to keep him is to keep their relationship hush-hush? Is Sam worth all of the lying and sneaking around?
As if things weren't confusing enough with Sam, an old family friend suddenly shows up after being gone for more than three years. She isn't expecting Trevor Maddox to move back to Westbrook. She isn't expecting him to attend her high school, and she certainly isn't expecting him to be sodamned gorgeous.
Laila doesn't want or need this unexpected distraction. . . or does she?
GHETTO BY M.L. SPARROW
" It is a forbidden romance between starcrossed lovers which is set in a post apocalyptic world and I loved everything in it. This book came as a total surprise to my expectations cause I didn't expected to enjoy it as much as I did."
MY RATING: [4/5 Stars]
Review coming soon…
 BLURB: My name's Sunny Grace Beaumont. Branded SGB/2/6895/03.12.93. Only child, self-taught computer geek and cancer survivor. Oh, and did I mention my dad's the President? As you can imagine that's sometimes a little problematic, especially when I want to sneak out. But it never got me into quite as much trouble as the night I ventured into the Ghetto – don't ask me why I was there in the first place… it was stupid. Everyone knows that the Ghetto is where hardened criminals are sent to live out the remainder of their lives. At first the men that kidnap me are just as I'd imagine, mean and thoughtless, but slowly I begin to have doubts.
I meet a guy. His name's Sin, he has no Brand – a crime punishable by death – and he's the rebel leader. I should hate him… but I don't. Instead he opens my eyes to a whole other side of the Ghetto, where people are innocent of the crimes they're accused of and helpless children suffer dreadful poverty. Is it possible that I've been lied to my entire life… that the governments been deceiving everyone? And how can I challenge the law my own dad is adamant to uphold?
CREATURE OF HABIT BY ANGEL LAWSON
" This book is a weird mix of Twilight and Batman which I really enjoyed reading it. The characters in it might remind you of Twilight characters but the storyline is quite different from twilight. "
MY RATING: [3/5 Stars]
Review Posted Here
 BLURB: The summer after college, Amelia Chase lands a coveted position as the personal assistant for the brilliant, yet reclusive, Grant Palmer. Grant's aloof nature and obsessive-compulsive behavior leads Amelia to rethink her position until Grant steps in to rescue her during a bizarre kidnapping attempt. She soon realizes Grant is a man of many secrets, all hidden behind an elaborate façade of self-discipline and control.
Grant Palmer spends his days in an expensive suit and tie, funding charitable works for his family's Foundation. His nights are reserved for patrolling the small city of Asheville and the bordering mountainside in an effort to protect residents from rogue vampires. Why? He has his own collection of kills to atone for from his own days as a rebellious, blood thirsty killer.
Amelia and Grant's professional relationship turns personal, distracting Grant from his duties. As the number of victims rise, it becomes apparent that a predator in the hills of North Carolina has a vendetta against Grant. Aware of Grant's increasing interest, possessing Amelia is one way for this killer to enact his twisted revenge.
---
NEXT I'M GOING TO READ THESE BOOKS:
THE DARK ONES BY RACHEL VAN DYKEN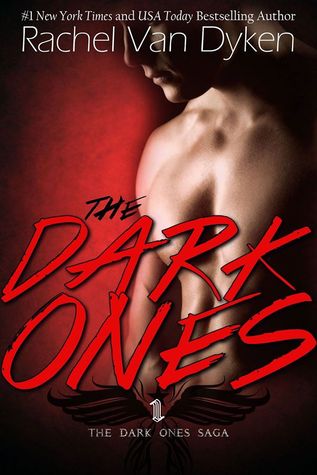 BLURB: To touch a Dark One is death.
To talk to an immortal is suicide.
Yet, I've been marked by both.
A Vampire.
And the King of the immortals.
My life is no longer my own.
And now I know the truth, my life was never mine to begin with.
It was theirs.
It's always been theirs.
ENCHANTED REVENGE BY THERESA M. JONES
 BLURB: When seventeen year old Lily finds her parents brutally murdered, leaving her broken and alone, she is determined to bring justice to the fairies responsible.
Her quest leads her to infiltrate The Empyrean, the land of the Fae where terrifying creatures lurk in every shadow. But with a political rebellion mounting, bloody battles and foreign enemies stand in her way. Alec, a mysterious fairy keeping his own secrets, gradually becomes her guide and dear friend in the unfamiliar world, and restores her faith in love.
Disturbing secrets about her parent's true identity are revealed, causing her to be more involved with the devastating fairy war than she can afford. Her vengeful mission becomes compromised and her growing romance with Alec wavers.
She must conquer her fear of the unknown, ignore her grief, and overcome her growing list of enemies if she is to succeed in avenging her parents' death. Or ever make it out alive.
ILLUMINAE BY AMIE KAUFMAN AND JAY KRISTOFF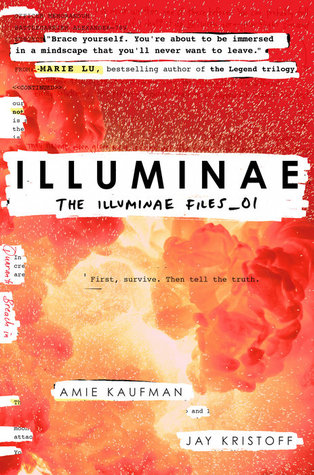 BLURB: This morning, Kady thought breaking up with Ezra was the hardest thing she'd have to do.
This afternoon, her planet was invaded.
The year is 2575, and two rival megacorporations are at war over a planet that's little more than an ice-covered speck at the edge of the universe. Too bad nobody thought to warn the people living on it. With enemy fire raining down on them, Kady and Ezra—who are barely even talking to each other—are forced to fight their way onto an evacuating fleet, with an enemy warship in hot pursuit.
But their problems are just getting started. A deadly plague has broken out and is mutating, with terrifying results; the fleet's AI, which should be protecting them, may actually be their enemy; and nobody in charge will say what's really going on. As Kady hacks into a tangled web of data to find the truth, it's clear only one person can help her bring it all to light: the ex-boyfriend she swore she'd never speak to again.
---
These are my WWW for this week, so what are your  recent, current and next reads? Please Feel Free To Comment Below or Leave a link to your WWW post. ❤
See You In The Next Post and Have a Great Day! 🙂