Hello there! Welcome back to another Sunday Book Recommendations which is the new weekly meme hosted by me. I created this meme so I could recommend you guys some interesting books which I think are worth reading. This meme includes recommending a book from three different genres. If you want to do this meme have fun with it, but don't forget to link back to the host. 🙂
Note: You can change the genres every week.
---

YA CONTEMPORARY
EVERYTHING EVERYTHING BY NICOLA YOON
[STAND-ALONE]
" Everything Everything is a debut hit novel from Nicola Yoon and I would highly recommended this cute contemporary romance to everyone. "
 BLURB: Madeline Whittier is allergic to the outside world. So allergic, in fact, that she has never left the house in all of her seventeen years. But when Olly moves in next door, and wants to talk to Maddie, tiny holes start to appear in the protective bubble her mother has built around her. Olly writes his IM address on a piece of paper, shows it at her window, and suddenly, a door opens. But does Maddie dare to step outside her comfort zone?
---
YA PARARNORMAL
WHIRL BY EMMA RAVELING
[ONDINE QUARTET SERIES]
" I really enjoyed reading this book. So many people complained about it being rip-off of Vampire academy and I would agree with them but still it was really so good that I couldn't help liking it. "
 BLURB: Outspoken and independent, Kendra Irisavie has always played by her own rules.
She's an ondine, a water elemental gifted with the powerful magic of Empath Virtue and trained to be a fighter. Pursued by Aquidae demons, she and her mother remain Rogue, hiding among humans to avoid becoming casualties in an ancient war.
Everything changes when violence erupts on Kendra's seventeenth birthday. A dark stranger appears, promising answers to her mysterious past and stirring unexpected feelings in her fiercely guarded heart.
But as Kendra uncovers the truth about her heritage and future, she realizes just how deep the lies and deception run.
Now, in the face of unthinkable odds, she will need all her wits, skills, and magic to fulfill an extraordinary prophecy.
---
YA FANTASY
THE KISS OF DECEPTION BY MARY.E. PEARSON
[THE REMNANT CHRONICLES]
" It's a good YA fantasy novel with captivating story line and romance. So, I think it's definitely worth a read "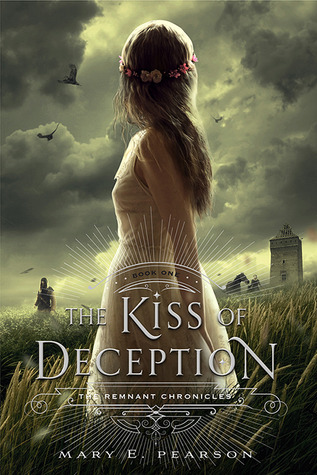 BLURB: A princess must find her place in a reborn world.
She flees on her wedding day.
She steals ancient documents from the Chancellor's secret collection.
She is pursued by bounty hunters sent by her own father.
She is Princess Lia, seventeen, First Daughter of the House of Morrighan.
The Kingdom of Morrighan is steeped in tradition and the stories of a bygone world, but some traditions Lia can't abide. Like having to marry someone she's never met to secure a political alliance.
Fed up and ready for a new life, Lia flees to a distant village on the morning of her wedding. She settles in among the common folk, intrigued when two mysterious and handsome strangers arrive—and unaware that one is the jilted prince and the other an assassin sent to kill her. Deceptions swirl and Lia finds herself on the brink of unlocking perilous secrets—secrets that may unravel her world—even as she feels herself falling in love.
---
Well, that's it for this week. 😀
Feel free to comment below and if you want me to recommend books from any particular genre let me know. ❤
See you next week with new recommendations!  🙂
Have a Great Day!