Hello there! Welcome back to another weekly WWW wednesdays meme 🙂
The WWW meme was formerly Hosted by Miz B at Should be Reading
Now It was revived at Taking on a World of Words
To play along, just answer the following three (3) questions…
• What are you currently reading?
• What did you recently finish reading?
• What do you think you'll read next?
---
I AM CURRENTLY READING:

" I'm halfway through this book and so far it was good and I'm really enjoying it. "
CREATURE OF HABIT BY ANGEL LAWSON
 BLURB: The summer after college, Amelia Chase lands a coveted position as the personal assistant for the brilliant, yet reclusive, Grant Palmer. Grant's aloof nature and obsessive-compulsive behavior leads Amelia to rethink her position until Grant steps in to rescue her during a bizarre kidnapping attempt. She soon realizes Grant is a man of many secrets, all hidden behind an elaborate façade of self-discipline and control.
Grant Palmer spends his days in an expensive suit and tie, funding charitable works for his family's Foundation. His nights are reserved for patrolling the small city of Asheville and the bordering mountainside in an effort to protect residents from rogue vampires. Why? He has his own collection of kills to atone for from his own days as a rebellious, blood thirsty killer.
Amelia and Grant's professional relationship turns personal, distracting Grant from his duties. As the number of victims rise, it becomes apparent that a predator in the hills of North Carolina has a vendetta against Grant. Aware of Grant's increasing interest, possessing Amelia is one way for this killer to enact his twisted revenge.
---
I JUST RECENTLY FINISHED READING:
FINDING PERFECT BY KENDRA C. HIGHLEY
" Finding perfect is cute and fun to read but the plot seemed too predictable which is the major drawback of this book. Even though the plot is quite predictable, it was really adorable and entertaining. "
My Rating: [3.5/5 Stars]
Review Coming Soon…
 BLURB: How far will you go for perfection?
For "Perfect Paige" Westfield, today is "D" Day. As in, she just got one on her calculus test. With her dreams of Stanford, her reputation, and her parents' expectations at stake, Paige needs to find a way to save face before everything she's worked for goes up in flames.
Ben Franklin (yes, he's related) is from the wrong side of town, with the wrong clothes and the wrong kind of life. He also knows an opportunity when he sees one, and he'll be happy to tutor Paige—if she makes him into the kind of guy her best friend, the hottest girl in school, will date.
It's the perfect arrangement. And Paige is determined not even the inconvenient—and utterly imperfect—attraction simmering between her and Ben will ruin it…
AIR AWAKENS(AIR AWAKENS#1) BY ELISE KOVA
" It is a wonderful book with awesome characters and I would highly recommended it to everyone. "
My Rating: [4/5 Stars]
Review Posted Here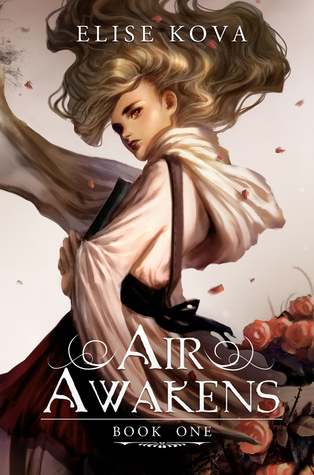 BLURB: A library apprentice, a sorcerer prince, and an unbreakable magic bond…
The Solaris Empire is one conquest away from uniting the continent, and the rare elemental magic sleeping in seventeen-year-old library apprentice Vhalla Yarl could shift the tides of war.
Vhalla has always been taught to fear the Tower of Sorcerers, a mysterious magic society, and has been happy in her quiet world of books. But after she unknowingly saves the life of one of the most powerful sorcerers of them all—the Crown Prince Aldrik—she finds herself enticed into his world. Now she must decide her future: Embrace her sorcery and leave the life she's known, or eradicate her magic and remain as she's always been. And with powerful forces lurking in the shadows, Vhalla's indecision could cost her more than she ever imagined.
---
NEXT I'M GOING TO READ THESE BOOKS:

Well, these are my next reads and I'm so excited to read The Revolution Of Ivy which is a sequel to The book of Ivy and I've been waiting for a long time to read this book.
GHETTO BY M.L. SPARROW
 BLURB: My name's Sunny Grace Beaumont. Branded SGB/2/6895/03.12.93. Only child, self-taught computer geek and cancer survivor. Oh, and did I mention my dad's the President? As you can imagine that's sometimes a little problematic, especially when I want to sneak out. But it never got me into quite as much trouble as the night I ventured into the Ghetto – don't ask me why I was there in the first place… it was stupid. Everyone knows that the Ghetto is where hardened criminals are sent to live out the remainder of their lives. At first the men that kidnap me are just as I'd imagine, mean and thoughtless, but slowly I begin to have doubts.
I meet a guy. His name's Sin, he has no Brand – a crime punishable by death – and he's the rebel leader. I should hate him… but I don't. Instead he opens my eyes to a whole other side of the Ghetto, where people are innocent of the crimes they're accused of and helpless children suffer dreadful poverty. Is it possible that I've been lied to my entire life… that the governments been deceiving everyone? And how can I challenge the law my own dad is adamant to uphold?
DISTRACTION(WESTBROOK#1) BY LAURA CLARK
 BLURB: Seventeen-near-old, Laila Patterson, would never describe her heart as fickle. She understands the difference between reality and fantasy, which is why Sam Woodson is not realistic boyfriend material. After all, he is in college, and college boys simply do not date high school girls. Plus, he is Laila's older brother's best friend. According to the unspoken bro-code, messing around with your friend's little sister is pretty high on the list of forbidden taboos.
What happens when Laila discovers that her secret crush on Sam isn't quite so one-sided? What if the only way to keep him is to keep their relationship hush-hush? Is Sam worth all of the lying and sneaking around?
As if things weren't confusing enough with Sam, an old family friend suddenly shows up after being gone for more than three years. She isn't expecting Trevor Maddox to move back to Westbrook. She isn't expecting him to attend her high school, and she certainly isn't expecting him to be sodamned gorgeous.
Laila doesn't want or need this unexpected distraction. . . or does she?
THE REVOLUTION OF IVY(THE BOOK OF IVY#2) BY AMY ENGEL
Ivy Westfall is beyond the fence and she is alone. Abandoned by her family and separated from Bishop Lattimer, Ivy must find a way to survive on her own in a land filled with countless dangers, both human and natural. She has traded a more civilized type of cruelty–forced marriages and murder plots–for the bare-knuckled brutality required to survive outside Westfall's borders.
But there is hope beyond the fence, as well. And when Bishop reappears in Ivy's life, she must decide if returning to Westfall to take a final stand for what she believes is right is worth losing everything she's fought for.
---
These are my WWW for this week, so what are your  recent, current and next reads? Please Feel Free To Comment Below or Leave a link to your WWW post. ❤
See You In The Next Post and Have a Great Day! 🙂