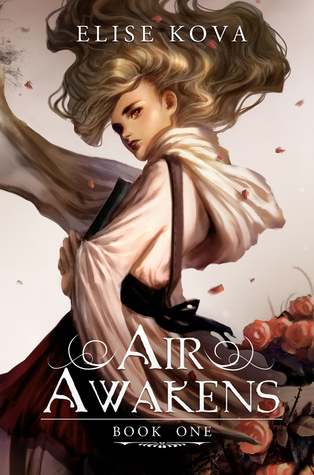 RELEASE DATE: August 27, 2015
AUTHOR: Elise Kova
GENRE: Young-Adult, Fantasy, Magic, Romance, Fiction.
PUBLISHER: Silver Wing Press
SUMMARY:
A library apprentice, a sorcerer prince, and an unbreakable magic bond…
The Solaris Empire is one conquest away from uniting the continent, and the rare elemental magic sleeping in seventeen-year-old library apprentice Vhalla Yarl could shift the tides of war.
Vhalla has always been taught to fear the Tower of Sorcerers, a mysterious magic society, and has been happy in her quiet world of books. But after she unknowingly saves the life of one of the most powerful sorcerers of them all—the Crown Prince Aldrik—she finds herself enticed into his world. Now she must decide her future: Embrace her sorcery and leave the life she's known, or eradicate her magic and remain as she's always been. And with powerful forces lurking in the shadows, Vhalla's indecision could cost her more than she ever imagined.
MY REVIEW:

This book is totally amazing as expected. The first thing that attracted me towards it was its beautiful cover and the other thing that got my attention was its intriguing blurb that sounds promising. I love reading fantasy novels and when I find something intriguing, I couldn't stop myself from reading that book and Air Awakens is one of those books. It's a great fantasy debut and I really enjoyed reading it. For a debut author, Miss Elise did a wonderful job in creating this masterpiece and I hope it makes a hit series.
Vhalla Yarl is a 17-year-old library apprentice in an Imperial library who carries a secret that might change her life if anyone finds out about it. Vhalla actually possesses an elemental magic that was supposed to be extinct for a century and if wielded correctly it can become a powerful weapon in the war.  When she hears that Crown Prince Aldrik is in a critical condition, unknowingly she uses her magic to save him from a certain death which eventually gets the attention of the sorcerers who lives in the tower. When she was offered to being a sorcerer, she flatly refuses their offer because she thinks magic is a dangerous thing that causes nothing but destruction. As she begins to learn more about magic she becomes more interested in it and starts to think that it isn't that bad. Vhalla loves being a library apprentice but nobody could understand the magic that was inside her and she feels that she belongs more in the tower where people of her kind lives. Some find her magic very useful but there are also others who feels that it is a dangerous power that needs to be eradicated immediately.
Vhalla Yarl is a great female protagonist and I really liked her character. She is clever, strong-headed, book lover, friendly and witty. I loved seeing her develop from an innocent young woman into  a fierce strong woman through out. Crown Prince Aldrik is a captivating and mysterious character. At start, you might feel he is a class A jerk and a complete A-hole but eventually you'll come to like him when he finally reveals his true self. There's also another swoon worthy character named Prince Baldair, also known as Heartbreaker. He is a complete play boy who's got a great reputation among women. He is very cocky and smug character that you'll definitely like and If possible I would definitely ship him and Vhalla. There's no insta-love which is another thing that I liked about this book. The relationship between Vhalla and Aldrik develops slowly with friendship which seemed realistic and I really liked how it was portrayed. There's not much romance in it but the chemistry between Vhalla and Aldrik is fire crackling and there's some sexual tension between them that will totally melt you.
The entire plot is well written with well-built characters. It has good world building but most of the story took place in the palace. For a debut author, the writing was truly incredible and I do enjoyed reading it. The pacing of the story was also quite good and I wasn't bored anywhere . I liked all the characters in it, they are all well built and well developed and I think it's the best part of this book that made it more strong. Thankfully the book ended with no cliffhangers and I can pretty much tell that the next book is going to be quite interesting and more action packed.
Overall, it was fantastic and I loved it. I had a great time reading it and now I can't wait to read its sequel titled fire falling. I'm so glad that I don't  have to wait long cause it's going to be released soon in November. BTW, here's the gorgeous cover of the sequel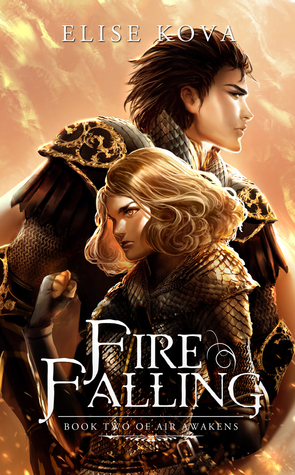 Air Awakens is a good YA fantasy novel that you wouldn't want to miss and I highly recommend it to everyone who love fantasy genre.
Please Feel Free To Comment Below. ❤
See You In The Next Post and Have a Great Day! 🙂