Hello there! Welcome back to another Sunday Book Recommendations which is the new weekly meme hosted by me. I created this meme so I could recommend you guys some interesting books which I think are worth reading. This meme includes recommending a book from three different genres. If you want to do this meme have fun with it, but don't forget to link back to the host. 🙂
Note: You can change the genres every week.
---
YA CONTEMPORARY
V IS FOR VIRGIN BY KELLY ORAM
[V IS FOR VIRGIN DUOLOGY]
" Kelly Oram is one of my favorite YA Contemporary Authors and I really enjoyed reading this book. It's a good YA contemporary read with lots of humor and romance. "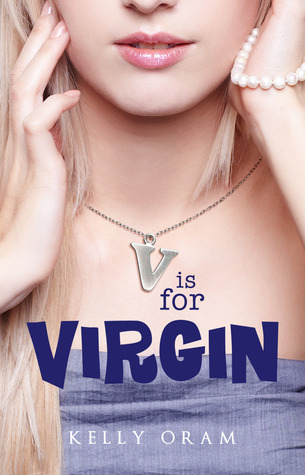 BLURB: When Val Jensen gets dumped for her decision to stay a virgin until marriage, the nasty breakup goes viral on YouTube, making her the latest internet sensation.
After days of ridicule from her peers, Val starts a school-wide campaign to rally support for her cause. She meant to make a statement, but she never dreamed the entire nation would get caught up in the controversy.
As if becoming nationally recognized as "Virgin Val" isn't enough, Val's already hectic life starts to spin wildly out of control when bad boy Kyle Hamilton, lead singer for the hit rock band Tralse, decides to take her abstinence as a personal challenge.
How can a girl stay true to herself when this year's Sexiest Man Alive is doing everything in his power to win her over?
---
YA FANTASY/MYTHOLOGY
BLOOD OF THE FEY
[MORGANA TRILOGY]

" It's a thrilling YA fantasy read that you wouldn't want to miss it. This book is a great mix of fantasy and Arthurian Legends. Overall, I really like this book and I think it's definitely worth a shot. "
BLURB: Morgan Pendragon just wants a normal life. But on her last year at a Swiss boarding school, one of her classmates is found mysteriously dead. Before she knows it, Morgan's called home to Wisconsin, for the first time in her life.
There, not only does she have to deal with her crazy-weird family, but she's forced to attend a strange school set in a magical world under Lake Winnebago. To make matters worse, she must train with the others to become Knights of the Round Table and fight in a secret, millennia-old war against the Fey—fallen angels with unimaginable powers who'd do anything to destroy humans. And if that wasn't enough, she must do the impossible: learn to make friends.
As the world is falling apart, Morgan must adapt to her new reality before she either goes nuts… or finds herself dead.
---
YA DYSTOPIA
POISON PRINCESS BY KRESLEY COLE
[THE ARCANA CHRONICLES]
" This book was totally amazing! Either you will love it or hate it but please do give this a try. "
 BLURB: She could save the world—or destroy it.
Sixteen-year-old Evangeline "Evie" Greene leads a charmed life, until she begins experiencing horrifying hallucinations. When an apocalyptic event decimates her Louisiana hometown, Evie realizes her hallucinations were actually visions of the future—and they're still happening. Fighting for her life and desperate for answers, she must turn to her wrong-side-of-the-bayou classmate: Jack Deveaux.
But she can't do either alone.
With his mile-long rap sheet, wicked grin, and bad attitude, Jack is like no boy Evie has ever known. Even though he once scorned her and everything she represented, he agrees to protect Evie on her quest. She knows she can't totally depend on Jack. If he ever cast that wicked grin her way, could she possibly resist him?
Who can Evie trust?
As Jack and Evie race to find the source of her visions, they meet others who have gotten the same call. An ancient prophesy is being played out, and Evie is not the only one with special powers. A group of twenty-two teens has been chosen to reenact the ultimate battle between good and evil. But it's not always clear who is on which side.
For Last Week's Recommendations Go To Here
---
Well, that's it for this week. 😀
Feel free to comment below and if you want me to recommend books from any particular genre let me know. ❤
See you next week with new recommendations!  🙂
Have a Great Day!