Hello there! Welcome back to another Sunday Book Recommendations which is the new weekly meme hosted by me. I created this meme so I could recommend you guys some interesting books which I think are worth reading. This meme includes recommending a book from three different genres. If you want to do this meme have fun with it, but don't forget to link back to the host. 🙂
Note: You can change the genres every week.
---
YA PARANORMAL[VAMPIRES]
WHAT KILLS ME BY WYNNE CHANNING
[WHAT KILLS ME DUOLOGY]
" It was really a long time since I've read this book but I can assure you it is an amazing book and I had fun reading it. What Kills Me is quite different from the other vampire books and I hope everyone will give this a try. The story was fast paced with non-stop action, romance and suspense. "        
 BLURB: An ancient prophecy warns of a girl destined to cause the extinction of the vampire race.
So when 17-year-old Axelia falls into a sacred well filled with blood and emerges a vampire, the immortal empire believes she is this legendary destroyer. Hunted by soldiers and mercenaries, Axelia and her reluctant ally, the vampire bladesmith Lucas, must battle to survive.
How will she convince the empire that she is just an innocent teenager-turned bloodsucker and not a creature of destruction? And if she cannot, can a vampire who is afraid of bugs summon the courage to fight a nation of immortals?
---
YA FANTASY
UPROOTED BY NAOMI NOVIK
[STAND-ALONE]
." The whole book felt something like a dark fairy tale, it was a unique mix of polish folk tale and fantasy. The whole journey in the book will give you a tremendous feeling of magical and fantasy experience. It's a must read for every fantasy lovers. "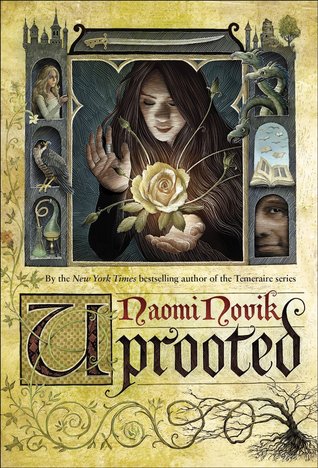 BLURB: Agnieszka loves her valley home, her quiet village, the forests and the bright shining river. But the corrupted Wood stands on the border, full of malevolent power, and its shadow lies over her life.
Her people rely on the cold, driven wizard known only as the Dragon to keep its powers at bay. But he demands a terrible price for his help: one young woman handed over to serve him for ten years, a fate almost as terrible as falling to the Wood.
The next choosing is fast approaching, and Agnieszka is afraid. She knows—everyone knows—that the Dragon will take Kasia: beautiful, graceful, brave Kasia, all the things Agnieszka isn't, and her dearest friend in the world. And there is no way to save her.
But Agnieszka fears the wrong things. For when the Dragon comes, it is not Kasia he will choose.
---
YA THRILLER
RUTHLESS BY CAROLYN LEE ADAMS
[STAND-ALONE]
" It's a stunning thriller that kept me on edge from the start till the end.This book was a total thrill ride with heart pumping scenes. It was like watching a thrilling game of survival between a prey and predator. I really enjoyed reading this book which was truly gasp worthy and It'll definitely make you hold your breath. "

 BLURB: Ruth Carver has always competed like her life depends on it. Ambitious. Tough. Maybe even mean. It's no wonder people call her Ruthless.
When she wakes up with a concussion in the bed of a moving pickup truck, she realizes she has been entered into a contest she can't afford to lose.
At a remote, rotting cabin deep in the Blue Ridge Mountains, Ruth's blindfold comes off and she comes face-to-face with her captor. A man who believes his mission is to punish bad girls like Ruth. A man who has done this six times before.
The other girls were never heard from again, but Ruth won't go down easy. She escapes into the wilderness, but her hunter is close at her heels. That's when the real battle begins. That's when Ruth must decides just how far she'll go in order to survive.
Back home, they called her Ruthless. They had no idea just how right they were.
For Last Week's Recommendations Go To Here
---
Well, that's it for this week. 😀
Feel free to comment below and if you want me to recommend books from any particular genre let me know. ❤
See you next week with new recommendations!  🙂
Have a Great Day!