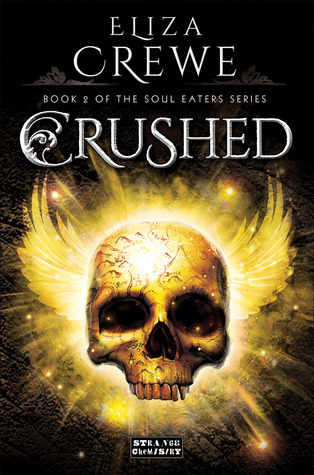 RELEASE DATE: August 5, 2014
AUTHOR: Eliza Crewe
GENRE: Young-Adult, Fantasy, Paranormal.
PUBLISHER: Strange Chemistry
SUMMARY: Meda Melange has officially hung up her monstrous mantle and planted her feet firmly on the holy and righteous path of a Crusader-in-training. Or, at least, she's willing to give it a shot. It helps that the Crusaders are the only thing standing between her and the demon hordes who want her dead.
The problem is, the only people less convinced than Meda of her new-found role as Good Girl are the very Crusaders she's trying to join. So when a devilishly handsome half-demon boy offers escape, how's a girl supposed to say "no?"
After all, everyone knows a good girl's greatest weakness is a bad boy.
MY REVIEW:
I really enjoyed Crushed even more than the previous book Cracked. It was more action packed and I had lot of fun reading this thrilling sequel. There are lots of twists and turns in this book and not to forget Armand, the half demon who was first introduced at the end of Crushed. I'm glad to know that even after being a crusader she's still the same badass girl. I liked all the aspects of the book. It has good storyline and I just devoured it in one sitting.
After her battle with a horde of demons, Meda is back again but now she's officially one of them, a crusader. It seems that Meda is not only a templer but also a beacon who is destined to do great things in the future. So, the crusaders have no choice but to accept her but still they don't trust her completely.  Things get more complicated when a new group of Crusaders arrive in town. For her protection, she is confined in her own room and she feels betrayed when she learns that her best friend wasn't against it at all. Here comes Armand, the charming half demon who offers her the freedom she was looking for. She doesn't trust him entirely because he is a demon but she doesn't like to be caged. She is always a free bird and she's nobody's pawn. So, she accepts his offer and secretly sneaks out with him cause if anybody finds out that she is hanging out with a demon, she's going to be kicked out immediately and marked as their enemy.
The characters are the best thing in this series especially Meda, the kickass half demon girl who isn't good but she isn't bad either. Now she's officially a crusader and more badass. Jo, the other kickass girl who is also best friend of Meda is another favorite character of mine. Their friendship is well executed and I really liked how it was built. Chi is another interesting character that I liked in this series but it's sad that he didn't have much part in this book. Armand is a beautiful half demon who always likes to flirt with Meda. She knows he is the only who can understand the darkness inside them. There's always a tension between them but Meda knows she can't fully trust him and they can't be together because they are both from the opposite sides.
I really liked the Plot, it was really amazing. There are some twists and turns to make it more interesting and engaging. Compared with the previous book it was more action packed and I really enjoyed it a lot. There's also some light romance in the book which was a minor factor in this book but it was well written. It has good plot placing and a compelling writing style. The great character development of Meda is another thing that I liked in this book. She has now friends who she truly cares about but she's still the snarky bitch who doesn't mind being brutal and violent.
Overall, I loved this book! It was full package of ass kicking action, friendship, and romance. There's only one more book left to read and I'm so excited to read it cause I'm expecting a epic finale. It's really an amazing series and I highly recommend this series to everyone who love snarky heroines.
Please Feel Free To Comment Below. ❤
See You In The Next Post and Have a Great Day! 🙂