Hello there! Welcome back to another weekly WWW wednesdays meme 🙂
The WWW meme was formerly Hosted by Miz B at Should be Reading
Now It was revived at Taking on a World of Words
To play along, just answer the following three (3) questions…
• What are you currently reading?
• What did you recently finish reading?
• What do you think you'll read next?
---
I AM CURRENTLY READING:

PLAYING THE PLAYER BY LISA BROWN ROBERTS
I'm almost finished with this book and so far it's really good.
 BLURB:
The Good Girl Vs. The Player
Round one begins…

Trina Clemons needed the money. Why else would she – the most organized, prepared student in school – spend the summer as a nanny and partner with the biggest slacker ever? Now she's ready to tackle nannyhood with her big binder of research and schedules. Just don't ask her about the secret job of "fixing" the bad habits of a certain high school player…
Slade Edmunds prefers easy hook-ups, and Trina is definitely not his type. She's all structure and rules, while Slade wants to just have fun. Fortunately, Trina has no idea about the bet Slade made with his best friend that he can totally get her to unwind by the end of summer…
Then the weirdest thing happens. There's chemistry. A lot of it.
But nothing gets between a boy and a girl like a big, fat secret…
---
I JUST RECENTLY FINISHED READING: 
THE BEAST(THE HUNTER LEGENDS#1) BY LINDSAY MEAD
RATING: 3.5/5 Stars
Review Coming Soon…
"A unique retelling of Beauty And The Beast with a mix of Norse Mythology and Steampunk.
Despite it's flaws, I really liked  this book. "
BLURB: Demon possession has swept through Glace's neighboring kingdom, turning humans into hellhounds. These great, fanged wolves are wild, desperate, and hungry. Only the sworn Hunters have kept them back for five long, bloody years.
At the young age of fifteen, Belle LeClair became a Hunter. She no longer remembers how many hounds she's killed, or how many friends she's buried. Still, Belle leads the hunt till a tragedy forces her deep into the dark kingdom. Her heart will be turned, her loyalty tested— and fate will intervene.
Amid a backdrop of Steampunk inventions and a harsh winter landscape,The Beast is a re-imagining of the infamous love between a beauty and a beast.
EVERYTHING EVERYTHING BY NICOLA YOON
MY RATING: 4/5 Stars
Review Posted Here
"It's a wonderful book and It sets itself apart as something other than your average YA fiction. It's unique and beautiful and totally worth a read. "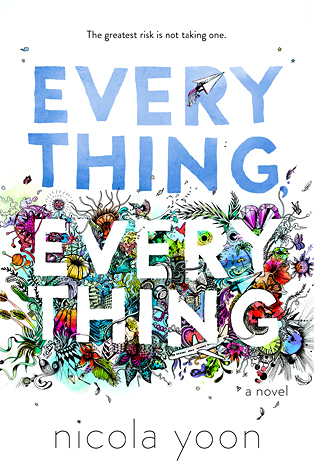 BLURB: My disease is as rare as it is famous. Basically, I'm allergic to the world. I don't leave my house, have not left my house in seventeen years. The only people I ever see are my mom and my nurse, Carla.
But then one day, a moving truck arrives next door. I look out my window, and I see him. He's tall, lean and wearing all black—black T-shirt, black jeans, black sneakers, and a black knit cap that covers his hair completely. He catches me looking and stares at me. I stare right back. His name is Olly.
Maybe we can't predict the future, but we can predict some things. For example, I am certainly going to fall in love with Olly. It's almost certainly going to be a disaster.
CRUSHED BY KASI BLAKE
MY RATING: 3.5/5 Stars
Review Posted Here
"I had a great time reading this and It's a whole package of fun, romance, excitement, danger and humor that would keep you reading until that very last page. "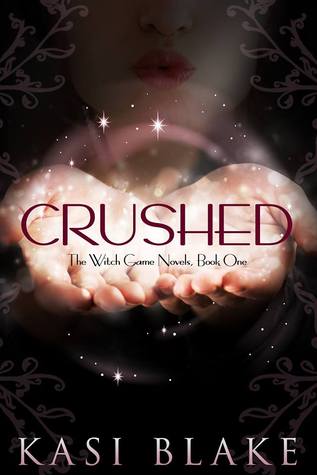 BLURB: The Noah girls have beauty, powers, and brains.
They use all three to play their games.
They blow the dust,
the boys are crushed,
and no one is ever the same.
Each year the Noah girls play a secret game— Crushed. The rules are simple.
1. Use wisdom to pick your target. The boy can't be too weak or too strong-willed.
2. Blow the enchanted dust into your target's face to enchant (Crush) him.
3. Give verbal commands and assign them tasks to perform throughout the year. The more tasks completed, the stronger the witch's power grows.
4. At the end of the year, the witch with the most power wins cold, hard cash.
As if being a witch in high school isn't complicated enough, Kristen picks the wrong boy to Crush. Zack is tall, handsome, and a little scary. Her Crush spell isn't working on him like it has with the others. In fact, he is behaving the opposite of every other boy she's Crushed, hating her instead of adoring her. Something is definitely wrong. After someone attempts to kill her, Kristen realizes there is more at risk than a few hundred dollars. She may be betting with her life.
---
NEXT I'M GOING TO READ THESE BOOKS:
My next reads are going to be the soul eaters trilogy by Eliza Crewe and I'm quite excited to read it because I've heard great things about this trilogy.
BLURB: 
Meet Meda. She eats people.
Well, technically, she eats their soul. But she totally promises to only go for people who deserve it. She's special. It's not her fault she enjoys it. She can't help being a bad guy. Besides, what else can she do? Her mother was killed and it's not like there are any other "soul-eaters" around to show her how to be different. That is, until the three men in suits show up.
They can do what she can do. They're like her. Meda might finally have a chance to figure out what she is. The problem? They kind of want to kill her. Before they get the chance Meda is rescued by crusaders, members of an elite group dedicated to wiping out Meda's kind. This is her chance! Play along with the "good guys" and she'll finally figure out what, exactly, her 'kind' is.
Be careful what you wish for. Playing capture the flag with her mortal enemies, babysitting a teenage boy with a hero complex, and trying to keep one step ahead of a too-clever girl are bad enough. But the Hunger is gaining on her.
The more she learns, the worse it gets. And when Meda uncovers a shocking secret about her mother, her past, and her destiny… she may finally give into it.
---
---
These are my WWW for this week, so what are your  recent, current and next reads? Please Feel Free To Comment Below or Leave a link to your WWW post. ❤
See You In The Next Post and Have a Great Day! 🙂