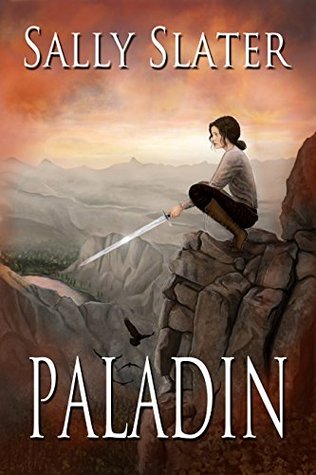 RELEASE DATE: May 14, 2015
AUTHOR: Sally Slater
GENRE: Young-Adult, Fantasy, Paranormal, Romance.       
PUBLISHER: Perfect Analogy Publishing
SUMMARY: Brash, cocky, and unbeatable with a sword (well, almost), Sam of Haywood is the most promising Paladin trainee in the kingdom of Thule… and knows it. The only problem is that Sam is really Lady Samantha, daughter of the seventeenth Duke of Haywood, and if her father has his way, she'll be marrying a Paladin, not becoming one.
But Sam has never held much interest in playing damsel-in-distress, and so she rescues herself from a lifetime of boredom and matrimonial drudgery. Disguised as a boy, Sam leaves home behind to fight demons-—the most dangerous monsters in Thule—-alongside the kingdom's elite warriors. Pity that Tristan Lyons, the Paladin assigned to train her, is none other than the hero of her childhood. He hasn't recognized her–yet–but if he does, he'll take away her sword and send her packing.
Sam is not the only trainee hiding secrets: Braeden is a half-demon with a dark past that might be unforgivable. Whether he can be trusted is anyone's guess, including his.
As demons wreak havoc across the land, rebellion stirs in the West, led by a rival faction of warriors.
A war between men is coming, and Sam must pick a side. Will saving the kingdom cost her life–or just her heart?
MY REVIEW:

I LOVE LOVE LOVE LOVE IT!!!
Wow! This book was a total surprise for me I didn't expected I would enjoy it as much as I did.  It's the perfect package of entertainment for all the YA book lovers, I just loved everything in it. The blurb sounded so intriguing that I had to check this out and I can't believe it's going to be this good. After reading the first few chapters of it I was totally hooked and I'm more than satisfied with it. I think it's a great start for a new fantasy series.
17 year old Lady Samantha is the only daughter of Duke of Haywood. Her only interest lays in sword fighting and nothing else. After her mother was killed by a Demon, her father becomes cold and closed off to everyone even his own daughter. To avenge her mother, Sam wanted to become a Paladin who kills demons, but her father wants her to get married and produce a heir to continue his lineage. To avoid this fate and in order to become a Paladin, she disguises herself as a boy to train under the elite  group of warriors of Thule. Unfortunately, her mentor is none other than the famous paladin and her hero Tristan Lyons, who she had met him few years ago when she was almost killed by a demon. During her training, she is co-partnered with Braedan, a half demon who has secrets of his own. Together they become a trio and develops a bond of friendship with time and they always fight together against demons. The plot takes a interesting turn when they finally meet the rival faction who wasn't what they thought would be.
Samantha is the strong female character who's got so much sass, witt and courage in her. I totally loved her character in this plot. She's the perfect kickass character you're looking for and she wasn't a total perfection but still strives for it. Coming to Braedan, the half demon who every other paladin trainee loathes and afraid of  is totally swoon worthy guy with long white hair and garnet eyes that will definitely captivate you. Being a half demon I didn't expected him to have a calm and gentle personality which made me like him more. As for Tristan, he is the smug character who always likes to taunt Sam but still he is a very likable character too. The author did a good job in portraying the friendship between these three. The scene at the brothel was really hilarious. I liked how the relationship between Braedan and Sam developed slowly from friendship to something more. To whoever thinking there might be a triangle in it well, rest assured there's no triangle in this plot.
The plot was truly amazing and well-written. The story was written in Sam, Braedan and Tristan's POV which didn't bothered me at all instead it made easier to grasp everything. This book got all kickass-action, humor and hot romance that you wouldn't want to put it down. It has a fast paced plot and the writing style was quite good for a debut author. There are so many twists and turns in it that would make it more engaging and interesting read. I must appreciate the author for writing this wonderful book which has great characterization, brilliant plot and good world building.
Overall, it's a fantastic read for me! After how the book ended I think there's a sequel to it and I do wish to see the trio in action again. With everything figured out I hope the sequel would be much more interesting and I want more of Braedan. This book has so much potential to be a hit series and needs to be read by every fantasy lovers.
DO I RECOMMEND THIS BOOK?

Please Feel Free To Comment Below. ❤
See You In The Next Post and Have a Great Day! 🙂