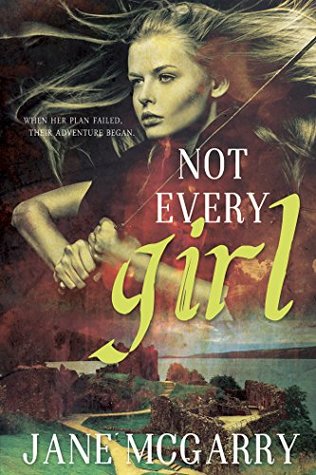 RELEASE DATE: April 27, 2015
AUTHOR: Jane McGarry
GENRE: Young-Adult, Historical.
PUBLISHER: Clean Reads
SUMMARY: Olivia Davenport's plan is destined to fail.
She is going through with it anyway, of course. After all, it is the chance of a lifetime. The unreasonable rules of others should not stand in her way.
In her small kingdom of Stewartsland, Olivia trains with the squires and harbors a secret dream. She longs to become a knight under the command of the Master-of–Arms, who just happens to be her father. He has indulged her passion so far, but they both know a simple fact – girls may not attain knighthood. Dismayed by the constant discouragement of her ambitions, she makes an impetuous decision to disguise herself as a boy in order to sneak on a mission. The consequences are not at all what she anticipated.
When her deception is revealed, she is sent home in disgrace; however, an unexpected turn of events puts her at the center of a dangerous plot against the King. The ensuing adventure finds her grappling with mercenaries and outlaws, yet these pale in comparison to her newly awakened emotions. She finds not only her life at risk, but also her heart, when the aloof Prince Liam begins to affect her in ways she never thought possible. In the end, it is her courage and unique spirit which must guide her through the challenges she encounters both physical and emotional.
MY REVIEW:
Thank you to Jane McGarry for sending me a free ecopy of the book in exchange for an honest review.
First of all, It's quite good and decent read and I think it's a great start for a debut Author. Though I haven't enjoyed it as much as expected but still I liked it. It's intriguing synopsis is what made me interested to check this out. The plot wasn't deep but it was interesting enough to make it an engaging read.
It's the story of a girl named Olivia Davenport, daughter of King's Master of Arms. Every girl of her age dreams of being a princess but what Olivia wants to be is quite opposite from it. Since young, Olivia has been training with other squires who are under the command of her father and she always dreams of being a knight but she can't attain knighthood just because she is a girl. When her father refuses to take her along with all the other squires for a mission, she feels angry and disappointed. But Olivia is a stubborn girl who doesn't give up easily, she disguises herself as a boy to sneak in to the mission. When she was found out, her father sends her back to her home along with prince Liam as her escort. She was once again disappointed but she didn't expected that there would be another adventure awaits her and during her journey she discovers love that is impossible.
Olivia is clever, brave, stubborn, independent girl who stands up for what she wants. She is pretty much likable character who is easy to connect but I did get annoyed by her sometimes though. I didn't liked her when she deceived her best friend Puck who trusted her. Liam is perfect prince character who is calm, regal and charming. I don't know why Olivia is  so quick to judge him after the first meeting because he doesn't have any mean streak in him and I didn't saw any arrogance from him like you normally see in all the princes. My main issue with this book is the insta-love from Olivia's side and I also felt the romantic relationship didn't portrayed well in it. I would've loved it more if their relationship developed slowly with more interactions between them. The chemistry between them seemed lacking and it felt quite awkward to me. Apart from romance in the book, I loved everything in it. As for the supporting characters, I really liked Athos and he is my favorite character from the book. Athos may be an outlaw but he is a wise guy with great knowledge and I always loved his sarcastic talk.
The plot is simple but it's really amazing and also the best part of the book. All the characters are well-written and it has good world building too. The writing style may not be creative but it's quite impressive. The rescue mission with the help of band of outlaws is the part that I enjoyed reading the most.
Overall, I enjoyed reading it! I liked the story line and how the plot was developed. It's a good adventurous historical teen novel with strong female protagonist. It's a light read and can be finished in one sitting. Do I recommend it? yes, I would definitely recommend it.
Please Feel Free To Comment Below. ❤
See You In The Next Post and Have a Great Day! 🙂