Hello there! Welcome back to another weekly WWW wednesdays meme 🙂
The WWW meme was formerly Hosted by Miz B at Should be Reading
Now It was revived at Taking on a World of Words
To play along, just answer the following three (3) questions…
• What are you currently reading?
• What did you recently finish reading?
• What do you think you'll read next?
---
I AM CURRENTLY READING:

I've nearly finished 30% of the book and So far it's really good.
PALADIN BY SALLY SLATER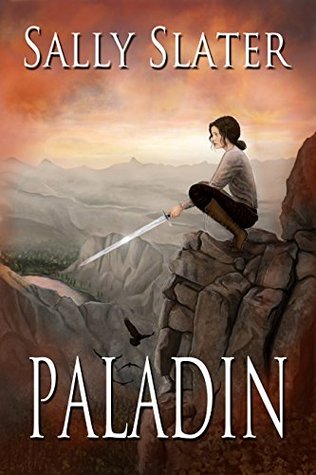 BLURB:  Brash, cocky, and unbeatable with a sword (well, almost), Sam of Haywood is the most promising Paladin trainee in the kingdom of Thule… and knows it. The only problem is that Sam is really Lady Samantha, daughter of the seventeenth Duke of Haywood, and if her father has his way, she'll be marrying a Paladin, not becoming one.
But Sam has never held much interest in playing damsel-in-distress, and so she rescues herself from a lifetime of boredom and matrimonial drudgery. Disguised as a boy, Sam leaves home behind to fight demons-—the most dangerous monsters in Thule—-alongside the kingdom's elite warriors. Pity that Tristan Lyons, the Paladin assigned to train her, is none other than the hero of her childhood. He hasn't recognized her–yet–but if he does, he'll take away her sword and send her packing.
Sam is not the only trainee hiding secrets: Braeden is a half-demon with a dark past that might be unforgivable. Whether he can be trusted is anyone's guess, including his.
As demons wreak havoc across the land, rebellion stirs in the West, led by a rival faction of warriors.
A war between men is coming, and Sam must pick a side. Will saving the kingdom cost her life–or just her heart?
---
I JUST RECENTLY FINISHED READING:
BLACKMAIL BOYFRIEND BY CHRIS CANNON
My Rating: 3.5 stars
Review Coming Soon…
"It's fun and entertaining book with a mix of humor and romance. If you are looking for cute romantic read then give this one a try and it's a quick read too."

BLURB: Sometimes, blackmail is the only weapon a girl has…
Haley Patterson has had a crush on golden boy Bryce Colton for ages. But when she hears a rumor that he hooked up with her she gives him a choice: be her boyfriend for a month to show other guys that she's dateable—despite her overprotective and very intimidating brothers—or deal with the angry, cage-fighting boyfriend of the girl he actually did hook up with.
Bryce didn't know the other Haley even had a boyfriend. He was just trying to get his ex off his back. And now, not only is he being blackmailed, he's being blackmailed by an honor student. His new "girlfriend" has two three-legged dogs, her father mows grass at the country club, and she's…well, difficult. And different.
Can something so fake turn into something real?
NOT EVERY GIRL BY JANE Mc GARRY
MY RATING: 3.5 Stars
Review Coming Soon…
"A Historical novel with a strong female protagonist who dreams of being a knight despite what society thinks and I really enjoyed reading it"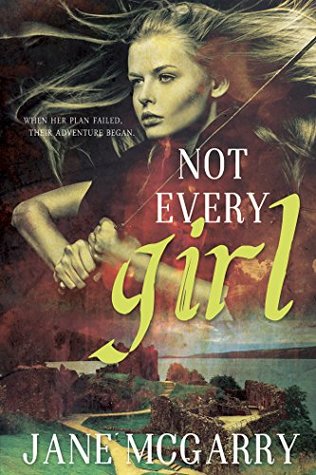 BLURB: Olivia Davenport's plan is destined to fail.
She is going through with it anyway, of course. After all, it is the chance of a lifetime. The unreasonable rules of others should not stand in her way.
In her small kingdom of Stewartsland, Olivia trains with the squires and harbors a secret dream. She longs to become a knight under the command of the Master-of–Arms, who just happens to be her father. He has indulged her passion so far, but they both know a simple fact – girls may not attain knighthood. Dismayed by the constant discouragement of her ambitions, she makes an impetuous decision to disguise herself as a boy in order to sneak on a mission. The consequences are not at all what she anticipated.
When her deception is revealed, she is sent home in disgrace; however, an unexpected turn of events puts her at the center of a dangerous plot against the King. The ensuing adventure finds her grappling with mercenaries and outlaws, yet these pale in comparison to her newly awakened emotions. She finds not only her life at risk, but also her heart, when the aloof Prince Liam begins to affect her in ways she never thought possible. In the end, it is her courage and unique spirit which must guide her through the challenges she encounters both physical and emotional.
---
NEXT I'M GOING TO READ THESE BOOKS:
SLASHER GIRLS VS MONSTER BOYS BY VARIOUS YA AUTHORS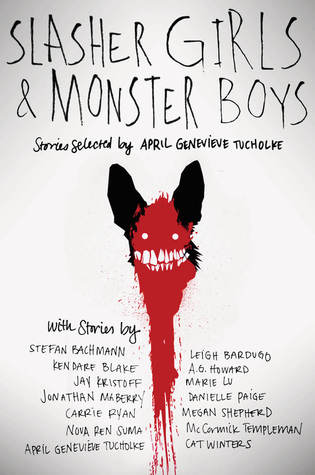 SUMMARY: A host of the smartest young adult authors come together in this collection of scary stories and psychological thrillers curated by Between the Devil and the Deep Blue Sea's April Genevieve Tucholke.
Each story draws from a classic tale or two—sometimes of the horror genre, sometimes not—to inspire something new and fresh and terrifying. There are no superficial scares here; these are stories that will make you think even as they keep you on the edge of your seat. From bloody horror to supernatural creatures to unsettling, all-too-possible realism, this collection has something for any reader looking for a thrill.
AQUA BY M.A. GEORGE
Novelist (unpublished, but cut her some slack…seventeen is a bit early to despair), Slightly neurotic introvert (Alright, let's be honest…there's no "slightly" about it), International Woman of Mystery, and…
Okay, just scratch the bio.
The only real "mystery" in Layla's life is why her father has never been on the scene. Or why her mother drags Layla to a new coastal home every year.
Nothing about the latest hometown seems too newsworthy…until a routine day at the beach leaves Layla questioning whether she's read one too many paranormal fantasy novels. The plot thickens when a random guy claims to know things about her father—a bizarre claim he backs up with an equally impossible stunt. And Layla soon finds herself on the wrong side of a mysterious attempted drowning…on her own kitchen floor.
When all is done, Layla will attest that fact is far stranger than fiction. And nothing in real life is ever as transparent as it seems…Not even water.
Especially not water.
THE FINAL EMPIRE BY BRANDON SANDERSON
 BLURB: A thousand years ago evil came to the land and has ruled with an iron hand ever since. The sun shines fitfully under clouds of ash that float down endlessly from the constant eruption of volcanoes. A dark lord rules through the aristocratic families and ordinary folk are condemned to lives in servitude, sold as goods, labouring in the ash fields.
But now a troublemaker has arrived and there is rumour of revolt. A revolt that depends on criminal that no-one can trust and a young girl who must master Allomancy – the magic that lies in all metals.
---
These are my WWW for this week, so what are your  recent, current and next reads? Please Feel Free To Comment Below or Leave a link to your WWW post. ❤
See You In The Next Post and Have a Great Day! 🙂