Hello there! Welcome back to another Sunday Book Recommendations which is the new weekly meme hosted by me. I created this meme so I could recommend you guys some interesting books which I think are worth reading. This meme includes recommending a book from three different genres. If you want to do this meme have fun with it, but don't forget to link back to the host. 🙂
Note: You can change the genres every week.
---
YA CONTEMPORARY
VENDETTA BY CATHERINE DOYLE
(BLOOD FOR BLOOD SERIES)
"A Great  YA Debut By Author Catherine Doyle about two Star Crossed lovers. It's got all the heart thumping action and heart stopping romance you are are looking for. This book may seem like a modern retelling of Romeo and Juliet with mafia twist. "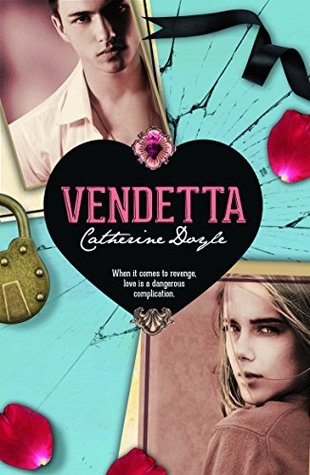 BLURB: When it comes to revenge, love is a dangerous complication.With a fierce rivalry raging between two warring families, falling in love is the deadliest thing Sophie could do. An epic debut set outside modern-day Chicago.
When five brothers move into the abandoned mansion in her neighbourhood, Sophie Gracewell's life changes forever. Irresistibly drawn to bad boy Nicoli, Sophie finds herself falling into a criminal underworld governed by powerful families. As the boys' dark secrets begin to come to light, Sophie is confronted with stinging truths about her own family, too. She must choose between two warring dynasties – the one she was born into, and the one she is falling in love with. When she does, blood will spill and hearts will break.
---
YA DYSTOPIA
UNDER THE NEVER SKY BY VERONICA ROSSI 
[UNDER THE NEVER SKY TRILOGY]
"An amazing Sci-fi Novel with great world building and one of my favorite series too. At start it may be hard to get into it but everything will get easier to understand by reading further and it's  definitely worth a read. "
BLURB: Aria is a teenager in the enclosed city of Reverie. Like all Dwellers, she spends her time with friends in virtual environments, called Realms, accessed through an eyepiece called a Smarteye. Aria enjoys the Realms and the easy life in Reverie. When she is forced out of the pod for a crime she did not commit, she believes her death is imminent. The outside world is known as The Death Shop, with danger in every direction.
As an Outsider, Perry has always known hunger, vicious predators, and violent energy storms from the swirling electrified atmosphere called the Aether. A bit of an outcast even among his hunting tribe, Perry withstands these daily tests with his exceptional abilities, as he is gifted with powerful senses that enable him to scent danger, food and even human emotions.
They come together reluctantly, for Aria must depend on Perry, whom she considers a barbarian, to help her get back to Reverie, while Perry needs Aria to help unravel the mystery of his beloved nephew's abduction by the Dwellers. Together they embark on a journey challenged as much by their prejudices as by encounters with cannibals and wolves. But to their surprise, Aria and Perry forge an unlikely love – one that will forever change the fate of all who live UNDER THE NEVER SKY

---

YA PARANORMAL ROMANCE [WEREWOLVES]
PRINCE OF WOLVES BY QUINN LOFTIS
[THE GREY WOLVES SERIES]
"If you love reading Werewolves fiction books then I highly recommend this series."
 BLURB:  Jacque Pierce was just an ordinary 17-year-old girl getting ready to start her senior year in high school in Coldspring, Texas. When a mysterious foreign exchange student from Romania moves in across the street, Jacque and her two best friends, Sally and Jen, don't realize the last two weeks of their summer are going to get a lot more interesting.
From the moment Jacque sets eyes on Fane she feels an instant connection, a pull like a moth to a flame. Little does she know that the flame she is drawn to is actually a Canis lupis, werewolf, and she just happens to be his mate; the other half of his soul.
The problem is Fane is not the only wolf in Coldspring, Texas.
Just as Fane and Jacque are getting to know each other, another wolf steps out to try and claim Jacque as his mate. Fane will now have to fight for the right to complete the mating bond, something that is his right by birth but is being denied him by a crazed Alpha. Will the love Fane has for Jacque be enough to give him the strength to defeat his enemy, will Jacque accept that she is Fane's mate and complete the bond between them?
For Last Week's Recommendations Go To Here
---
Well, that's it for this week. 😀
Feel free to comment below and if you want me to recommend books from any particular genre let me know. ❤
See you next week with new recommendations!  🙂
Have a Great Day!