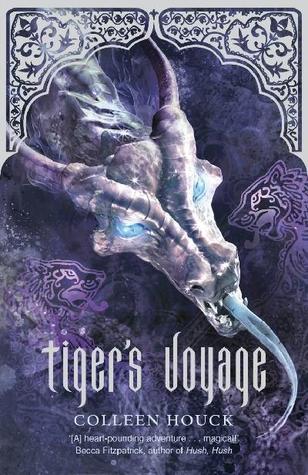 RELEASE DATE: January 1, 2011 
AUTHOR: Colleen Houck
GENRE: Young-Adult, Fantasy, Mythology Paranormal, Romance.
PUBLISHER: Splinter
SUMMARY: With the head-to-head battle against the villainous Lokesh behind her, Kelsey confronts a new heartbreak: in the wake of his traumatic experience, her beloved Ren no longer remembers who she is. As the trio continues their quest by challenging five cunning and duplicitous dragons, Ren and Kishan once more vie for her affections–leaving Kelsey more confused than ever.
MY REVIEW:

*Phew* I'm so glad that I've finally finished reading it cause it was pretty much long book to read and it has more than 500 pages. Compared with the previous books this one is filled with more adventure, action and  a frustrating love triangle. Despite the annoying  triangle in it, I really liked it a lot more than the previous books. I've been so excited  to read this because there's going to be dragons in it which sounded intriguing. It's really wonderful how the author come up with this amazing plot by mixing chinese and Indian mythology and turning it into her own new fictitious myth which I must agree is a bit controversial but I totally loved it.
Kelsey and her tiger's are back again with another quest to break a 300 year old Indian Curse but this time they had to deal with five dragons. They had to visit all the five dragons which ultimately leads them to durga's next prize but it's not going to be easy because they had to go through so many obstacles and trials to finally obtain what they are looking for. This quest is pretty much exciting with all the underwater adventures and action in it. Out of all the dragons I've really liked the green dragon who dressed Ren and Kishan as prince's and Kelsey as a princess like they are in a fairy tale adventure.
Besides facing the dragons, the trio had to deal with another issue which was like another quest for them but it isn't related to the curse. Both Ren and Kishan are vying for Kelsey's love and she is absolutely torn between them because now she loves both guys.  The thing that frustrated me the most while reading it was kelsey's mixed feelings for both guys. Her love for Ren is very deep but still she had no trouble kissing Kishan and she likes it too. After Ren finally remembers everything it was already too late because Kelsey finally decides to stay with Kishan which completely tears him apart. This triangle reminds me a lot of Vampire diaries  where two brothers vying for the same girl.
I'd wish I could Strangle kelsey here because she is hurting both of them even though knowing who is in her heart and I really feel pity for Kishan, she uses him as some kind of back-up guy who she thinks will give her better future. I think both Ren and Kishan's personalities has been swapped I mean  Kishan has become more gentle like Ren but I'd really missed his flirty nature and boldness. As for Ren, he seemed much bolder than before and his kisses has become more hotter too. I'm really curious who she's going to end up with, I thought it would be Ren but now I'm not sure but I hope she would make it clear in the next book because It's really getting on my nerves and I don't think I could handle it anymore.
The plot was amazing but I can't say it was perfect cause there are some parts where I felt it was dragged too much and the lessons on scuba diving part seemed lengthy and a bit boring too but Wes is quite an interesting guy to know and he always likes to annoy Ren and Kishan by flirting with kelsey. The writing as always, it's very descriptive and vivid. Actually I didn't expected it to be a underwater adventure so it was a bit surprising for me but in a good way cause I totally loved it, there's lots of  action with the sea monsters  and not to forget the giant sharks too.
Even though there are some flaws in it, it was a fantastic read for me. The ending was a big cliffhanger which I saw it coming and I'm so glad that I wouldn't have to wait because I'm on my way to the next book. The Evil Sorcerer Lokesh has finally made his re-appearance and I'm so excited to know what's going to happen next and there's still one more quest left to completely break the curse so can't wait to read it. I'm pretty much satisfied with this series so far and I highly recommend it to everyone.
Please Feel Free To Comment Below. ❤
See You In The Next Post and Have a Great Day! 🙂