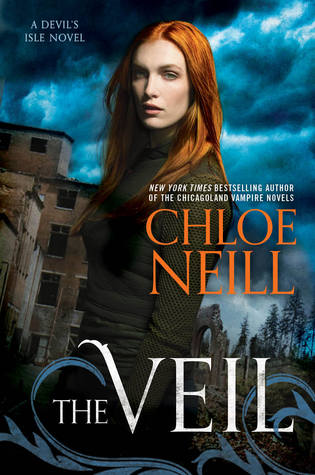 RELEASE DATE: August 4th, 2015 
AUTHOR: Chloe Neill
GENRE: New-Adult, Paranormal,Urban-Fantasy, Dystopia.
PUBLISHER: NAL
SUMMARY: Seven years ago, the Veil that separates humanity from what lies beyond was torn apart, and New Orleans was engulfed in a supernatural war. Now, those with paranormal powers have been confined in a walled community that humans call the District. Those who live there call it Devil's Isle.
Claire Connolly is a good girl with a dangerous secret: she's a Sensitive, a human endowed with magic that seeped through the Veil. Claire knows that revealing her skills would mean being confined to Devil's Isle. Unfortunately, hiding her power has left her untrained and unfocused.
Liam Quinn knows from experience that magic makes monsters of the weak, and he has no time for a Sensitive with no control of her own strength. But when he sees Claire using her powers to save a human under attack—in full view of the French Quarter—Liam decides to bring her to Devil's Isle and the teacher she needs, even though getting her out of his way isn't the same as keeping her out of his head.
But when the Veil threatens to shatter completely, Claire and Liam must work together to stop it, or else New Orleans will burn…
MY REVIEW:

Being a book written by the famous Chloe Neill who wrote the amazing Chicagoland Vampires series, I've expected some great things from this new series. Though it was a great start for a new UF series but the characters in the plot aren't captivating and my major issue is that I couldn't connect with them at all. If it's a debut author I would've appreciated her effort put into it but I was a bit disappointed when I felt it wasn't as amazing as Chicagoland Vampires. I've read couple of books from that series which was really exciting and action packed which I found lacking in the new series. Though I really do enjoyed the plot and the world building in it which was truly wonderful but it's characters were the major downfall for me.
The Veil is a barrier between human world and the paranormal world and it was sealed off  seven years ago after the dreadful war between the humans and the paranormals. After the veil has been sealed the remaining Paranormals who are left in the human world were put into prison called Containment area also known as Devil's Isle which was closely monitored by containment—the military unit that managed the war and the Paranormals.
The story mostly took place in New orleans after the war has taken it's toll on it. After the war, all the things related to magic were forbidden to use and they were either destroyed or  confiscated by the containment. Our major protagonist is Claire, who owns a mercantile store at NOLA which was passed down to her from her father after he died in the war. She is actually a sensitive, a person who possess magic in her.Her magic gives her the telekinesis power to move objects with her mind.
If her secret is found out by the containment, she would be immediately captured and  put in the Devil's Isle. One day, to save a girl from a wraith she uses her magic and it was witnessed by an unknown presence named Liam, the bounty hunter who hunts wraiths and the whole scene was also caught on Camera which was placed by Containment to detect magical energy. Her fate changes when her path crosses with Liam who was there before she could escape but the confusing thing is, he wasn't there to turn her in but actually to help her. She never even dreamed that she would enter the Devil's Isle on her own without force. After her visit to the Devil's Isle she starts to question everything she knows.In her journey for seeking answers so many shocking secrets were revealed along with some betrayals too.
I don't know why but I didn't felt connected with any one of the characters. Claire is our major protagonist in this plot who's got so much courage in her but she wasn't the kick-ass character as I expected her to be. She was not bad but not that much interesting either. Liam has been introduced as a mysterious character who seems to know everything about the paras(paranormals) but later on I had lost interest in him too. As for the relationship, they seemed more like friendly with each other but not romantic and they do end up falling for each other which was quite predictable but it was a total surprise for me because I've no idea when did they developed feelings for each other because they never opened up with each other. As for the supporting characters, they are somewhat ok but I wouldn't miss them even if they didn't appear again.
The world building was really appreciation worthy and the plot was amazing too but it can be better executed too. I hope the sequel would be much more better especially the characters cause I'd really like to see more spunk in them and more action too. The writing style was truly perfect, as always. Overall, It was pretty good though not amazing but I will definitely give it another chance cause it was really interesting series and I really want to know what happens next. Do I recommend this book? Yes! I totally would even if it didn't impressed me much it was quite good and I think  it was worth a try.
Please Feel Free To Comment Below. ❤
See You In The Next Post and Have a Great Day! 🙂