Hello there! Welcome back to another Sunday Book Recommendations which is the new weekly meme hosted by me.I created this meme so I could recommend you guys some interesting books which I think are worth reading.This meme includes recommending a book from three different genres.If you want to do this meme have fun with it, but don't forget to link back to the host. 🙂
Note: You can change the genres every week.
---
YA CONTEMPORARY
THE BAD GIRL AND THE GOOD BOY
[STAND-ALONE]
"you should definitely check out this book it's a perfect mix of humor and romance"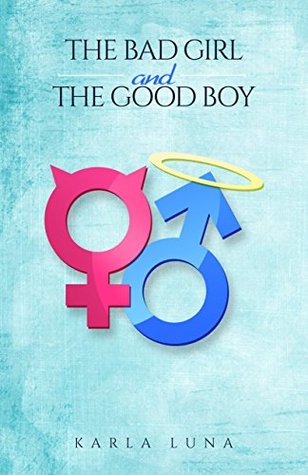 BLURB:
"I'm Evelyn. Evelyn Jo. How about you, handsome?"
A girl in her underwear introduced herself to the clean-cut four-eyed Zavier Coin, grabbing his hand and making him blush – and life, as he knew it, would never be the same.
Dark hair, black ensembles, badass tattoos, and sporting the perpetual smirk – Evelyn Jo is the ultimate bad girl. She does what she wants, whenever and wherever, and relishes defying authority. A real badass chick.
Zavier Coin, on the other hand, is the perfect good boy. He's nice, loves his mom, gets really good grades, a teacher's pet, and a member of the Mathletes club.
They are polar opposites and would probably have never met but for a wrecked car, a school fire, a vindictive authority figure, and a funny twist of fate which landed Evelyn in the Coin home.
But do opposites really attract? And will friendship and love really beat all odds when faced with psycho bad boys, clueless buzzkill adults, and other seemingly insurmountable odds?
Will the bad girl and the good boy get along, become good friends, and perhaps… become something more?
---
YA SCI-FI[ALIENS/DYSTOPIA]
BROKEN SKIES BY THERESA KAY
BROKEN SKIES SERIES
*HIGHLY RECOMMENDED*
"This book got all the sci-fi action and romance that you wouldn't want to put it down"
BLURB:
Thirty years ago, civilization collapsed. Few survived.
Ten years ago, the aliens arrived…and stayed.
One year ago, I killed two men and went a little crazy.
Today, the aliens took my brother and I will do anything to get him back.
In seventeen-year-old Jax Mitchell's world, humans are nearly extinct and alien settlers have arrived.
Until recently, the E'rikon have remained segregated in their city and ignored the few humans who have tried to engage them… but now they have taken Jax's brother. To rescue him, she forms an uneasy alliance with a teenage E'rikon left stranded in the woods. She agrees to guide him to the city if he sneaks her past the human-proof barrier. Too bad it's not that simple.
Jax, who cannot stand to be touched, finds that she's drawn to the alien boy with bright green hair and jewel-like scales on his back. And he's equally affected by her, the courageous redhead with haunted eyes. But she doesn't know the alien's true motives and he has no idea that she is much more than she seems.
With the aliens and the humans at odds, the connection forming between the two teens has consequences. What started off as a rescue mission sets a chain of events in motion which threatens not only the remaining humans and the growing alien society, but Earth itself.
---
YA PARANORMAL[ANGELS/DEMONS]
DEMONS AT DEADNIGHT BY A&E KIRK
[DIVINICUS NEX CHRONICLES]
" This book is so hilarious just read it you won't regret it or  you can check out the reviews of this book in goodreads  maybe they'll convince you more."
BLURB: For seventeen-year-old Aurora
Lahey, survival is a lifestyle. DEMONIC DESTINY
Aurora has the crap
piest superpower on the planet. And it's just unleashed a hit squad from hell. Demons are on the hunt, salivating to carve her carcass into confetti. ´
CHARISMATIC KILLERS
The Hex Boys—mysterious, hunky, and notorious for their trails of destruction—have the answers Aurora needs to survive. But their overload of deadly secrets and suspicious motives makes trusting them a potentially fatal move.
LETHAL ALLIES
The battle to save her family, herself, and stop demonic domination may cost Aurora everything worth living for, and force her to reveal her own dark secrets. But no worries. She needs the Hex Boys to pull this off, and, chances are, teaming up with these guys will get her killed anyway.
---
Well, that's it for this week. 😀
Feel free to comment below and if you want me to recommend books from any particular genre let me know. ❤
See you next week with new recommendations!  🙂
Have a Great Day!