Hello there! Welcome back to another weekly WWW wednesdays meme 🙂
The WWW meme was formerly Hosted by Miz B at Should be Reading
Now It was revived at Taking on a World of Words
To play along, just answer the following three (3) questions…
• What are you currently reading?
• What did you recently finish reading?
• What do you think you'll read next?
---
I AM CURRENTLY READING:

TERMINAL (Ellie Jordan, Ghost Trapper #4) BY J.L.BRYAN
BLURB: Ellie Jordan and her apprentice Stacey investigate a house in an elaborate planned community that was only half-built before it went bankrupt, leaving an instant ghost town with only a few residents. The entity haunting this house is a banshee that feeds on sadness and misery.
Unfortunately for Ellie, this is no simple haunting, but just one symptom of the cursed land on which the suburban community was built. The old railroad line running through the nearby woods might just be a conduit for lost souls, including dark spirits with ill intentions toward the living. Ellie soon finds herself facing one of the most complex and difficult hauntings she's seen in her career.
---
I JUST RECENTLY FINISHED READING:

ELEANOR & PARK BY RAINBOW ROWELL
My Rating: 4/5 stars
Review Coming Soon…
"I have three words to describe this book —Adorable, Cute and Romantic."
BLURB:Two misfits.
One extraordinary love.
Eleanor… Red hair, wrong clothes. Standing behind him until he turns his head. Lying beside him until he wakes up. Making everyone else seem drabber and flatter and never good enough…Eleanor.
Park… He knows she'll love a song before he plays it for her. He laughs at her jokes before she ever gets to the punch line. There's a place on his chest, just below his throat, that makes her want to keep promises…Park.
Set over the course of one school year, this is the story of two star-crossed sixteen-year-olds—smart enough to know that first love almost never lasts, but brave and desperate enough to try.
SIMON VS THE HOMO SAPIENS AGENDA BY BECKY ALBERTALLI
My Rating: 3/5 stars
Review Coming Soon..
"Just Read it"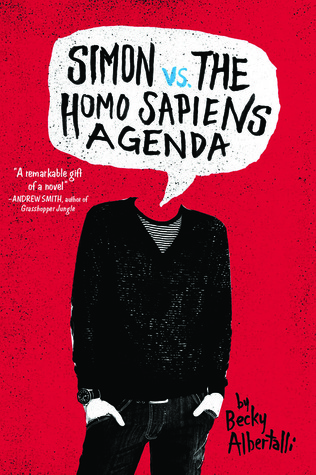 BLURB:Sixteen-year-old and not-so-openly gay Simon Spier prefers to save his drama for the school musical. But when an email falls into the wrong hands, his secret is at risk of being thrust into the spotlight. Now Simon is actually being blackmailed: if he doesn't play wingman for class clown Martin, his sexual identity will become everyone's business. Worse, the privacy of Blue, the pen name of the boy he's been emailing, will be compromised.
With some messy dynamics emerging in his once tight-knit group of friends, and his email correspondence with Blue growing more flirtatious every day, Simon's junior year has suddenly gotten all kinds of complicated. Now, change-averse Simon has to find a way to step out of his comfort zone before he's pushed out—without alienating his friends, compromising himself, or fumbling a shot at happiness with the most confusing, adorable guy he's never met.
ANYA AND THE SHY GUY BY SUZE WINEGARDNER
MY RATING: 3.5/5 stars
Review Posted Here
"A light contemporary romance which is definitely worth reading."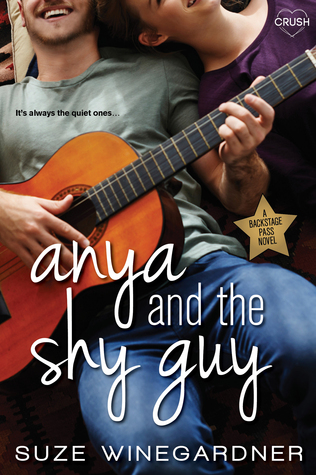 BLURB: It's always the quiet ones…
Anya Anderson doesn't just need a big break, she needs any break. Living on the streets doesn't leave a girl many options, so when she scores a gig reporting on the Seconds to Juliet tour, she jumps at the chance to earn enough money to sleep somewhere safe. And the paycheck will get bigger—and keep her off the streets for good—if she can dig up dirt on Will Fray, the irritatingly hot "shy guy" of the band.
Problem is, Will Fray isn't who everyone thinks he is. In fact, he's not Will at all. Matt, Will's identical twin, is actually the guy onstage, reluctantly covering for his brother while he's in rehab. To make matters worse, Matt's being shadowed by a cute reporter with troubled eyes determined to get the scoop. On him. And he's having trouble finding the willpower to keep his distance…
But if the secret gets out, it won't just be his head on a platter—it'll be the whole band's.
---
NEXT I'M GOING TO READ THESE BOOKS:
THE VEIL(DEVIL'S ISLE#1) BY CHLOE NEIL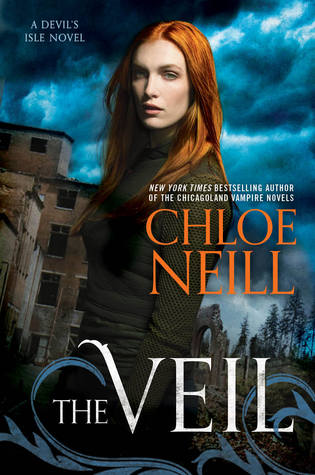 BLURB: Seven years ago, the Veil that separates humanity from what lies beyond was torn apart, and New Orleans was engulfed in a supernatural war. Now, those with paranormal powers have been confined in a walled community that humans call the District. Those who live there call it Devil's Isle.
Claire Connolly is a good girl with a dangerous secret: she's a Sensitive, a human endowed with magic that seeped through the Veil. Claire knows that revealing her skills would mean being confined to Devil's Isle. Unfortunately, hiding her power has left her untrained and unfocused.
Liam Quinn knows from experience that magic makes monsters of the weak, and he has no time for a Sensitive with no control of her own strength. But when he sees Claire using her powers to save a human under attack—in full view of the French Quarter—Liam decides to bring her to Devil's Isle and the teacher she needs, even though getting her out of his way isn't the same as keeping her out of his head.
But when the Veil threatens to shatter completely, Claire and Liam must work together to stop it, or else New Orleans will burn…
A DIFFERENT BLUE BY AMY HARMON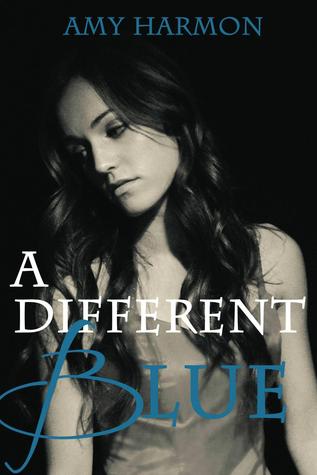 BLURB: Blue Echohawk doesn't know who she is. She doesn't know her real name or when she was born. Abandoned at two and raised by a drifter, she didn't attend school until she was ten years old. At nineteen, when most kids her age are attending college or moving on with life, she is just a senior in high school. With no mother, no father, no faith, and no future, Blue Echohawk is a difficult student, to say the least. Tough, hard and overtly sexy, she is the complete opposite of the young British teacher who decides he is up for the challenge, and takes the troublemaker under his wing.
This is the story of a nobody who becomes somebody. It is the story of an unlikely friendship, where hope fosters healing and redemption becomes love. But falling in love can be hard when you don't know who you are. Falling in love with someone who knows exactly who they are and exactly why they can't love you back might be impossible.
MY BEST FRIEND'S BROTHER BY M.J. THOMPSON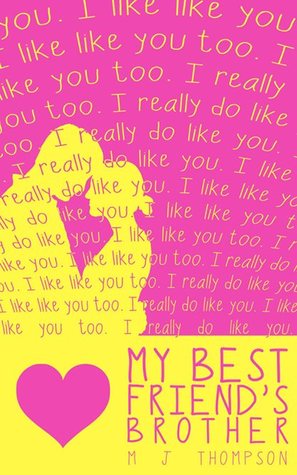 BLURB:
 Hope and Heather have been friends for years.
But Heather's two older brothers have always teased and bullied the two, especially Hope.
Luckily, Hope manages too avoid them for a couple of years while they are away at college.
But when Hope moves closer to her friend, she finds out the two are returning and will have no chance of avoiding them forever.
What would happen if you fall for your best friends brother?
---
These are my WWW for this week, so what are your  recent, current and next reads? Please Feel Free To Comment Below or Leave a link to your WWW post. ❤
See You In The Next Post and Have a Great Day! 🙂