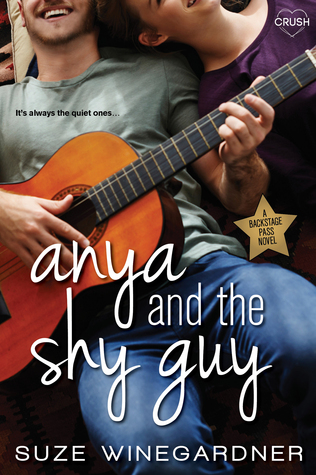 RELEASE DATE: July 14th 2015
AUTHOR: Suze Winegardner
GENRE: Young-Adult,Contemporary, Romance.
PUBLISHER: Entangled Publishing (Crush)
SUMMARY:It's always the quiet ones…
Anya Anderson doesn't just need a big break, she needs any break. Living on the streets doesn't leave a girl many options, so when she scores a gig reporting on the Seconds to Juliet tour, she jumps at the chance to earn enough money to sleep somewhere safe. And the paycheck will get bigger—and keep her off the streets for good—if she can dig up dirt on Will Fray, the irritatingly hot "shy guy" of the band.
Problem is, Will Fray isn't who everyone thinks he is. In fact, he's not Will at all. Matt, Will's identical twin, is actually the guy onstage, reluctantly covering for his brother while he's in rehab. To make matters worse, Matt's being shadowed by a cute reporter with troubled eyes determined to get the scoop. On him. And he's having trouble finding the willpower to keep his distance…
But if the secret gets out, it won't just be his head on a platter—it'll be the whole band's.
MY REVIEW:
I'd seen this series many times before, but I didn't gave it much attention until someone recommended me to read this book. Well, It's cute and entertaining read that was definitely worth reading. Every book in the series can be read as a stand-alone and that's why I've bothered to check this out even though I didn't read the previous installments.
Anya is a 17 year old tough girl who doesn't have anyone to look after her. She lies about her age for her new reporter job because it's either this or live on the streets. Her job requires her to get a scoop on the famous Seconds to Juliet boy band. To her surprise, Anya was only allowed to interview one member of the band named will Fray, who is also called as the shy guy of the band. Now Anya's fate rests on getting any scoop about the shy guy who didn't look much scandalous but she didn't know that he was actually Matt, the twin brother of Will Fray. Matt thought he could charm the new reporter so she couldn't able to figure out his identity but alas his charms really aren't working on her.
Anya is pretty much likable character. I totally felt sympathetic towards her situation and  I couldn't image myself in her place it's really a nightmare. Even with no family, no friends and no money she has always stood strong and faced the situation. I'm so glad that she befriended Natasha who is the make-up artist of the band. Matt is really adorable character in this plot. It was so funny how he always messes up whenever he tries to charm her. There is a bit of insta-love in it but not too deep and the relationship slowly develops with more time they spend together and get to know each other more. The chemistry between them is really great and they really have sinful thoughts  for each other which is purely YA.
One thing I didn't liked in it was the pacing of the plot, which I think is a bit slow.The story was written in both Anya and Matt's POV. I  loved knowing all the members of the band though they didn't given much attention in this plot, but I'd really like to know about Ryder Brooks, the bad guy in the band. There was mention of previous books female protagonists Aimee, Daisy and Mia but there aren't any actual appearance of them in this book.I think the plot also needs some more humor in it which I didn't find much in this. The Author's writing skills is simple and creative too.This book portrays the importance of friendship and love which I really liked in it.I didn't have any expectations when I picked it up and I'm glad that it didn't disappoint me.Even if it wasn't perfect it's truly a adorable read that you should definitely give it a try.
Please Feel Free To Comment Below. ❤
See You In The Next Post and Have a Great Day! 🙂