Hello there! Welcome back to another Sunday Book Recommendations which is the new weekly meme hosted by me.I created this meme so I could recommend you guys some interesting books which I think are worth reading.This meme includes recommending a book from three different genres.If you want to do this meme have fun with it, but don't forget to link back to the host. 🙂
Note: You can change the genres every week.

---

YOUNG-ADULT[TIME-TRAVEL]
WATERFALL BY LISA TAWN BERGREN
[RIVER OF TIME SERIES][COMPLETED]
*HIGHLY RECOMMENDED*


"Best Young Adult Time-Travel  Series I've ever read and it's one of my favorite series too."
BLURB:
What do you do when your knight in shining armor lives, literally, in a different world?
Most American teenagers want a vacation in Italy, but the Betarrini sisters have spent every summer of their lives among the romantic hills with their archaelogist parents. Stuck among the rubble of the medieval castles in rural Tuscany, on yet another hot, dusty archaeological site, Gabi and Lia are bored out of their minds…until Gabi places her hand atop a handprint in an ancient tomb and finds herself in fourteenth-century Italy. And worse yet, in the middle of a fierce battle between knights of two opposing forces.
Suddenly Gabi's summer in Italy is much, much more interesting.
---
VAMPIRES/DYSTOPIA
THE IMMORTAL RULES BY JULIE KAGAWA
[THE BLOOD OF EDEN TRILOGY][COMPLETED]
*HIGHLY RECOMMENDED*


"I think I don't have to say anything about this book the blurb is enticing enough to get your attention and it's a must read."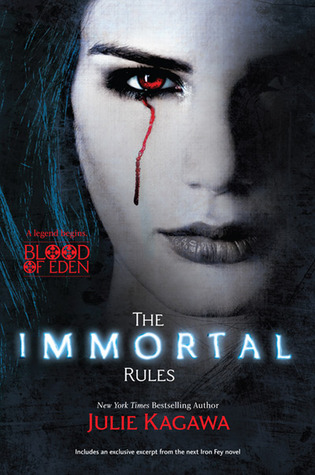 BLURB: To survive in a ruined world, she must embrace the darkness…
Allison Sekemoto survives in the Fringe, the outermost circle of a walled-in city. By day, she and her crew scavenge for food. By night, any one of them could be eaten. Some days, all that drives Allie is her hatred of them—the vampires who keep humans as blood cattle. Until the night Allie herself dies and becomes one of the monsters.
Forced to flee her city, Allie must pass for human as she joins a ragged group of pilgrims seeking a legend—a place that might have a cure for the disease that killed off most of civilization and created the rabids, the bloodthirsty creatures who threaten human and vampire alike. And soon Allie will have to decide what and who is worth dying for… again.
---
---
YA[FANTASY]
SORA'S QUEST[THE CAT'S EYE CHRONICLES] BY T.F.SHREFFLER
[SERIES]
"This book is a wonderful mix of adventure, fantasy and romance"
 BLURB: Sora Fallcrest always dreamed of adventure, but as a member of the nobility, she learned the ways of a Lady instead. Now seventeen, she is expected to choose a husband and marry. She plots to run away, but just as she is stepping out the door, she runs into a mysterious man–and is kidnapped.
Abducted from her manor, Sora is plunged into a world of magical races, arcane jewelry and forgotten lore. She finds herself at the mercy of a dangerous assassin, haunted by an even darker past. She yearns for freedom, but he won't let her go–not when her Cat's Eye necklace is the only thing that can save his life.
But the necklace itself presents a problem. It is an ancient device from the long forgotten War of the Races, and its magic has the ability to steal souls. Can Sora learn to wield its power — or will the power wield her?
This book is permanently free on Amazon, BN.com, Apple, Kobo and more!
---
---
Feel free to comment below and if you want me to recommend books from any particular genre let me know. ❤
See you next week with new recommendations 🙂
Have a Great Day!