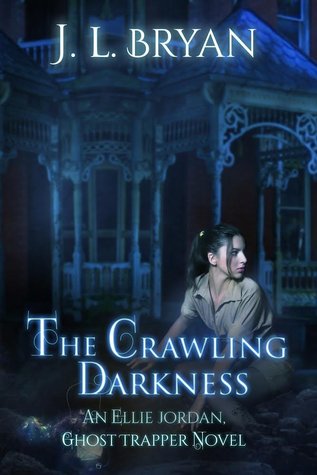 RELEASE DATE: Feb 05, 2015
AUTHOR: J.L. Bryan
GENRE: Young-Adult,Fantasy, Ghosts, Paranromal.
PUBLISHER: jlbryanbooks.com
SUMMARY: Ghost removal specialist Ellie Jordan must face a dangerous, shape-shifting entity that she and Calvin have encountered once before, with tragic results. The spirit has the power to reach into the minds of living and feed on their fears, taking the shape of their worst nightmares, and it has awoken in search of new victims.
Now Ellie must try to succeed where she and her mentor failed before, and try to defeat the twisted and powerful old ghost before it can claim another soul for its collection.
MY REVIEW:

It's  another great addition to a fantastic spine tingling ghost trapping series from J.L.Bryan. I've really enjoyed reading this book and I'm not at all disappointed with this series so far.I love reading books related to any paranormal stuff and I'm  so glad that I gave this series a try.This book is far more creepy than the previous installments and I always prefer to read them at  nights for the perfect impact.

We are back again with Ellie and Stacey who are once again on the road with their ghost hunting gear to trap another malevolent ghost haunting a family.With time Ellie and Stacey  formed a bond close to  friends.In this plot the sinister entity is more creepy cause it does gave me goose bumps all over and I've really enjoyed reading it all the way through.It totally felt like I was watching a ghost hunting TV series.
When Ellie and Stacey went to investigate the family who are haunted by this mysterious ghost who lurks around the closets of the children, she was afraid that it could be the same dangerous entity that Calvin and Ellie were failed to capture before.The entity in this plot also called as boogeyman is very spooky, and it feeds on the fears of the children by  appearing as their worst fears.With the help of Jacob's psychic power, Ellie investigates behind the history of the mansion and she was quite shocked with what she found.

We can see the character development in the Ellie's case where she seems  more matured and more friendly towards her assistant Stacey.The reason behind Ellie being closed off to others is also revealed along with her worst fears.We also get to know more about Stacey and why she decided to enter  into this paranormal world and also the reason behind her chasing ghosts.There's also a new entrance of romantic interest for  Ellie and I absolutely think it's about time.The pacing of the plot was neither fast or too slow but it was quite good enough to keep the plot interesting.I think the final showdown with the entity  is the best part of this book.
I must say this series keeps on getting better and more thrilling with every release of the new book.The plot was little bit scary and engaging enough to read and the writing skills is awesome, as always.And there's a reappearance of Anton Clay in it and I always look forward for his appearances.The twist at the end is very clever I didn't see that coming at all.There was a mystery behind the place she buries these entities and I'm  very curious to know what's the deal with the church and the entity ruling that place.I hope the sequel is more scarier than this and I'll be definitely reading the next installment soon.Finally, I highly recommend this series to everyone who love ghost hunting/investigation novels.
Please Feel Free To Comment Below. ❤
See You In The Next Post and Have a Great Day! 🙂