Hello there! Welcome back to another weekly WWW wednesdays meme 🙂
The WWW meme was formerly Hosted by Miz B at Should be Reading
Now It was revived at Taking on a World of Words
To play along, just answer the following three (3) questions…
• What are you currently reading?
• What did you recently finish reading?
• What do you think you'll read next?
---
I AM CURRENTLY READING:
ELUDE BY RACHEL VAN DYKEN
BLURB:Twenty-Four hours before we were to be married–I offered to shoot her.
Ten hours before our wedding–I made a mockery of her dying wish.
Five hours before we were going to say our vows–I promised I'd never love her.
One hour before I said I do–I vowed I'd never shed a tear over her death.
But the minute we were pronounced man and wife–I knew.
I'd only use my gun to protect her.
I'd give my life for hers.
I'd cry.
And I would, most definitely, lose my heart, to a dying girl—a girl who by all accounts should have never been mine in the first place.
I always believed the mafia would be my end game–where I'd lose my heart, while it claimed my soul. I could have never imagined. It would be my redemption.
Or the beginning of something beautiful.
The beginning of her.
The end of us.
---
I JUST RECENTLY FINISHED READING:
SILVER IN THE BLOOD BY JESSICA DAY GEORGE
"A YA Paranormal novel set in 18th century of Romania"
My Rating: 3/5 Stars
Review Coming soon…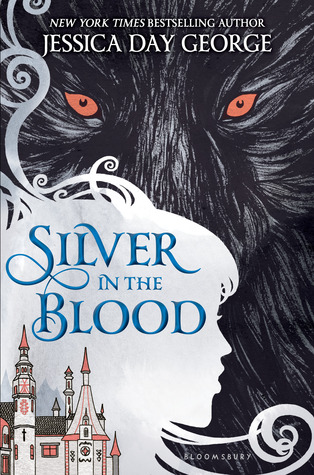 BLURB: Society girls from New York City circa 1890, Dacia and Lou never desired to know more about their lineage, instead preferring to gossip about the mysterious Romanian family that they barely knew. But upon turning seventeen, the girls must return to their homeland to meet their relatives, find proper husbands, and—most terrifyingly—learn the deep family secrets of The Claw, The Wing, and The Smoke. The Florescus, after all, are shape-shifters, and it is time for Dacia and Lou to fulfill the prophecy that demands their acceptance of this fate… or fight against this cruel inheritance with all their might.
With a gorgeous Romanian setting, stunning Parisian gowns, and dark brooding young men, readers will be swept up by this epic adventure of two girls in a battle for their lives.
THE CRAWLING DARKNESS(Ellie Jordan, Ghost Trapper #3) BY J.L. BRYAN
"A thrilling ghost hunting series that will definitely give you goosebumps"
My Rating: 3.5/5 Stars
Review Coming Soon…
Ghost removal specialist Ellie Jordan must face a dangerous, shape-shifting entity that she and Calvin have encountered once before, with tragic results. The spirit has the power to reach into the minds of living and feed on their fears, taking the shape of their worst nightmares, and it has awoken in search of new victims. Now Ellie must try to succeed where she and her mentor failed before, and try to defeat the twisted and powerful old ghost before it can claim another soul for its collection.
RUTHLESS BY CAROLYN LEE ADAMS

"A Fantastic Thriller from Debut Author Carolyn Lee Adams"
My Rating: 3.5/5 stars
Review Posted Here
BLURB:A spine-tingling debut about the ultimate game of cat-and-mouse in reverse as a teen struggles to retain hope—and her sanity—while on the run from a cunning and determined killer.
Ruth Carver has always competed like her life depends on it. Ambitious. Tough. Maybe even mean. It's no wonder people call her Ruthless.
When she wakes up with a concussion in the bed of a moving pickup trick, she realizes she has been entered into a contest she can't afford to lose.
At a remote, rotting cabin deep in the Blue Ridge Mountains, Ruth's blindfold comes off and she comes face-to-face with her captor. A man who believes his mission is to punish bad girls like Ruth. A man who has done this six times before.
The other girls were never heard from again, but Ruth won't go down easy. She escapes into the wilderness, but her hunter is close at her heels. That's when the real battle begins. That's when Ruth must decides just how far she'll go in order to survive.
Back home, they called her Ruthless. They had no idea just how right they were.
---
NEXT I'M GOING TO READ THESE BOOKS:
THE SWEETEST KILL BY AMBER KALKES
BLURB: "Why didn't you kill me like I asked?"
"I didn't feel like it."
Twenty-two year old Shoshanna has suffered depression since she was a child.
Once, she actually tried to end it all, but failed miserably. Since then, she has been struggling to keep a promise she made to her parents… one that she has regretted making ever since.
One day though, she sees news about a killer on the loose, who appears to be targeting girls around her age. Then an idea pops in her head: What if I could end it all? Why does an innocent girl have to lose her life when she doesn't want to? When I am stuck here living a life that I don't want to live.
So she decides to go on the hunt, find the predator, and… offer herself as a willing prey.
But is she going to get what she wants, or is she going to get more than she bargained for?
UGLY LOVE BY COLLEEN HOOVER
BLURB: When Tate Collins meets airline pilot Miles Archer, she knows it isn't love at first sight. They wouldn't even go so far as to consider themselves friends. The only thing Tate and Miles have in common is an undeniable mutual attraction. Once their desires are out in the open, they realize they have the perfect set-up. He doesn't want love, she doesn't have time for love, so that just leaves the sex. Their arrangement could be surprisingly seamless, as long as Tate can stick to the only two rules Miles has for her.
Never ask about the past.
Don't expect a future.
They think they can handle it, but realize almost immediately they can't handle it at all.
Hearts get infiltrated.
Promises get broken.
Rules get shattered.
Love gets ugly.
ANYA AND THE SHY GUY BY SUZE WINEGARDNER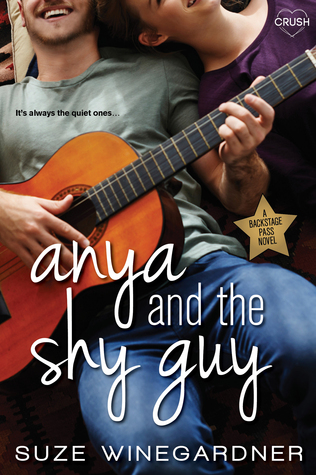 BLURB: It's always the quiet ones…
Anya Anderson doesn't just need a big break, she needs any break. Living on the streets doesn't leave a girl many options, so when she scores a gig reporting on the Seconds to Juliet tour, she jumps at the chance to earn enough money to sleep somewhere safe. And the paycheck will get bigger—and keep her off the streets for good—if she can dig up dirt on Will Fray, the irritatingly hot "shy guy" of the band.
Problem is, Will Fray isn't who everyone thinks he is. In fact, he's not Will at all. Matt, Will's identical twin, is actually the guy onstage, reluctantly covering for his brother while he's in rehab. To make matters worse, Matt's being shadowed by a cute reporter with troubled eyes determined to get the scoop. On him. And he's having trouble finding the willpower to keep his distance…
But if the secret gets out, it won't just be his head on a platter—it'll be the whole band's.
---
Please Feel Free To Comment Below. ❤
See You In The Next Post and Have a Great Day! 🙂